Grumpy Glenn's Gallop – Saturday 2nd April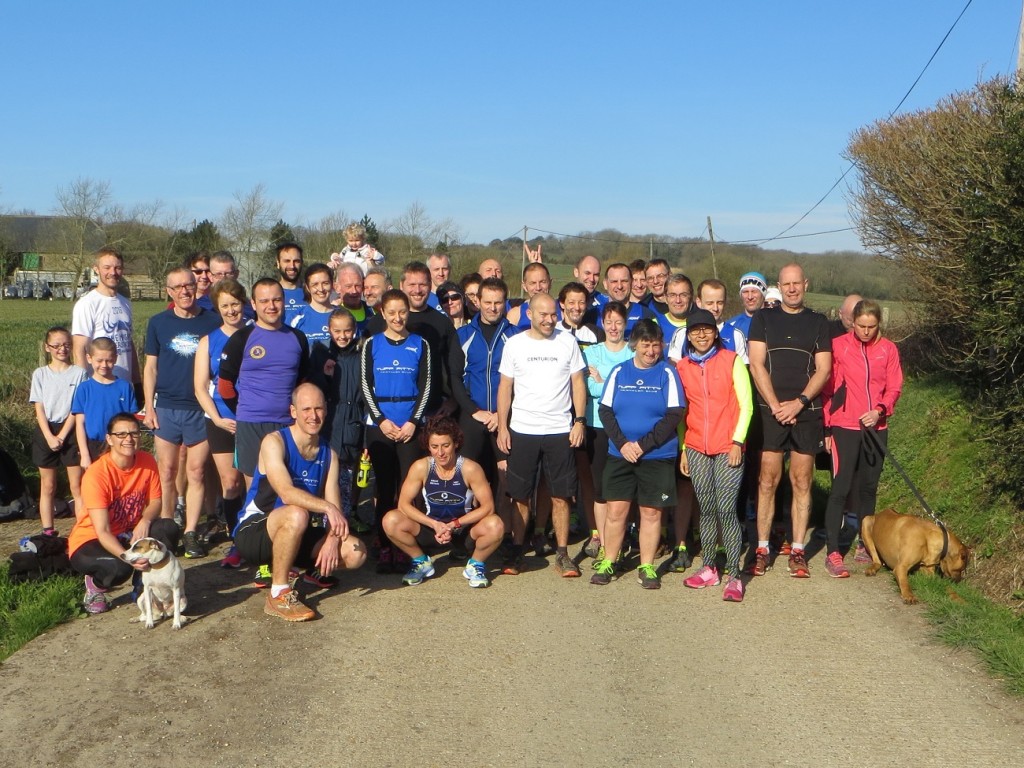 Thank you so much to everyone who came along to take part, support and heckle our one-off special take on last year's popular 'Uncle Nobby's Nine' events on Highdown Hill.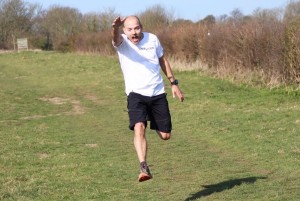 Yet again the weather was perfect as a cracking twelve teams of three set off on the hilly 3k course to celebrate Glenn Parisi's upcoming special birthday and to raise funds for the British Heart Foundation. Add to that Tuff supporters, family and pets – we had over forty happy (excluding Glenn) souls enjoying the Saturday morning sunshine. The focus of the event is working as a team, with 'trotters' running one lap, 'canterers' two, before 'gallopers' charge off to complete the third, solo lap…cue excessive displays of ego and nifty demos of well-honed skills from Marchy and Wardy's Wednesday night track sessions.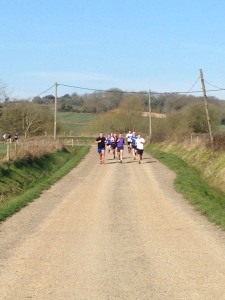 The aim was fun, though seeing three teams charging towards the end of the first lap it seemed their aim was clearly bragging rights…or medical assistance. The dream team of Debbie Boxall (and Obi the Rhodesian Ridgeback), Danny Cunnett and Mike Barrett were first to cross the line. In second place were Gary Edge, Graham Liddell and Andy Crawford – a comeback race for Gary which provided a rich source of material for Clive P-L's one-man comedy (?) show throughout the morning. Great to see Gary back up and running, though I expect he will be feeling the effects of that 'sprint finish' until next weekend… In third place were Jane Custance, Jon (fivecakes) Roper and Ollie MacDonald. Jon presumably getting his foot down to ensure a speedy return for a large slice of coffee and walnut…or five.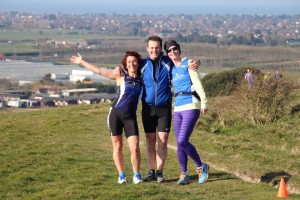 It seems that Steve Custance is clearly missing his 1980's catwalk days, as a reliable source reports no opportunities were missed for a mid-run catalogue pose. Beautiful, darling! Similar photographic exploits from Ian Moore, though seeing his face at the end I suspect he wished he'd held back on the theatrical leaps. Ruby the Jack Russell managed to complete the event without the need for a 'doggy bag' this time round, ensuring a strong canter from Leigh Moore. Also great running from first-timers Claire Bridges, Jeremy Littlejohn, Danny Bruce and Simon Thistlethwaite.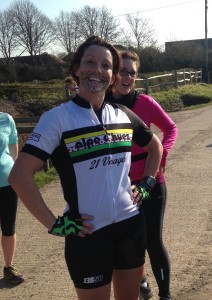 All finished and it was back to West Worthing Tennis Club for breakfast, post-race inquests and prizes. Once the team awards had been dished out it was time for the popular spot prizes with Tiff Orton winning the 'Yorkie Real Man' award for looking more like Glenn than Glenn himself in an Alpe D'Huez jersey and grey beard combo. Gary Edge (who else?) won the 'Real Lady' award of pink cider for his rather offensive luminous tri laces. Andy Gomm won the 'Comeback' award of a recovery sachet…which judging by his blistering pace and subsequent ashen complexion was much- needed. Fastest lap went to Andy Ruffer who clocked a fantastic 11:19 on his galloping lap.
So; sunshine, trail running, breakfast, happy Tuffs and £212.50 for the BHF. Not a bad days work, eh?
Watch this space for the next event.
Sim
For more pictures from the event, click on the link below.