European Triathlon Championships Lisbon – Race Report
Tom Goddard's race report from the European Triathlon Championships in Lisbon on 27th / 28th May 2016:
Joe Pascoe was in the race for endurance challenged athletes (the sprint) which was at the very reasonable time of 11am on the Friday, which was lucky as it gave my hangover time to subside before cracking out the cowbell for some serious spectating. Joe had an incredible swim coming out in the lead pack in 11:07. His revelation that if you kick when you swim you go faster is really starting to show results!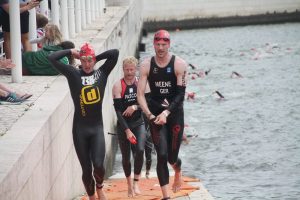 On to the bike and watching him attempt to put his shoes on whilst riding over cobbles and speed bumps was very amusing but he was soon on his way. The bike course was fairly flat with just mild undulations before a 1.5km 10% hill to the turnaround point. There was a sting in the tail though as riders faced a stiff headwind for the return leg. He arrived back in T2 in 37:47.
A two lap run followed and Joe was flying and looked very comfortable. The finish was in a large arena with grandstands and provided great atmosphere. Joe entered the arena to the cheers of his adoring fans and a lot of cowbell ringing. He slowed down the finishing straight to take it all in and narrowly avoided being overtaken on the line by a fast finishing Austrian! He clocked a rapid 18:31 for the run and finished in 1:08:26, 19th in his AG. A great result! To celebrate he then ate three burgers and drank more beer than he had in the last five years!
My race had a far less civilized start time of 7am on the Sunday. I was in the biggest wave of the day with 113 athletes which made for a fun swim start with plenty of 'contact'. The fighting continued for almost the entire 1500m which I'm sure slowed everyone down but it did mean I was able to stick with a lead group of 15 coming out of the water in 23mins.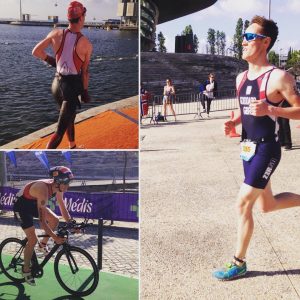 Coming out of T1 I had my comeuppance for laughing at Joe over the cobbles as my drinks bottle catapulted off my bike and ejected its contents. Karma. I had to do two laps of the same course as Joe and bar the hill, where I was one of the quicker riders, I spent 1hr 14mins being overtaken by Germans with disc wheels.
On to the run course and the temperature had risen to a glorious 29oC and I felt great. The four laps seemed to fly by and on each lap you passed through the arena the noise levels seemed to increase. I finished the run in 37:06, a new PB, and was chuffed. Although if I had handed out fewer high fives I could have gone sub 37mins which is a little annoying. Overall I came 29th in 2:16:56. My biking let me down a bit but I thoroughly enjoyed the race and it was particularly good being able to share the experience with Joe. A massive thank you to Katie as well who was our chief supporter and spent most of the trip leading us astray in bars!