Beat The Tide 20th July (with results)
Summer finally arrived this week and after three scorching hot days would it last for Beat The Tide 10k?
Staged by our very own Chris, Danny and Jay; their Sussex Trail Events  company are growing ever more in popularity and with clear blue skies the beach was packed, made more so by a strong contingent of Tuff's.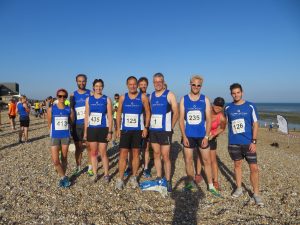 What a team, just some of those we could round up
Due to traffic delays on the A27 the start was pushed back slightly to allow everyone to arrive and lining up on the sand the conditions were ideal, clear blue skies, compacted sand and few water obstacles to navigate. The hooter went and everyone would get off to a strong start, and only later would everyone find out why!
At Lancing Yacht club runners had to head up the shingle and complete the last three quarters of a mile on the promenade at Widewater Lagoon and turn to retrace their steps to complete the 10k.  Running up to the turn, it was a proud Tuff chairman to see a proliferation of Tuff Runners at the front, led by Joe Pascoe very handily placed  at the front with Andy Ruffer, Andy Crawford and Simon Thistlethwaite also pushing hard.    It was at this point that everyone realised why it had been a good start, the wind.  Yes us Southerners have learnt to live with strong wind against us whilst running but this was so strong. It turned the 3.1 miles back into very hard work and was very debilitating. This did not stop a steady stream of Tuff's turning off the sand for a last sprint up the steep shingle to reach the tape and get their well earned, rather swish, medal.  Joe led the Tuffs home in a great 6th overall, and with Andy R, Andy C and Simon we had four in the top 20; which out of 380 finishers that was a great evenings work.  Tom Gray did well finishing in the top 50, (and was spotted running again the day after) Simone Scott who is usually contesting podium places for the ladies just missed out this time but secured 4th Female. Dom Amey who was a ' seeded runner' – he was allocated race number 1.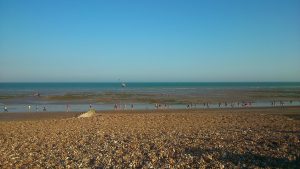 Clive Harvey, Catharine Western, Debbie Gatland, Nicole Ewer, Graham Liddell, Debbie Boxall,  flew the flag.  Clive's son Stuart Harvey also sported a Tuff vest.  Strong running from Tim McGrath, one of our newer members who was running under his Striders colours. Russ Doherty who had to pull out of IM Bolton started his comeback from illness and Andy Moulding who has taken a period out also raced
A  glance at the times indicate the tough conditions but out of 380 finishers the positions shown illustrate just how Tuff, Tuff's are.  There is added interest in the results as this was race number 5 in our Summer Tuff Run series.
A couple of people advised they didn't know the race was on, but it has been advertised extensively on our website here; but then if they don't look at this website they won't see this comment.  So do warn people we have two race left in our Strun series for this year as follows:-
STRUN Race 6 = Highdown Hike   Wednesday 3rd August 7:30pm
STRUN Race 7 = Hove Lawn Park Run Saturday 13th August 9am
Andy Crawford,                           Andy Ruffer,                               Joe Pascoe
The photo gallery is a combination of a couple of shots from me, Captain Tom Goddard who having just arrived back from holiday dashed down to cheer the squad, Gary Edge who is amazing always popping up on a course to take shots of Tuff's in action. Huw Williams, who riding home stopped to take some panoramic shots and the official photographer who said we could use the shots if he got a mention; so thanks to Jon Lavis for that.
| | | | | | |
| --- | --- | --- | --- | --- | --- |
| | | | | | |
| Pos. | Last Name | First Name | Club | Time | |
| 6 | Pascoe | Joe | Tuff Fitty Triathlon Club | 40.53 | |
| 11 | Ruffer | Andrew | Tuff Fitty Triathlon Club | 43.11 | |
| 12 | Crawford | Andy | Tuff Fitty Triathlon Club | 43.25 | |
| 18 | Thistlethwaite | Simon | Tuff Fitty Triathlon Club | 43.36 | |
| 47 | Gray | Tom | Tuff Fitty Triathlon Club | 48.17 | |
| 49 | Scott | Simone | Tuff Fitty Triathlon Club | 48.31 | 4th lady |
| 60 | Amey | Dominic | Tuff Fitty Triathlon Club | 49.45 | |
| 82 | Mcgrath | Tim | Worthing Striders | 51.04 | |
| 90 | Doherty | Russ | Goring Road Runners | 52.07 | |
| 98 | Harvey | Stuart | Tuff Fitty Triathlon Club | 52.21 | |
| 106 | Moulding | Andy | Sussex Endurance | 53.13 | |
| 130 | Harvey | Clive | Tuff Fitty Triathlon Club | 54.54 | |
| 165 | Western | Catharine | Tuff Fitty Triathlon Club | 56.27 | |
| 178 | Gatland | Debbie | Tuff Fitty Triathlon Club | 57.05 | |
| 206 | Boxall | Debbie | Tuff Fitty Triathlon Club | 59.37 | |
| 249 | Liddell | Graham | Tuff Fitty Triathlon Club | 1.02.27 | |
| 280 | Ewer | Nicole | Arunners RC | 1.05.16 | |
Clive