The shiv was in the back of the car, luggage packed and Claire in the passenger seat as my sat nav and very supportive wife. We set off full of nervousness and excitement………….
……………………………….. 8 hours later we arrived in Bolton – Welcome party missed, registration for the Friday missed and the race briefing missed feeling drained and frustrated.  Let's say it was a stressful journey and when we finally arrived we headed straight to the bar. 3 pints later and 2 glasses of wine for Claire and we had destressed and decided that Saturday was a new day. Even though I was envious like a disgruntled child that I didn't have my luminous green athlete's wrist band.
We were staying in the hotel attached to the Macron Stadium which was also the site for T2, registration, expo and the hub of the event. I was up early and was one of the first to register on Saturday morning. Finally I had got hold of one of the wrist bands and brandished it like I had already completed the event,  along  with my transition bags we were given a very nice Ironman backpack and a selection of other goodies. In a much better mood than Friday it was time for an athlete's breakfast of bacon and eggs.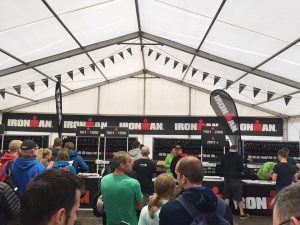 Registration
Then it was time to pack the transition bags, label up the bike, helmet and bags. What I didn't realise was the amount of stuff you pack for an Ironman compared to a normal triathlon. As it was my first I think I went overboard and didn't use half the crap I put in the bags. After checking then rechecking the bags I checked again and everything was in order so we packed up the car and headed up to Pennington Flash to rack the bike and bike transition bag in T1. Due to the amount of rain the previous week the T1 was a muddy mess. I checked out the water which looked choppy and murky and could already sense people's nerves and doubts. Not wanting to dwell on what might be the next day it was back to the hotel and T2 to hang my run bag and familiarise myself with T2. The T2 area was massive and took me a while to find my number. It is such a massive event and had to remind myself not to panic and rush when in transition.
With everything racked, checked in and nothing more I could do it was time for dinner, and an early night. Not before applying the very cool race number tattoos. It's the small things that make me happy….. very sad I know. Alarm set for 3am wake up call.
Before I knew it breakfast was done, wife kissed good bye, boarded shuttle bus, in T1 bike loaded with drink and food, wetsuit on and before I knew it I came to and was suddenly standing with 2000 white swim cap, wetsuit  wearing, very excited age groupers. Some more excited than other as I did pee in my wetsuit whilst waiting to enter the water.  The national anthem played and then the pros were off. 5 minutes later we were off and slowly being filtered into the water as it was a rolling start which worked perfectly and you self-seeded with your time and as soon as I entered the water I had open water ahead of me. The swim went well and due to the rolling start others people's legs and arms and people trying to swim over you didn't happen like a mass start. I tried not to go out to fast and stick to my plan to conserve energy on the swim getting out with a time of 1:08:33.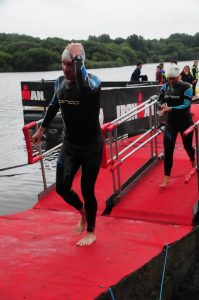 T1 was incredibly muddy and getting worse with every age grouper that exited the swim. My transition was slow at 11 minutes. Got a glimpse of Claire shouting like a mad woman as I whizzed past on the shiv and the bike was under way. The bike was very enjoyable with 2 loop course and 2 major hills of Sheephouse Lane and Hunters Hill that you have to do twice. With over 5500ft of total elevation it wasn't an easy ride. But what these northerners forget is us Sussex lads are made of stern stuff and we have white ways, Houghton and Bury to train on. The support on the bike was amazing and on sections felt very much like the Tour De France with the crowd on top of you shouting encouragement whilst drinking beer and frying burgers on the BBQ. At the top of Sheephouse Lane hill there were several people dressed as superheroes with rave music banging out of a sound system. Hunters was just as good and I think both times I was out of my seat for the whole climb as the adrenaline kicked in. About 77 miles in I noticed my front wheel moving about and catching my front break. One of the spokes had come loose and panic set in of the thought of not finishing the event. I started taking it a little easier and was pretty much praying the rest of the way just hoping the shiv would get me close enough to run the bike in if needed. The beast done it and I was in T2 with a massive relief and knowing that it was all down to me now and no other outside issues and that's all I wanted. With a bike time of 6:35:38. Again transition was slow at 10 minutes but with a toilet break and the application of sun cream I set out on the marathon.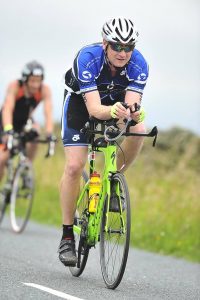 There was an 8 mile run to the city centre and then you joined a 3 loop course. The run took me by surprise and I remember what Wardy told me that the race doesn't start until the run. I went off a little quick as normal and had to slow it down and stick to my plan of 9 minute miles. I have done a few marathons and normally the mental and physical issues kick in around the 20 mile mark. But this was different and around 9 miles I was starting to have some serious doubt and energy was just seeping out of my body. The sun was finally out and it was getting hotter and hotter. As soon as I hit the city centre the crowds were amazing and certainly helped me out and gave me a massive lift as did seeing Lucy Gossage (Female winner) running the other way at a great pace. The hills on the course were hard as well, I walked through the aid stations eating god knows how many bananas and drinking as much water as I was pouring over my head. The 3 loops take you right by the red carpet and the finish and as you see and hear someone running towards it you have to set off for another loop that certainly motivates you to finish. When I finally completed the third loop and headed down the red carpet and pointed to my race number, I heard the words I never thought I would hear. GAVIN SEWELL YOU ARE AN IRONMAN.  With a marathon time of 4:03:48 and an overall time of 12:10:13 I was over the moon as my target was anywhere between 12-14 hours.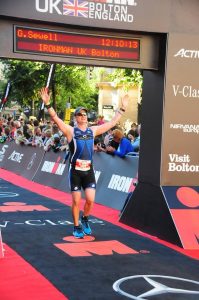 "You are an Ironman"
As I crossed the line arms raised and a tear in my eye I could not quite believe I had done it. All the training, time, money had been worth it. What a day, what an experience – I am an Ironman!!
Gavin