Cross Solent Swim 25th July 2016
Andy Ruffer reports in from his Channel Swim across the Solent from Gosport to Ryde on the Isle of Wight; what a great thing to do:-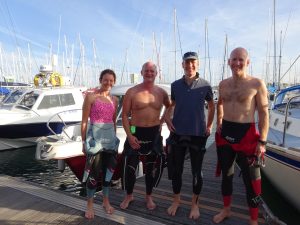 Nicole Patterson-Lett, George Sampson, Andy Ruffer and Tim Ruffer
After work on Monday 25th July George Sampson (Olly Sampson's brother), Nicole Patterson-Lett, Tim Ruffer (my brother) and myself left Fort Gilkicker, Gosport for the Isle of Wight. Unfortunately Olly Sampson was unable to join us due to a recent illness.
It was a windy evening and on the limit for running the event. It was decided to go ahead but made for choppy and increased tidal conditions. Having a kayaker each to guide and support us as well as a RIB helped with confidence. Nicole had her usual strong swim (a day after doing a 100 mile time trial!). It was a beautiful event and having reached mid Solent the sun started to set and we were rewarded with a wonderful view Portsmouth, Ryde and the car ferry steaming straight towards us! We were met by Nicoles' parents (who live in Ryde) with a big smile and warm drink.
It was not the hardest event but it was most enjoyable. It is about 2.5 miles in total and took us between 1.15-1.45 to complete. It was arranged through Solent swim who normally arrange larger charity events but who kindly agreed to help us out.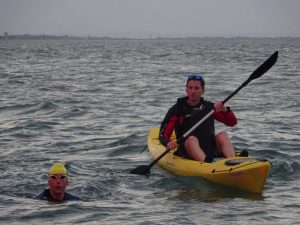 Andy