We are pleased that our latest Ironman, Sharon Tidmarsh, has reported in on her Ironman adventure. This is a fantastic achievement, huge congratulations from us all.
---
So the weekend had finally arrived "Iron Man Weymouth" it was time to put all my training into practice. After going through my bags over and over again making sure I hadn't forgot anything, we finally left Friday afternoon. At this stage I was feeling all types of emotion; nervous, scared excited. We had rented a house out for the weekend as we had friends coming to watch, also my friend Paul O'Keefe who was also taking part in the event, was also joining us with his family.
We were only staying half a mile away from the finishing line and registration, which was great. The whole of Weymouth seemed to be full of Triathlete's all wearing various T-shirts from previous events. After dinner we headed back to the house where I got a good nights sleep.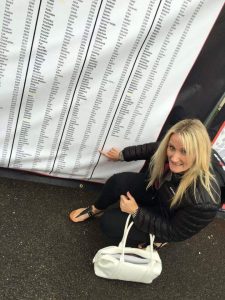 Saturday –
I woke up  to torrential rain which increased the nerves, we went down to register in the morning. Paul's wife said Paul and I just stood emotionless as the lady ran through some bits and handed us everything we needed. From there, in silence, we headed back home to sort all our bag's out before driving down to rack our bikes.This was just a few miles away from the finish. By this time the sun was shining which was great. I racked my bike I was really pleased with the position right at the end with no one behind me, then off to drop our blue and red bags.  I kept going though them as we were not allowed back into the transition area until after the swim.The only thing left to look at now was the swim course, it was very busy down there, lots of last minutes practices going on. The buoys were being put out which looked very far away, but the sea was very calm I prayed for it to stay like this!!! One final thing left to do was the race briefing which was back at the finishing line. This was very informative they did a good job at trying to calm the nerves and some good tips about the route.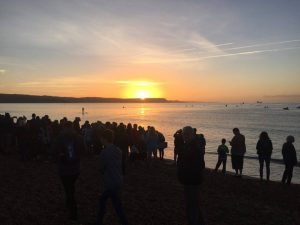 Sunday –
Well I didn't have the best nights sleep!!! my alarm went off at 0400 as we wanted to have eaten by 0430. We left at 0515 as we were not sure how busy it would be but this all went very smoothly. All I had to do was pump my tyres, attach my gels, put my drinks and Garmin on. I then joined the ridiculous queue for the toilets – 30 mins later I'm still queuing!!! Luckily I didn't need to go back to my bike as I had everything I needed with me so I changed into my Wetsuit in the queue. The toilets were disgusting I was gagging but needs must!!!
Then over to the beach were it was a rolling start which worked well in Barcelona. The commentator was doing a great job, the crowds were screaming, the National Anthem was played then the sound of the horn echoed across the beach. I was bricking it by this point. The sea conditions were brilliant, the Tri Gods were looking down on me!! Off I was on my first lap, I quickly got into a rhythm and calmed down and oddly was enjoying it. I felt fine after Lap one then off I went again on the second lap. This was  less enjoyable but I knew I was on my way to finishing part one of an Ironman!! Getting out the sea I was beaming as I had not been looking forward to the swim at all.
With a very relaxing 10min transition I dried myself off, powdered my feet, ate a banana and completely changed into my cycling gear. As I had tried many times to cycle  in my Tri Suit before  I found that by 50miles it began to dig in so I decided to ride in comfort. Off I was on the 112mile ride!! Not sure how I did it, but I managed to ride into a kerb and fell off. I wasn't going too fast, just scrapped my knee but hopped back on no harm done!! The bike route was really nice, very scenic, but  a lot hillier than expected and by the second lap those hills hurt!! I stuck to my calorie intake and drank regularly. I was conscious of not pushing to hard on the last 20miles and I took that time to get my mind focused on the 26.2mile run ahead of me. The last 6miles hurt with a nice hill at the end, just what my legs needed – not!!
As I came into the finish I saw my family and friends which was great to see, this really lifted my spirits.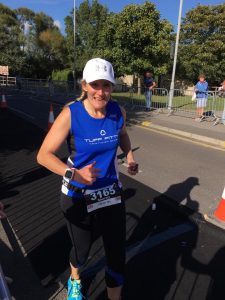 I changed again into my running gear (Tuff Fitty Top) struggling trying to keep my towel up, as getting disqualified for nudity at this stage would not be funny!! I left transition, had my first wee and by this stage words can not described how disgusting the toilets were!!! I headed out to the road and I could hear my supporters screaming my name, I hugged them all and quickly got into the zone.
The first lap (of 4 ) was tough, as mentally I did know where the exact  turning points were.  The crowds were absolutely amazing!! I got into a routine of walking through all the feed stations refuelling then off again. We had to run past the finish 4 times before actually finishing which mentally was very painful. I was on my last lap (still 10k to go) and my mate had finished!! I was so pleased for him he did an amazing time. So one lap to go, I was starting to get a bit excited!! As I turned around and got my last band I could see in the distance the lights from the finish line, all I had to do now was dig deep and run……… The music started getting louder with every step I took, as I came around the final corner I could hear my friends and family screaming my name.
I was so happy as I ran down the red carpet to hear " Sharon Tidmarsh You Are an Ironman" words can not describe how I felt. This had been one of the best days of my life 🙂