With 2016 drawing to a close, there was still time to squeeze in a bit more 'Tuff Training' with a visit to Arundel Lido.
First off, several met for a run around Arundel Park. The usual 7:30am start saw the runners arrive in gloomy conditions, although the fog did mean that the air temperature was suprisingly mild.  A shorter route this morning due to the need to get back to the Lido and several committed to the HangOver 5 in the morning, but the route still included 500 feet of climbing.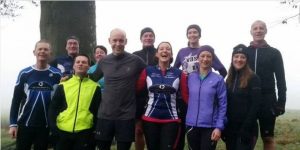 From here it was into the Lido where Tuff Fitty had hired an exclusive hour.  This proved a win-win situation because as well as bringing something different to the Tuff Training programme, it raises much needed revenue as the Lido charitable trust strives to improve its facilities.
More Tuff's arrived just for the swim, or cycled over and before long the pool was filled with swimmers ploughing up and down. The water had been heated and it was warmer in than out. Several thousand metres were swum and then it was a sprint across the cold concrete before a hot shower and into the Cabin for hot drinks and mulled wine.
Thanks to Trev for bringing his underwater camera and Jon and Anthony for further pictures of Tuff Festive Fun.   Happy New Year to all.
<
(as usual if anyone would prefer not to have their photo shown, do not hesitate to ask)