Weekend Round Up 10th/17th Dec
Whilst Christmas draws ever closer, club members are continuing to get out doing what Tuff's do best.
CHRISTMAS BREAKFAST RUN – 10th DECEMBER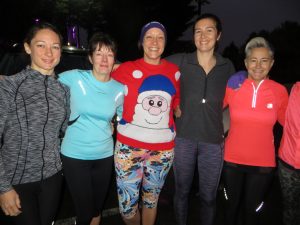 The Saturday morning runners usually stop for a coffee before heading home (oh, and cake, if they have run far enough) but not a full English. So once a year prior to Christmas there has built a long tradition of a full Breakfast run.
Starting at Crossbush there was a run out into Angmering Park with a few undulations to work up an appetite. Some got into the mood with some festive outfits and surely it wasn't the lure of breakfast that saw a high turnout. A couple of our coaches decided they would skip the run and start eating immediately. Apparently this was in the interests of the runners, as by eating the croissants, the supply would keep getting topped up to remain fresh for the returning hungry Tuffs!  Simon finished his run and produced a box of crackers, so Trevor had some competition for best joke teller of the morning!  A successful morning as the photo gallery shows.
ROCKINGHORSE SANTA DASH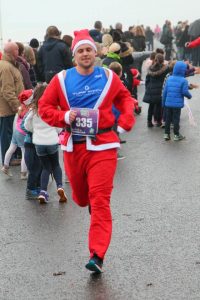 Meanwhile across on Hove Lawns, James Oram took part in the 5k Santa Dash to raise money for the Rockinghorse appeal. Another strong performance saw him collect his Santa Dash medal.
THE XMAS X C – TADLEY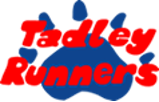 Trevor Harvey reported in from a race in Hampshire:-
Trev plodded through mud on 11 December for the Tadley Xmas XC – gaining a second mug in as many weeks!!  That latest one joined one gained in 1996 when he last ran it……albeit on a different course.
A true XC course; meaning that after the first quarter of a mile trying to avoid the mud, you just had to wade through.  Luckily there were showers at the end to get the caked on mud off, but the socks had to be thrown away.
A good event, with soup at the end to christen the mug, but a tough course.
PORTSMOUTH COASTAL MARATHON
Sunday 18th December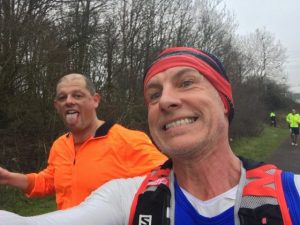 Chris & Stew running around Langstone Harbour
Stew Smith has reported in from the 7th running of this marathon from Southsea around to Hayling Billy Line and back again
"After a long lay off. 6 years since my last Marathon I thought it was about time to pull my finger out. Part of a new job opportunity has led me to organising endurance events overseas. I will be away in Rwanda during May an also have decided to run my first Ultra.
After my 30 runs in 30 days during November building the legs back up I thought that a Marathon would be the crazy, stupid done thing. My plan was to:-
 1. Get some slow miles into the legs whilst avoiding injury. 2. Feel the pain again and learn to enjoy it!!! 3. Simply have an adventure, which is something that I have missed over the past 16 years of tri, mainly trying to do everything fast but often missing the fun of the adventure.
Chris and I decided to run together, his experience was invaluable particular during the early stages when I would of gone off to fast.
I had a great day and ticked all of the boxes. Met some amazing people, chatted lots, ate everything at all of the aid stations and had a blast. Portsmouth Coastal Marathon was a great route, 70% off road, 20% road and 10% beach. What's not to enjoy.
Thanks also to the great Saturday morning Tuff runners for the example of embracing the challenge and enjoying the adventure.
Stew shows off the medal and T-shirt, plus a view out on the course
Chris Levitt wanted to add a postscript:-
"I feel I need to add the fact that despite the layoff Stew made the whole thing look easy in fact it was more difficult for me to keep holding him back than it was for him to push on.  It would have been a sub 4 hours day if he hadn't had a Lard to slow him down.
It was a true honour to run with Stew for 22 miles before the true legend amongst champions was cut free to add his own signature to his run.
Well Done Stew, great company and inspiration to us all. Merry Christmas"
WORTHING PARK RUN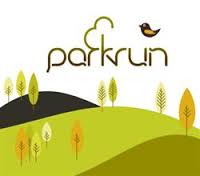 Dave March raced at last Saturday's Park run. He put in another blistering performance running home in 7th position overall. His time of 19:29 was just 8 seconds outside his personal best. Another Tuff runner, James Oram, freed from the shackles of his Santa suit from last week crossed the line knocking 2 seconds of his PB in 22:42
Well done to everyone; missing from the Round Up? well make sure you drop Clive a line to ensure you receive recognition – clive.harvey@tinyworld.co.uk