Weekend Round Up 18th/19th February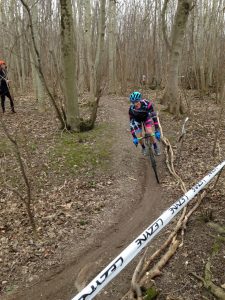 SINGLESPEED CYCLOCROSS EUROPEAN CHAMPIONSHIPS
Tom Goddard reports in from  SSCXEU17
This weekend Brighton hosted the Singlespeed Cyclocross European Championships and as a lover of niche, unnecessarily difficult races I had to enter.
The event consisted of a Fondo on the Saturday and the race itself on Sunday.
Arriving for registration at the excellent Rule 5 Bikes in Brighton I promptly had my number pinned to my back and a beer thrust into my hand. Great start. For those not au fait with The Rules check out http://www.velominati.com/the-rules/
Also of great excitement to any 90's mountain bikers in the group was that the illustration on the t-shirts was by none other than top cartoonist Jo Burt of Mint Sauce fame. And to top it off Jo was joining us on the ride!
The Fondo consisted of a 40 km ride taking in all of the steepest climbs, knarliest singletrack and muddiest holes the Downs around Brighton had to offer. Perfect for bikes with skinny tyres and no gears! There were also fiercely contested Hot Secteurs where prizes could be won.
I rolled out with a predominantly Belgian group and immediately regretted my gear choice with everyone else spinning comfortably up the hill through the woods whist I was straining every sinew trying to keep my cranks turning. Oh well, Rule 5.
The route was great fun and made all the better by the beautiful sunshine, mild temperature and stunning views. It was a very relaxed atmosphere with some great Anglo-Euro banter particularly revolving around Brexit and riding on the wrong side of the road/ trail.
The midpoint Feed Station was the excellent Shepherd and Dog in Fulking which was conveniently having its winter beer festival. Three pints and a packet of spicy biltong to refresh and we were back on our way straight uphill through six inches of thick mud.
Fueled by beer and dried meat the second half of the ride got a bit more competitive with lots of sprints for imaginary summit finishes and full contact races through narrow singletrack.
The day finished with yet more beer and pizza at Deadwax Social Club in Brighton and the realisation that we had all destroyed our legs and were still going to have to race the next day.
Fortunately, unlike triathlons, off road events have very reasonable start times as there is no traffic to avoid so there was sufficient time for hangovers to subside.
I arrived at Stanmer Park at half ten with just enough time to fit in a recce lap of the 2 mile course.
The course consisted of some switchbacks up and down a hill in a field, some severe off camber grass corners and a lot of technical, rooted singletrack through the woods with many leg busting muddy climbs. The race was to last for an hour + one lap.
I lined up for the start alongside a couple of Frenchmen I'd ridden with the day before and who were of a similar speed. Rather than a starters pistol the race referee downed a pint of beer and as it left his lips we were off!
100 maniacs heading off hell for leather, elbow to elbow into the first corner was a real rush but I tried not to get too over excited as having been knocked off my bike by a car three weeks previously and missed some training I knew I wouldn't have the legs to stick with the proper race teams who had showed up.
After the first couple of corners I settled and was promptly overtaken by a lobster and the super Mario brothers. Oh dear.
I then had my bidon bounce out of my bottlecage, get run over, and eject its contents. I ran back to pick it up losing a lot of places and thinking this could be a long hour.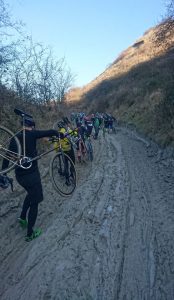 Some spectators having spotted my plight, at the top of the next hill, handed me a brandy and in no time at all I was ahead of the lobster, the Italian plumbers and back amongst the shaved leg brigade.
The course was brutal and again I found that I was very overgeared but I managed to make up a lot of places by having to ride up all of the hills flat out as if I slowed down at all I would grind to a halt. The European competitors were also not used to a course this technical and I was able to make good ground on them through the wooded singletrack.
With no water for the race I 'had' to resort to accepting the many 'hand ups' from spectators and found an excellent group who would give me a can of Darkstar Revelation on almost every lap!
The spectators created an incredible atmosphere and combined with the loud music from the DJs you were encouraged to give everything lap after lap.
One particularly drunk spectator decided to make a 'human hurdle' along the start/ finish straight as I was coming round for another lap which was very brave but I did manage to bunny-hop him despite tired legs and having had several beers.
It wasn't the beer talking; Tom really did this!
Where did I come? I have no idea. And I don't really care. It was one of the most fun races I have ever done with unrivaled atmosphere and I'll certainly be back next year (just with lower gearing)! Oh and don't panic, I beat the Frenchies!
PS:-  P.S. Just found out SSCXEU18 will be hosted in Flanders, Belgium. I'll be going if any Tuffs fancy a roadtrip!
Tom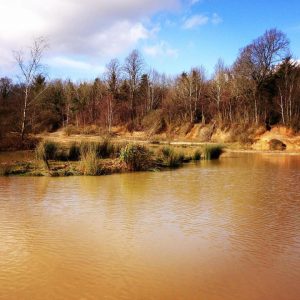 SLINDON SLOG 
Joe Pascoe reports in from the Slindon Slog:-
Fourth animal, third human
After seeing the race advertised on the club website, I was suitably intrigued enough to enter.
I arrived at Slindon Cricket Club and met a very friendly bunch of local runners and dogs.
The dogs, plus owners, went first for two laps of a field and then the two legged animals got to run.
Next it was 8 miles of awesome trails and hunting down dogs. I ran past one women who then shouted, "Go chase!" to her dog (that's an incentive to speed up!).  The final two miles were in The Slindon Pits, it involved twisting and turning through waist deep sand, mud, water and more mud.  Having caught the first doggy up (she was a black one, with 4 legs), we ran together until I took a final swim about 400m from the finish.
Stood at the finish we were given a white t-shirt (mine is now yellowy brown) and a medal. The only trouble was we were completely lost and had to find our way, 2km, back to the car.
If that black-bitch is reading this, I'll get you next year!
Joe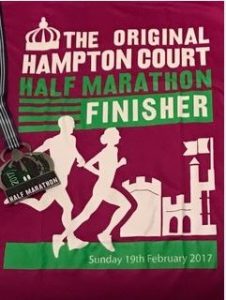 HAMPTON COURT HALF MARATHON
Trevor Harvey also reports in:-
Being a bit of a horses arse, I'd scoured bank statements but couldn't find evidence of entering Brighton Half, and so as it was already full, I entered Hampton Court Half instead……..but several weeks later my number for Brighton turned up, so it will be two halves in 7 days.
Anyway, the Hampton Court Half on Sunday was very well organised with supposedly 5,000 runners.  For those who have done the Kingston Breakfast run, it replicated the main section of that route, along the river and past, (not surprisingly), Hampton Court, but also headed further north past Kingston.
Nice weather, and a nice goody bag too – a good medal, T shirt, banana, Weetabix drink, cliff bar, caramel bar, fruit & nut bags etc etc!  A recommended race.
Trev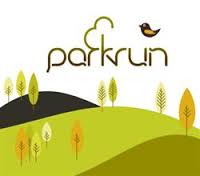 WORTHING PARK RUN 
James Oram continued his progress at Worthing Park Run clocking up another PB. This time he shaved a further 27 seconds off to cross the line in 21:29. Cathy Connor also raced crossing the line in 28:03
Don't forget to write in with your tales of daring deeds; email clive.harvey@tinyworld.co.uk