Worthing Half Marathon 12th February
"TERRIFICALLY  TUFF  TURNOUT"
James Oram reports in from the 2nd staging of the reinstated Worthing Half Marathon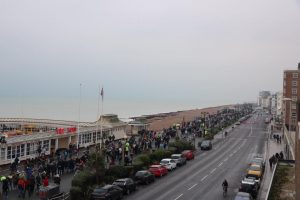 Despite the cold, the promenade was packed
"It was a cold start this morning with a chilly easterly wind but this did not put off 27 hardy Tuffs from lining up for a prompt 9am start with 1600+ runners.  We had one of the highest entries from a local club and the support from fellow Tuffs around the course was fantastic – people were ringing bells, handing out jelly babies and giving words of wisdom. Maybe it was the prospect of the post-race gourmet burger organised by our food entrepreneur Catharine Western that fuelled the high spirits and motivation?
Not only did the Tuffs have a great turnout – there were a number of notable performances. A hearty congratulations goes to Mark Day who completed his first half marathon in a highly respectable sub two hour time; 1:55:28. Ollie McDonald & Pete Littleboy were our first men home, with Ollie managing a smashing 1:28:20 PB.  Becky Sutton was our first lady home and also an impressive 7th lady overall- clearly the speed work and long runs have paid off. Tom Gray moreover, conquered his sub 1:40 ambition by closely following the pacer and managed to get home with well over a minute to spare. Lastly, James Oram managed a "Pee in the Bushes" PB after finding a suitably enclosed shrubbery at the 10 mile turning point.
The Personal Bests kept coming; clearly the Tuff Training sessions are all you need.  Elle Williams beat her PB set back in 2012 and Tiff Orton also powered along beating her Half Marathon times.
In the meantime, the winding Worthing course enabled Rachel Brunning to solve the mystery of who stole her compasses in school last week. 😉 Lastly, Kudos to Clive Harvey for running the half and then informing me that he was attending Sunday circuits to "loosen off a little bit"!
Clearly the conditions today were good for Tuff running and supporting. Well done to everyone involved; a fantastic team effort – from the sea of blue in the field to the burger indulgence at the end. Check out the photographs courtesy of Gary, Anthony and co below.
See you soon for some more Tuff spotting!  All the best. James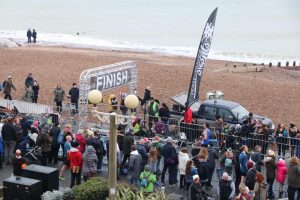 James not only got a PB but still found time to be interviewed on local radio
| | |
| --- | --- |
| Name | Time |
| Ollie McDonald | 01:28:20 |
| Pete Littleboy | 01:28:20 |
| Becky Sutton | 01:28:22 |
| Gavin Sewell | 01:28:41 |
| Paul Atkinson | 01:33:20 |
| Tom Gray | 01:38:47 |
| Huw Williams | 01:38:58 |
| Paul Martin | 01:39:54 |
| Neil Rabone | 01:40:27 |
| James Oram | 01:41:27 |
| Grant Smalley | 01:45:15 |
| Elle Williams | 01:47:19 |
| Graham Liddell | 01:47:34 |
| Tiffany Orton | 01:48:14 |
| Amanda De Ridder | 01:49:47 |
| Nikki Gatland | 01:50:04 |
| Jon Roper | 01:50:48 |
| Clive Harvey | 01:52:59 |
| Murray Hodge | 01:53:47 |
| Mark Day | 01:55:28 |
| Sharon Tidmarsh | 01:55:53 |
| Catharine Western | 02:00:05 |
| Becky Hodge | 02:04:14 |
| Wendy Frost | 02:07:01 |
| Ollie Sampson | 02:11:59 |
| Rachel Brunning | 02:13:50 |
| Bec Day | retired |