Weekend Round Up 17th 18th June
Top billing goes to another international Tuff – Steve Feest who reports in from Austria at the ITU event. Held in one of Austria largest ski regions, the course was never going to be flat as Steve explains:-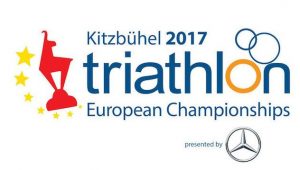 ITU EUROPEAN CHAMPIONSHIPS KITZBUHEL
"I came 18th in my AG (60-64), in European Olympic Distance Championships here in Kitzbuhel; made the top half in my AG, which was my aim. Beautiful location, very scenic, only the swim was flat, bike and run very hilly. Hope to catch up with you all soon.  Cheers,
Feesty.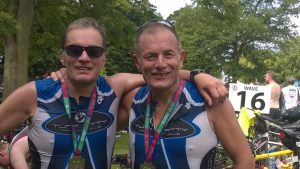 ROYAL WINDSOR TRIATHLON
Trevor Harvey reports in, that last weekend he and Clive completed their 20th consecutive Windsor Olympic distance Tri.
Some might wonder why I have done so many – it is often good to have a change of event, but a) it's my local race; b) the route changes regularly and c) ……………I don't pay!! I won a raffle a few years ago for free entry for life!!
As mentioned the course has changed over the years; the swim changed three years ago, when there was also a slight change to the run route.  This year the bike and run course changed.    This was the first tri Clive and I have done this year – we now appear in the even older gits category; pleasingly, that meant that there was only 19 starters out of a supposed 24 in the age group, which avoided the usual swim start punch-up!
The new run route goes up the hill, past the castle, and down the Long Walk, before retracing the route, which is completed three times.  I really must do some training instead of just racing – having torn a muscle in my leg in Geneva, I did nothing for three weeks and then did a 10K – and it went again!  I therefore simply rested until last Sunday, and luckily it held out, albeit a pretty poor run time.  Summary – very pleasant in the Thames (20 ˚); nice on the bike but b sweltering on the run!
This year the event took back the title "Royal" to make it the Royal Windsor Triathlon again, apparently Princess Beatrice joined the 5k run stage of the Sprint. A good event with 2,500 triathletes packing out the town
Trev
Leanne in action
IRONMAN 70.3 STAFFORDSHIRE
Leanne Levitt reports in from her event held at Chasewater Lake
"When I decided to enter the IM70.3 event I never imagined that I would only have 2 months of specific Ironman Training once my arm rehab ended!! But hey I thought I would give it a go and wasn't expecting it to be easy but would try my best on race day and what a great way to spend my birthday
I was beyond excited as the 2months before my training had been on track, expect for the run where I only had done 14km but with a solid swim and bike I reckoned I could pull it off……what I didn't expect was for it to be one of the hottest days of the year in Britain for 20yrs – around the same time I emigrated! So I just had to make the best of it as it was the same for everyone.  When I registered I was beyond excited as along with 16 other competitors whose Birthday was also on Race Day and my Race Number had a cake on it The excitement turned to worry in the medical/race briefing but being safe out there was No. 1 priority.
Race morning arrived and it was hotter than ever with the water temp being 20C and we were told NOT to put our wetsuits on till the last min due to the heat.  But I was excited to be in a good swim pack and ended up sub-35mins and 7th overall in my 35-39 age group then it was onto T1 and steadily made my way to my bike where we all heard that the first 10 miles were very bumpy and technical then I settled into it ticking off 1,2,3 and 4 feed stations then the wheels came off in the last 10 miles and I really wasn't sure how I was going to cope on the run.  I staggered round the 1st of 3 laps and then sat on the grass for 20mins by the finish in tears and made up my mind to quit! The marshals had other ideas and managed to talk me round and a kind marshal (with official Ironman permission) ran/walked the last lap with me! He force fed me gels, coke and isotonic (until I was sick!) just to get me round! WOW!! They were amazing and were there for me 100% and even the Ironman organiser cried when she heard the story of my guts and determination to cross the finish line in 9hrs 21mins
I am so pleased I stuck with it to get that medal, have a fab birthday and am looking forward to getting back into Ironman training and onto the next one…..x "
Thanks to everyone for their support!!
Leanne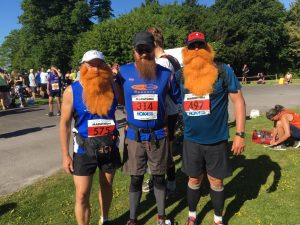 SOUTH DOWNS WAY MARATHON
What a hot day to run a marathon.  Linda Cooper had a very strong run crossing in 5:20:14. Chris Levitt and Glenn Parisi also attended.  Well done to Nicole Ewer who was present as part of a relay team. But we will let Glenn's 'sunstroked' view of events unfold as follows:-
"After the disappointment of crap times at both Brighton and Geneva marathons I was looking for my next marathon to be a chilled out affair with absolutely no time pressures.
Chris Levitt and our friend Ian Culton aka 'Jesus' (from Tone zone runners) had already entered the South Downs marathon.
The race blurb stated that it was one of the hilliest, hardest but most beautiful marathons in the country…..
Chris told me that they were just going for a day out, aiming for 6-7 hours, were intending to have a picnic half way round and suggested I join them and that we all stick together.
Good, no chance of chasing any sort of time then, so I signed up.  Two of the 'Lards' together again in a race – should be a laugh!
First mistake of the day was to pick Ian up. Ian is notoriously late and unorganised for everything and Saturday was no exception.
When he eventually got into my car I noticed he had compression tights on under his shorts and quite a thick looking top.
The temperature was already around 24 degrees and was expected to get much higher, so obviously I took the p@ss. Ian confidently explained that they were 'recovery tights'.  Naively I had thought that recovery tights were for after races but bowed to his greater experience. (Ian is a member of the '100 marathon club' after all, so should know what he's doing…..!)
Next mistake was to park where Ian suggested. A small car park in the woods close to the start venue at Slindon college. Turns out it wasn't close at all.
After asking a few dog walkers for directions and a two mile walk through the woods later, we eventually made it to the college and met up with Chris.
Next mistake, a big one, was to go along with Chris' idea of wearing big bushy ginger beards as a p@ss take of Ian (Jesus) and to test Ian's theory that the reason he's so slow  at running is because of his beard!!
Whilst Ian was registering Chris and I put our beards on and went to look for him in the crowds.  I quickly realised that Jesus is a bit of a celebrity amongst local marathoners and seems to have loads of 'disciples' wherever he goes, so our beards were greeted with lots of approving comments / cheers.  Sadly Ian took it well (we were hoping he'd be p@ssed off!!) and posed with us for a few photos in front of his adoring fans.
The race began with a lap of the college field before heading off on trails through the woods.  Even during the lap of the field it became apparent that the beards were a mistake. My face felt like it was melting in the heat and we began to pour with sweat within a couple of minutes! The beards lasted all of a mile before they had to go and were put away into our bum bags (saved for a winter marathon maybe!).
We ran, slowly as planed, together for the first four miles or so until Ian began to struggle.  In fairness to him he's been out of running for a year with some very serious injuries.  But us Lards aren't known for our fairness or compassion so he got it – double barrelled abuse for wearing tights and for being a useless 'tw@t'!
We left him behind (don't worry, he had some of his disciples with him!).
Another one of Chris' friends Louise (aka 'Doris') joined in the race at mile six. She was using it as a 20 mile training run for her first marathon later in the year. She was a bit concerned as to how awful we looked – by this stage it was about 26 degrees and we looked as if we'd just got out of a swimming pool! By the time we arrived at the half way feed station Chris was really struggling. He was staggering around and looked as if he was going to pass out!  He said he was finished and was going to pull out. Doris called her husband to come and collect him. Then Jesus arrived, looking almost as bad, and for a while it looked like that was the end of the race for us all.  We stood around, contemplating what to do, had some drinks, went to the loo and started to feel a bit better.
The Lard's continue to practise carbo loading
I got out the three Ginsters Pasties I'd been carrying in my bum bag and suggested we start our picnic.  The suggestion didn't go down too well – Chris and Jesus almost vomited at the thought of it!  So after the photo, they chucked theirs away!  I on the other hand was starving so ate the lot! After 30 minutes at the feed station we decided to carry on.  A mile later, at the top of another massive hill, Jesus decided to have a lay down and found some shade for his own picnic.  The rest of us carried on. Doris was still fresh, having only run a few miles, so eventually got bored of our walk, shuffle, stagger, walk technique and ran off!
Chris and I carried on together until mile 21.  After a bit of discussion and reassurances from him that he was ok and not going to pass out, I ran on feeling really good.  I wanted to see if it was possible to actually run the last few miles of a marathon without walking and without getting cramp (something I'd never previously managed before in any marathon!). I caught Doris at about mile 24. She appeared to be struggling but happily chatting to a woman she'd befriended, so after a few minutes I went past her and carried on to the finish.
Medal, t-shirt, goody bag were all good.  I waited and saw Doris, then Chris and then Jesus finish.  We lay around on the grass in the sunshine chatting and contemplating the day. We all agreed that with the heat (it peaked at 29 degrees) and being cross country with multiple massive hills it had been the hardest marathon we'd done but that it had been a great event and we'd had a laugh and a great day out.
I'm now left with a quandary though –
I've never felt as strong or as good during the last 4 or 5 miles of a marathon. I was passing loads of people, even people who looked like proper athletes, my last mile was my quickest and I didn't even have a hint of cramp!   So, have I finally learnt that you should relax, that it's all about pacing, that I should slow everything down at the beginning?
Nah…. what I learnt was – eat a Ginsters Pasty half way round!
'Oh and Ginger beards do slow you down, and recovery tights are supposed to be for after races!'
Glenn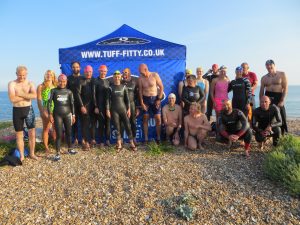 RUSTINGTON BEACH SWIM
The Tuff committee had scheduled a sea swim followed by nibbles for the Monday evening to take advantage of high tide, and what an inspired decision occurring right in the middle of the heatwave. Sea conditions were calm, although there was a bit of a cheeky current to provide some good training. The nibbles were kindly prepared by Captain Catharine Western, a great spread including cake, ideal for hungry Tuffs after a swim.
The evening proved a great success with 45 people swimming plus some others spectating. Also it saw the grand unveiling of our latest addition, our new Tuff Gazebo. To work alongside our existing shelter, look out for these at future events and club specials, we really have Tuff City now.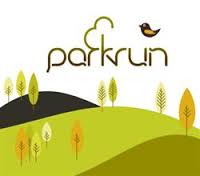 PARK RUN
A trio of Tuffs at Worthing. Very close for first Tuff home with Huw Williams crossing the line in 21:17 and just 10 seconds behind James Oram in 21:27. Tony Pearce clocked a time of 23:48