Weekend Round Up 12th 13th August
Don't forget to look at the calendar of training/events on our website containing lots of local races and beyond. We are keen that everything is inclusive for all; if you have a favourite event not included let us know and use the forum to rustle up some Tuff participation. Using the categories tab, you can from select a range of activities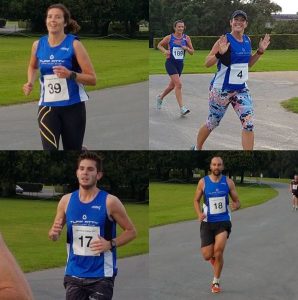 GOODWOOD HILL CLIMB
One such event from the calendar was the Monday night Goodwood Hill climb with Tuffs entered instead of our Monday evening run. Registering at the Goodwood Hotel & Health Club (classy) the start was at the beginning of the Hill climb, the centrepiece of the Festival of Speed. After a detour down to the West gate it was back to a full-on climb to the top. Many just put their heads down for the climb, whilst the petrolheads took 'the racing line' cutting close to the flint wall.  This would not get the full scheduled 5 miles so runners continued to climb right up to the road by Goodwood Grandstand. Argh, the top of this hill is where everyone meets for the Chichester Cross Country… can the new season only be a couple of months away!!. From there it was a fast descent to finish on the bricks from the Indianapolis Speedway circuit.
No one was close to the course record (in a car) of 41.6 seconds but Andy Crawford finished in 4th position overall – earning a Salomon bag in 31:02.  Good times from Stu Harvey, Tom Gray, Tiff Orton, Glenn Parisi, Clive Harvey, Trevor Harvey & Catharine Western.  Tiff had a storming run crossing as 10th female.  Having collected the goody bag it was back to the hotel gardens with cheerleader Jon Roper  for a burger meal listening to a duo serenading the runners.  A bonus in that all monies raised was for charity, everyone agreed it was a great way to spend a Monday evening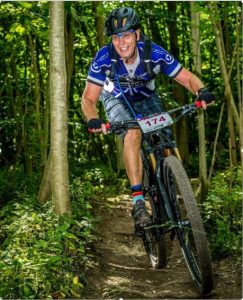 Fivecakes in action
BRIGHTON BIG DOG 
Jon Roper reported in from the 9th year of Big Dog which is held in Stanmer Park. Also entered was James Oram although his efforts came to an abrupt finish when his free hub broke. Jon Fivecakes takes up the story:-
This is a 6-hour enduro race and can be completed solo, in pairs or a team of 3. It was voted in The Guardian's Top 5 bike events.
I went over last year to watch and it looked fun so I entered this year in the solo category. It's billed as a technical course and included lots of single track.
With a mass start, the first lap was a bit stop starty as everyone raced for the first up hill single track.
It was a fun course to ride with a lot of rooty single track (I was glad it was reasonably dry). Some of the more technical bits had A and B lines but none of the A lines were too bad (I managed them without falling off!).
I had planned to try and complete 6 lap but only managed 5. I had 1.5 hours left so had plenty of time but I was knackered lol! Not used to the concentration of the fast downhill single tracks!
All in all a brilliant race that I will do again next year. Also had a fantastic cake stall and if your purchased a Big Dog mug – an unlimited supply of drink.
Fives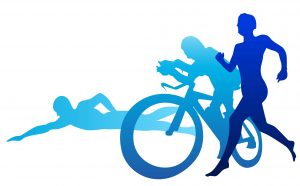 EDENBRIDGE TRIATHLON
Next up, a submission from Tom Gray and his very early Sunday morning start at Edenbridge Sprint Triathlon, midway between East Grinstead & Tonbridge:-
Andy Crawford and myself made a late entry into the Edenbridge Triathlon as a bit of a warm up to the upcoming Southwater relays – surprisingly without any hint of "friendly" competition this time.
A quite small, but well organised race, we enjoyed the luxury of two swimmers per lane in the 400m swim, a scenic 25km bike route, and a fast flat 5k run.
I set off just before Andy in the swim, and thought I'd built a decent gap for the bike, only for Andy to overtake me a little before half way!
In some Tuff Fitty comradely, Andy shouted "get on my wheel for a bit" as he flew past. I did…for about 10 seconds. Andy took a couple more looks back, before concentrating on his own race (thanks anyway!).
Andy finished strongly with his quick run for 4th (the second 4th for him in a week! – he was a little frustrated…) and I came home in 12th. A medal, packet of crisps and a Mars bar at the finish, overall a very enjoyable Sunday morning.
Tom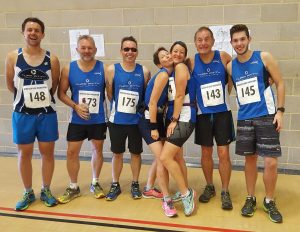 HENFIELD HALF MARATHON
Rachel Brunning reports in for Sunday's Half, and got up early to make the cookies for hungry Tuff's to devour post race; a race producing two new half PB's from James & Stu:-
On an August day that was inexplicably beautiful and devoid of our customary monsoon-like rain, Glenn Parisi set off with with his precious cargo (Tiffany, Claire, Rach and Tim) to head to the bad lands of Henfield, where we met up with Clive H, Stuart Harvey and James Oram to run the Henfield Half. The course was largely off road, really pretty and gently undulating. A small friendly field, paths were well maintained and clearly marked, marshals were really friendly and drinks stations were well stocked. All in all, a highly enjoyable day out for all concerned. Claire and Rach whinged considerably less than usual, Tim remained upbeat despite the bijou nature of the bling, Glenn made his usual excuses about 'going off too fast' and we only met one nutter in the toilets. All in all, a jolly fine day out, rounded off with some cookies and unusually drinkable tea in the little leisure centre. No loyalty cards, though- disappointing
Rachel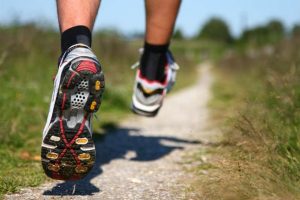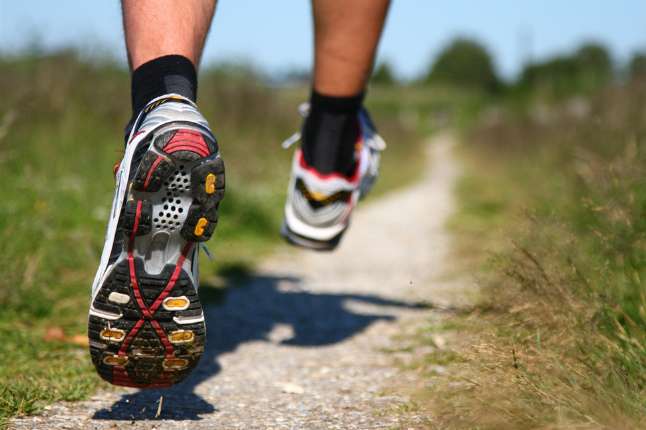 BURNHAM BEECHES HALF MARATHON
Trevor Harvey was also out running a Half, but up in Berkshire; he reports:-
They must have been watching someone else, as the T shirt accused me of being a natural runner – they need to go to spec savers!   The occasion was the Burnham Beeches Half Marathon. A scenic two lap route through, not surprisingly Burnham Beeches, just north of Slough.    A well organised race, and you got a lot for your money; a good medal, T shirt, printed bag, crisps, banana, chewy bar and drink, with a chance to jump in the school swimming pool at the end.  A recommended race.
Trev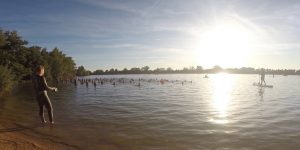 COTSWOLD CLASSIC MIDDLE DISTANCE TRIATHLON
Jason Rae has been out competing again, writing in about his latest exploits
I first did this event in 2014 and was very impressed with it, The organisation was brilliant, the marshals really supportive and the goodie bag brilliant. This year was equally as good. The swim in a warm lake with an artificial beach, then onto the bike route , a 2 lap course with a few small hills mid way on each lap. The scenery is stunning and the only houses you see are cottages in a few little villages built in Cotswold stone. The only downside to the cycle was some of the roads were pretty bumpy which isnt good for saddle sore after 2 /12 hours
The run was a 3 lap course around 3 lakes, the sun was out when I got off the bike so was glad that half the run was under cover of trees.
One of the feed stations had an amazing selection of food that wouldn't be out of place at a party, I managed to resist and just had water, flat coke  and a few jelly babies. One of the lakes had a couple of terrapins sunbathing on a log. The last lap was a struggle as it was getting hotter and hotter but soon I was coming in to finish.
I would highly recommend this event to everyone for organisation, scenery and support. The entry for 2018 opens on Sept 1 and they are reducing the field by 200 next year to make it even more enjoyable for everyone
Jason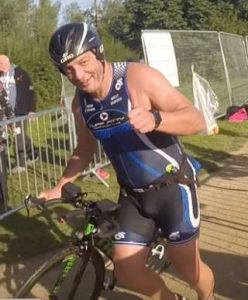 Jason heads out on the bike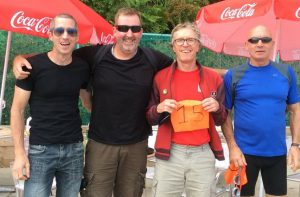 Anthony & the men's team
SANDOWN TO SHANKLIN PIER TO PIER SWIM 
Two separate reports from this  1.8 mile swim event; first from Anthony Towers and then from Susan Douglas:-
TFTC were represented at the 65th Sandown to Shanklin pier to pier sea swim yesterday by myself and Susan Douglas. We joined up with Trinity members who were there in force. I was part of a team of four men which included James Hodge we called ourselves Tufinity.  Susan was in a team of four ladies. Teams may be any combination and there is only one team prize. It went to the ladies so TFTC brought home a trophy.
The results usually take a couple of days to go up on the IOW Marlins website.
Conditions were calm which was not expected, however it probably had a lot to with the bay being protected from the wind which was pretty much offshore. This had the effect of cooling the water so there were a few shivering swimmers at the finish line. It seems to take a few goes to get used to the course as it always seems quite deceiving from the start line that you aim for the lift tower but it never seems to get any closer. Finish line is on the beach marked by two columns of balloons, finishers were immediately presented with a medal and chocolate. Then inside the rowing club there is a welcome mug of hot soup and bread. Really friendly event. Strictly non wetsuit so attracts some dedicated swimmers but not many triathletes. Great day out, excuse for a boat trip and ride on the most rattling train running in the UK.
Anthony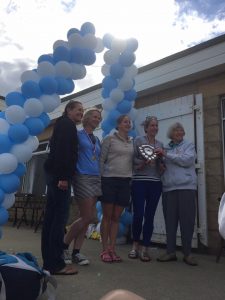 The winning female team
"It was time for a jolly jaunt to the IOW for the annual Pier to Pier swim although there's not been an actual pier at Shanklin for many years.
I got off the little train at Shanklin and headed to the beach. The idea of starting at the finish was to survey the area, as in previous years I'd had trouble finding the exit point, despite having a huge concrete lift shaft to sight.
Having satisfied myself that I would know where I was going this year I set off down the coastal path to Sandown Pier.
I met up with legendary Tuff Anthony, as well as some of our fellow Littlehampton swimmers from Trinity. They're in the pool just before us on Saturday.  Anyway, it was decided to join forces and enter two teams of four in the race. I formed part of the ladies' team, seemed like nice bunch, but no idea what kind of swimmers they were. Probably just nice social bather types.
After the usual swim briefing we all lined up on the beach. Being a civilised swim, the men started first with the women following 2 minutes later.
We were lucky with the weather, quite sunny, sea reasonably calm and pleasantly warm, for me at least. We headed out and turned right with our sights on the lift shaft.
All was going well, I was swimming nicely, goggles weren't leaking or fogging up and my bikini bottoms were still on, despite losing the drawstring. 😊 I had plenty of space with just a few fellow swimmers for company.
The swim is assisted by the tide and before long the lift shaft was in full view. Final turn and I tried to pass a lady just in front, but I'd left it too late. She did dawdle a bit as she got out of the water and I could have barged pass, but that wouldn't have been very sporting…would it?!  As it turned out I was 4th in my age group (39:57) and the lady in front 3rd (39:51), so next time maybe I won't be so nice!
At the prize giving I discovered that the Trinity swimmers weren't casual bathers, far from it with Katie winning the ladies (35:09) and her age group, Charlotte not far behind and Michelle winning my age group. So, you know what's coming next, the team prize, yes, we won and we all received a much-coveted IOW glass sculpture. As the words on the side of Sandown Pier say, "A Whole Day's Fun in One" and it certainly was.
Susan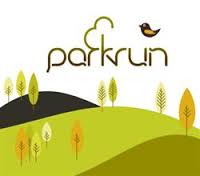 PARK RUN 
Tuff's spotted out at four Park Runs this weekend as follows:-
Worthing  Danny Cunnett – 21:59  Antony Oliver 22:30 Jay McCardle 23:07  Rich Hurdley 38:38. Also great to see Hazel Reilly run who is our newest member having joined this week – having already become a regular on track and at swimming – welcome.
Bognor:– A great pre-Birthday Park run by our very own legend Bob Thomas
Maidenhead:- Trevor Harvey clocked up another Park Run here prior to his half marathon the next day
Rushmere Park:- Graham Liddell has been nudging his PB down over this course and did so again this week clocking 23:22
Congrats to all eight
Keep those race reports coming: – clive.harvey@tinyworld.co.uk