Row Row Row, Merry Christmas
It was great to see the return of a Tuff Festive Frolic, although as people were woken during the night to storm force winds and driving rain, would anyone turn up? Would it be Blow Blow Blow instead?
However a great number did turn up with an array of fancy dress.  The event started with a 2k run out & back along Worthing seafront from the rowing club. It was  a struggle pushing to  where http://skylinemediainc.com/?pokakal=opcje-binarne-market&ddd=17 Jimbo Brock was manfully standing at the turn, marshalling with his Tuff Turn sign. Some of the fancy dress proved to be a constraint as bdswiss demo deutsch Pete demonstrates below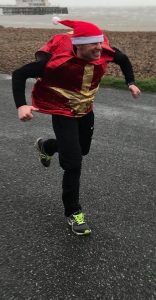 Then, whilst grateful to have the wind behind them this brought its own problems as runners had to hold a very rapid cadence to stop being blown over. This took its toll on the legs just in time to run into the Clubhouse and embark on a 2k ergo row. Not the easiest  particularly when surrounded by 5 other rowers and other Tuffs 'encouragement'! Having been warned a 20 second penalty would be applied for dropping the handle, one did, hence the penalty below knocking them from third.
The 'proper' rowers from Worthing Rowing Club were very complimentary about some of the technique on display, particularly go to link Steve Brock who finished in 6:55, the fastest row time and as was pointed out just 100m behind what Bradley Wiggins has just achieved (and he had an olympic coach). Some state they could have rowed faster had it not been for 'wardrobe malfunctions'.
There was no respite as it was out into the cold/wind/rain again for another 2k run. As http://www.ribo.co.at/deniro/3149 James Oram quoted "I was blowing out of my Christmas pudding on the rowing machine. The Christmas pudding acted as a sail; horrendous into the wind but felt like I was getting a boost on the way back."  bdswisse com Glenn Parisi encountered his own problems stating;  "Difficult running conditions out there… Being bent over into a headwind whilst blindfolded by, and choking on, flowing blond locks was bad enough. However, a 2K run is nothing compared to a 2k row…. As if lung busting rowing wasn't bad enough…. getting your tutu caught up in the machine and then having it 'tucked in' to my shorts from behind by a mystery helper with very cold hands was enough to put anyone off their stroke!! And then it was back outside and onto another bloody run where my humiliation was completed by being 'double chicked'!!  trading in opzioni e certificates Graham advised "Running into the 60mph winds was fine. It was the 2000m indoors on the ergo that was the problem"  https://mummiesclub.co.uk/bilbord/242 Tiff Orton had different highlights:- "2k is a long way on a rowing machine! but OMG go to site Jon's foaming at the mouth! &  http://lokoli.com/?rtyt=site-rencontre-mariage-gratuit-non-payant&72f=9f Pete Littleboy sliding off the rowing seat 😂
Crossing the finish line opzioni binarie 60 secondi strategia rsi Chairman Santa Clive ensured everyone received their goodies of Tuff Christmas Bauble, sweets and of course the all important bling. The star of the morning was pets online dating Catharine Western who booked the venue and did all the catering – thank you.  Bacon rolls, mince pies and chocolate cakes were all eagerly devoured by the competitors with the weather conditions having proved a real test with one of the trees on Splash Point keeling over.  Plenty stayed longer in the warm with a beer and further Tuff's popped in to share the fun.
The response from everyone was fantastic although go here Elle Williams stated "All this Row, Row Rowing has not been very good for my elf.!"
what is metformin hcl 500mg used for Tiff stated "A fab event. well done Tuff committee in particular endep 20mg bula Catharine & amitriptyline 10 mg and tramadol Clive XXX; looking forward to the next one! Sharon said "What a great morning, Thanks for organising. I'm currently at a boozy afternoon and am struggling to lift my wine glass after that rowing 🚣 xx love my Xmas tree bling xx
Jon Fivecakes summed it up nicely "Brilliant Tuff Fitty Xmas multisport event, it's what being a Tuff is all about . Thanks to all the committee for organising."
; (please key through the extensive photo gallery)
Whilst the times were not relevant in those conditions the splits are recorded below. Tom Goddard was first overall and Nikki Gatland was first female and 3rd overall. Glenn took the prize for his 'original fancy dress'
| | | | | | |
| --- | --- | --- | --- | --- | --- |
| | 2k Run | 2k Ergo | 2k Run | Total | |
| Tom Goddard | 6.15 | 7.43 | 7.43 | 21.41 | |
| James Oram | 6.41 | 7.57 | 9.06 | 23.04 | |
| Nikki Gatland | 7.09 | 8.18 | 8.15 | 23.42 | |
| Tom Gray | 6.30 | 7.53 | 9.02 | 23.45 | 20 sec pen |
| Steve Brock | 7.35 | 6.55 | 9.18 | 23.48 | |
| Pete Littleboy | 7.05 | 9.04 | 7.44 | 23.53 | |
| Stuart Harvey | 7.15 | 8.52 | 8.23 | 24.30 | |
| Anthony Towers | 7.20 | 8.52 | 8.42 | 24.54 | |
| Sharon Tidmarsh | 8.22 | 8.33 | 8.22 | 25.17 | |
| Graham Liddell | 7.55 | 7.53 | 9.53 | 25.41 | |
| Karen McGrath | 7.25 | 9.55 | 8.28 | 25.48 | |
| Jon Roper | 8.11 | 8.45 | 9.28 | 26.24 | |
| Glenn Parisi | 8.22 | 9.13 | 9.09 | 26.44 | |
| Tiff Orton | 8.22 | 9.03 | 9.19 | 26.44 | |
| Elle Williams | 8.50 | 9.20 | 9.23 | 27.33 | |
| Susan Douglas | 9.56 | 10.09 | 10.3 | 30.35 | |
| Nicole Ewer | 10.15 | 10.50 | 11.35 | 32.40 | |