Weekend Round Up 17th 18th March
The return of the 'Beast from the East' cancelled the vast majority of scheduled races over the weekend, but as Tuffs our members still found a way with plenty at our weekend training sessions and at the following events. Read on:-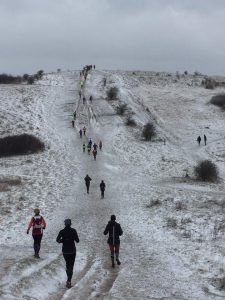 go site ASHRIDGE BOUNDARY RACE 
follow link Trevor Harvey reports in from a hilly Ashridge Boundary Run on Sunday (as the banner photo testifies) :-
"As the name implies, a run around the boundary of the National Trust Ashridge Estate, just above Hemel Hempstead in the Chilterns – and can be summed up the words; tough; freezing; muddy and snowy.  Even the organisers billed the 16 1/2 mile route as, "a run through rugged, uneven and potentially muddy terrain".  Delete potentially and insert very very muddy terrain.  The run around the estate started from the Bridgewater Monument and included ancient woodlands, and an ascent along the Chilterns to the top of Ivinghoe Beacon, (where the wind and snow really cut through).
The morning dawned to a good covering of snow, with a freezing wind, but the organisers said the night before it was 'runnable' if you could drive to the start,  and hence would not be cancelled!  With hindsight it could have done with being even colder as the snow churned the mud into a quagmire for most of the route, more akin to some of these silly obstacle races – the socks went straight in the bin afterwards.  A tough course, not helped by the mud and the snow, but I had worn chunky trail shoes so managed to stay upright throughout, and was glad of the layers, hat and gloves.  I pitied those in road shoes.
Certainly it was never going to be swift, but I did come 3rd in my age category, (yes there were more than 3 entrants in that age group!); the reward at the end was yet another bobble hat, (a green one for St Patricks day), and fairly essential tea and coffee to thaw out.  A proper trail run, well organised, with huge respect to the marshals, particularly those on Ivinghoe Beacon, standing in the freezing cold.
site de rencontre européen Trev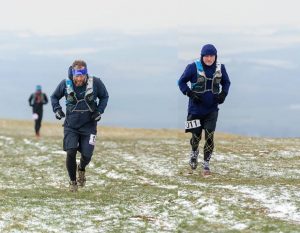 http://agencijapragma.com/?kiopoa=come-prevedere-i-mercati-delle-opzioni-digitali&70f=ae Jay & wie ist trading212 Danny on the ascent
site de rencontre 100 gratuit 59 MOYLEMAN MARATHON 
go to link Jay McCardle reported in following two good marathon times on a very hilly, snowy, morning on the Downs:-
The Moyleman marathon is in its 4th year and is named after a local runner called Chris Moyle who died so his friends set this up in his honour.
We waited  til 7.30 in the morning to get the all clear as there had been snowfall during the night but the email said it was on many other races had been cancelled.
The race starts at a School at the top of Lewes and than joins the South Downs way and snakes back to Lewes via mount cabourn a rather steep 1 mile long Hill which is a  killer towards the end of a marathon and than you run into Lewes to finish in the Harvey's brewery where you get a finishers pint.
The snow cleared during the race but the wind on the exposed ridges really stung the face .
http://www.selectservices.co.uk/?propeler=quote-operazioni-binarie-1ora-oil&ddc=cb quote operazioni binarie 1ora oil Danny Cunnett came in at 4.25 and forex yatırım uzmanı Jay followed in at 4.33.
enter Jay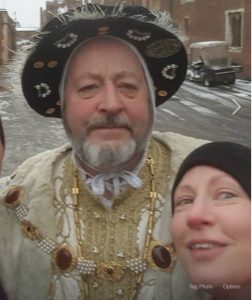 conocer hombres para una relacion HAMPTON COURT PALACE HALF MARATHON
Don't worry; the above shot is a traditional " software partnervermittlung Rach Selfie"; she hasn't lost her head to Henry VIII.
Rachel Brunning undertook the Hampton Court Half, when the Richmond half just down the road was cancelled. This was one of the very small number of road races to continue in the snow: she reports:-
"A great race set in a lovely location, and most importantly, VERY CHUNKY BLING-AH!!!! I met the REAL Henry the Eighth… felt very overwhelmed but kept my head…..All the marshals had tambourines and were dancing, a USP I think we should steal at Tuffs!! The weather was ridiculously cold, but armed with five running tops and a lot of cookies, Hampton Court was conquered!!"
Rach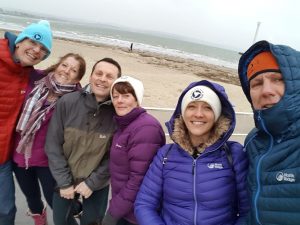 WEYMOUTH HALF MARATHON (Non-Race Report)
Whilst the above races continued many more were cancelled because of the snow; Eastleigh 10k cancelled for the first time in 34 years. Tiff Orton has submitted her non-race report as follows:-
Arriving on Saturday, Jon and Nicole PL decided it would be a great idea to go for a bike ride in the blizzard conditions – nutters! Nicole wanted to squeeze a training session in as she unfortunately had to withdraw from the race due to injury and Jon was happy to ride along with her – probably in case he needed to make an excuse for race day! Clive PL and myself took the tougher challenge of visiting the local cinema, which turned out to be the much warmer option.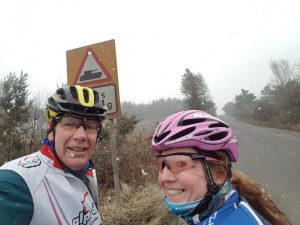 Later that afternoon, before meeting Steve & Jane for dinner, we received an email from the race director confirming that due to the incoming bad weather, that the race had been cancelled for the Sunday. However, Tuff by name, Tuff by nature – we all agreed to run the next morning anyway lol! Nicole would be on chief cheer-leading duty along with Steve and Rhiley.
The next morning we awoke to a thick white blanket of snow and I was already regretting say we would still run the half marathon distance in this weather – surely we wouldn't be able to do it in the awful weather, which by after breakfast, was coming down in quite a blizzard…….however no, Clive PL was most 'encouraging' saying we should all just crack on with it. He has estimated just over 2 laps of an out and back loop along the seafront and I always thought that if it was that bad, I could call it a day after 1 lap (not that we ever call it a day!). We started with a whistle from Nicole and headed east. The snow was like needles hitting your face with a strong headwind. The turn point couldn't come soon enough allowing some respite from the weather. Another 3-4 miles heading west and we would turn at the other end of the seafront at the Jurassic skyline and back into the headwind. By now we were all running at our own pace and for me it was just getting my head down and getting it done. Steve, Nicole and Rhiley were walking up and down and cheering support along the way – anyone else walking along the seafront must have thought we were all raving mad but we did see lots of other runners and we all gave each other mutual respect for being out in the somewhat colder than normal running conditions. It seemed we were not the only ones still running the distance.
The next turn came and went at the east end of the seafront and then back to the west end at the Jurassic skyline and I could already tell from my watch that we would need to do more than 2 laps………in the end nearly 3 laps with the last lap being horrible to be fair. By now the snow was melting making lots of slush and my feet were soaked and sloshing about in my trainers – yuck! I was SO looking forward to my shower. The last mile seemed to go so slowly with me looking at my watch every 2 mins; 12.10 miles, 12.20, 12.30, 12.40 – I have never wanted to see that 13.10 miles so much in my life. At last I saw the magic number tick through, I ran to 13.15 just to be sure 🙂 Now comes for the real Tuff truth behind the motivation to run in such conditions; a promise of a medal if we could send proof we had done the distance (anything for a bit of bling hey Clive?!) and also 50% off entry fee for next year. Now would we go back – of course we would! Clive PL finished first out of the Tuffs with Jane second. I came third and Jon brought up the rear 😉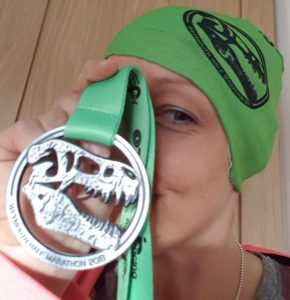 STOP PRESS:- Just received in the post : Race bling & Buff
Tiffers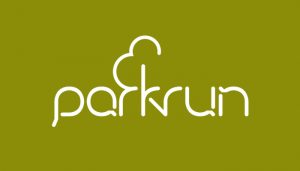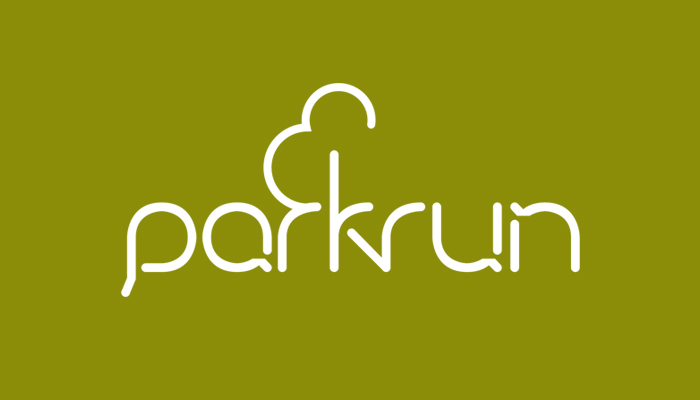 PARK RUN 
Just representation at Worthing Park Run this week. Despite the relapse into cold snowy weather, James Oram crossed the line 10th overall in 20:59. Great work from Danny Cunnett as a 'warm up' prior to his marathon the next day crossing in 21:30.  Antony Oliver finished in 22:26 and Amanda de Ridder matched here 6th female position from last week in 24:15. Tim Kenny completed the quintet in 28:05.