Weekend Round Up 28/29th April
We start this Round Up with the National Swimathon held across the weekend; and as usual there were Tuff's in action
SWIMATHON 2018 
Trevor Harvey reported in from his participation, a fund raising event staged for over 30 years. Over that period £49m has been raised  and so far 2018 has raised over £1.5m. Trev advised:-
The annual Swimathon, organised to raise funds for Cancer Research & Marie Curie was held over the weekend, at various times and venues across the country.
There was a choice of distances, 400m; 1.5 km; 2.5 km or 5 km, with team options – but being Tuffs, 8 completed the individual 5 km.
The speedy were at Littlehampton, where Coach Kev Pearson, and Anthony Towers, pounded up and down for the 200 lengths in 1.15.27 and 1.16.28 respectively.
Pete Littleboy was at Steyning, pleased with his time have completed the event for the fourth time. Meanwhile;  Jane Custance; Tiff Orton; Glenn Parisi; Trevor Harvey and Jon Roper were at Billingshurst.  At Billingshurst the start time was delayed (as they had booked a kiddies party), and as a result when the 5 went to register they were told that they were the only ones.  (It seems some people have a life on a Saturday evening!?!!)   As a result Jon, Glenn and Trev had a lane each to themselves, whilst Jane and Tiff shared the fourth lane.
After the 200 lengths, Jane was first of the five in 1.30.00 closely followed by Tiffers.  Glen, Trevor and then Jon finished in the low 1.40's, as did Pete in Steyning.
Mention must be made of the lane counters – ask Graham Liddell who counted for Nancy, his wife!  A very monotonous task – however, it should have been easier in Billingshurst with only 1 or 2 in a lane.  Trevor was told – "2 to go, but what does your watch say", (so the counter obviously wasn't sure – it was actually 4 to go), whereas as Jon finished he was told another 8 to go.  Stoically he just carried on, but when he did 'officially' finish and checked his Garmin, he had completed 5,200m!!
Special (swim) hat off to Glenn, who didn't want to over-train, and prior to jumping in told his fellow Tuffs that the last time he had swum was October 2017 – so great effort!
Trev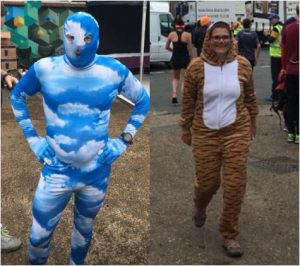 DARK STAR SEVEN
A new race in the calendar, Dark Star 7 is a flat 7km fun run on the Downslink, between Partridge Green and Henfield, starting & finishing at Dark Star Brewery. So finishing at the brewery could mean only one thing… something liquid.  The goodies were , A free pint of beer, BBQ, Live music, beer sampling on a tour of the brewery & a commemorative Dark Star 7 finisher's beer glass.  Oh there was the small matter of running the 7k first but Leigh & Ian Moore did well and  as you will see from the 'blue sky thinking' above from Ian, they both entered the fancy dress option. Good work although a one piece suit must have proved problematic during a 'P… up at a brewery
ISLE OF WIGHT CYCLE RIDE
Claire Moyle has been pounding out the miles on her bike recently. Having been out riding a lot recently, including the New Forest Sportive,  she was out again and reports in. Warning; how many bikes should a cyclist have? answer lots. Reading her article may inspire you to add to your collection. Claire reports:-
"Having done this ride last year as the only female in the group and struggling up the hills I was looking forward with apprehension to the ride this year. When I arrived at the ferry terminal I was very pleased to see lots of female company and with everybody admiring the new bike I was hoping it was going to live up to expectations. The weather could not have been better as we began our cycle anti clockwise from fishbourne. Also our luck was in as the new chain ferry at East Cowes was working and the IOW roads are heaven mostly smooth and newly laid. There was lots of banter and great fast riding as we made our way out to freshwater for our first coffee stop and that is also where we came across our first shower of rain. After coffee was the very hilly section that I had really struggled with last year, but the bike  showed its strengths and I rode with the group throughout. I am really beginning  to love my new bike. The sun was back out by the time we got to Nyton for lunch and then on to the last few big hills before we were back at the ferry port and the final very heavy shower which nearly saw me skid off the bike when we meet a car on a very narrow lane. Lucky all was ok and no damage done to me or the bike. A great day in good company. Next challenge London revolution in a few weeks times.
Claire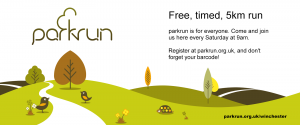 PARK RUN 
Once again the Tuff name was flying high up at the home of Park Run – Bushey Park. Andy Strong is picking up speed again finishing in 21:08, his quickest time this year and Kirsty Keith finishing her 57th Park run; good work from them both. Closer to home at Bognor, Jason Rae was on duty again on the Park Run organising team. This still left space for 5 club members at Worthing Park Run. First home was James Oram in 19:24, just 4 seconds off his PB. Next Roy Barraclough back in 22:42. Amanda de Ridder, 25:30 & Tim Kenny 30:18. Gary Edge was also present. He advised he had mixed emotions,  pleased that with his time of 30:10 in that he has shaved 2.5 minutes off his time in just three weeks, but disappointed  that his missed his 30 minute target by 10 seconds. Next week Gaz.
Good luck to the Twenty Tuffs entered for Steyning Triathlon on Sunday 6th May