Edinburgh Marathon Festival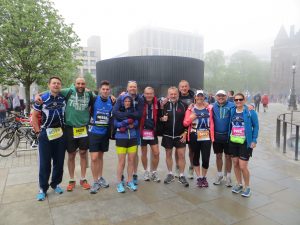 EDINBURGH MARATHON FESTIVAL
It all began about a year ago at the Saturday morning run. Runners were sitting having their traditional post run coffee (and breakfast, if a far enough distance has been run) on the Town Quay at Arundel in the Sun, when someone gamely said what about a marathon next year? Catharine Western suggested Edinburgh as a good race. Apparently it has sold out every year since 2008 and has built to be the second largest event behind London Marathon in the UK. And so it was entries were submitted.  As things transpired Catharine could use the greatest reason for a DNS ever – producing the lovely Evelyn at the end of March. Some other squad members didn't have the best of preparation with colds and Bec Day falling down stairs!  Graham Liddell hasn't been running for a while with injury but still came up as Nancy was staying with friends in Falkirk. And so May Bank Holiday weekend arrived and through a mix of Planes, Trains & automobiles some Tuffs arrived in Scotland, including two hoping to complete their first ever marathon – Mark Day & Stuart Harvey.   We will leave it to Stu to take up the story:-
——————————
"Edinburgh Marathon and my first 'Tuff' away trip and I'll start by quoting the below words of wisdom from our very own, Jon Roper…
"Tuff Fitty trips away are all about having a good time, not getting a good time".
Profound I think you'll agree and I had some deep and profound questions of my own. What will the weekend be like?", "How grumpy will Glenn be?" and "how many times will my bottom be slapped over the weekend?" were all questions running through my head as I awoke on Friday morning.
After a total shambles with the flight in the run-up to the weekend, having originally meant to be flying out of Gatwick and then Heathrow, a fraction of "Team Tuff" assembled at Trev's in Windsor for the trip north over the border.
Arriving in the Scottish capital just after midday on Friday we had some time on our hands and being the cultured bunch that we are, headed out to soak up some of the sights and sounds of Edinburgh whilst enjoying obligatory beers, banter and multiple chocolate brownies.
The Saturday pre-race build-up featured even more Scottish culture as we took in the National Museum of Scotland. Featuring everything from planes to Dolly the sheep it made for an educational morning, which was made even more exciting when Jon pointed out a part on a Formula One Car that he makes! The afternoon was a more leisurely affair which featured, a now permanent fixture on the Tuff away trip, an open top bus tour and a stop in the hotel Jacuzzi before carbo-loading to our hearts content in a local Italian in the evening.
Race day beckoned, and despite the forecast for heatwaves in the lead up to the event, throwing the curtains open we were greeted with damp, cool and foggy conditions. Despite not being able to fully take in the sights, these conditions were what we were all looking for, cue a collective sigh of relief.
After a less extravagant breakfast to that of the day before, and Bec Day's jealousy at Clive being able to deliver 4 pre-race poos (even before leaving the hotel), we headed off to the start line. A short walk to where the action was about to kick off, we formed up in our respective pens and awaited the start.
Crossing the start line, the first segment of the race saw us pound through the heart of the city passing Greyfriars Bobby, a section of the Royal Mile, the National Gallery, the Scot Monument, Holyrood House, the Scottish Parliament building and finally Arthur's Seat.
The first section was somewhat of a temptress. Featuring long descents, it was a challenge to initially settle into our marathon pace and to not get too carried away.
From then on the race followed the Edinburgh East Lothian coastline before turning at Gosford House, a large manor house located on the coast and next to a picturesque golf course. The coastline segment was where Leigh Moore started to get into her stride and states that she handed out "the usual 'slap' on the bum for Trevor at about 12 miles and then slogged on to see Clive at about 18miles". Bottom slapping completed it was the final slog towards the finish which was located out of the city at Musselburgh.
Miles 17 and 18 we all agreed were the sticky points as Mark discovered particularly when he encountered Tiff. Mark later stated, "You learn a lot about people when you suffer together. I always suspected Tiff had a bit of a potty mouth on her, but after 6 miles together I realised I had completely underestimated her!". Leigh witnessing the scenes unfolding in front of her stated: "at around 23 miles I was surprised to see Tiff and Mark and had to carry on, otherwise mind and body may have failed".
Making it through those tricky few miles, we were greeted with a final long, downhill segment towards the end. With runners being funnelled down the finish section, to great support, it was under the finish gantry to finally stop the brutality and collect a chunky medal and another t-shirt!
With all Tuff's over the line, there was time for a quick race debrief. Leigh adds that the course was "a difficult but beautiful route which was well supported, Ian, of course, nailed it in his 57th year – swine!!".
Glenn also put in a strong performance in an effort to return to his sub 4-hour roots, however, it wasn't to be as he had his hopes dashed in the last couple of miles. However, speaking afterwards he added; "I'm pleased that Stu has done his PB and beat my time and escaped my eternal jibes. However, I am pleased that I have a new victim in Tom as he is a 'disgrace'".
Trevor also added his thoughts, "a great weekend, and given the lack of training it didn't hurt too much, although I've done the same time for an Ironman Marathon – must be the age, particularly as in the museum I remembered I had owned several of the exhibits!"
From my point of view, this was my first marathon and I was very pleased with the result. I was careful not to get too carried away at the start and tried to maintain a consistent pace. Chomping away on CLIF Bar Shot Bloks to get me through I did have a mile 20 scare as my right leg showed it's first signs of tiring. Thankfully I eased it out a little but the last 5km was the hardest 5km I've ever faced in a run. Despite this, it was a great experience with fantastic support along the whole of the course and was great to share the experience with the Tuffs. James, as usual, secured a fantastic time, although the course and the build up of the sun which was now beating down, proved the course to be harder than expected.
After the race, it was a bit of a bundle getting back into Edinburgh via a failed attempt to get a bus and then finally getting on a crowded Sardine like train, but we made it and before long it was time for some well-earned beers and a curry before turning in for the night. Monday was our final day in Scotland and what better way to soothe your aching marathon legs than climbing up Arthur's Seat…..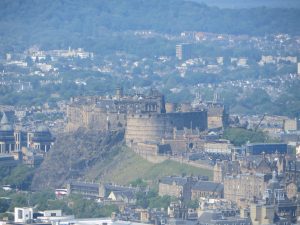 The view from Arthur's Seat
Many moans and groans from Glenn, some swearing from Tiff and some bloody hot weather, we made the summit to witness some fantastic views of Edinburgh. Good old active recovery eh!
Goals accomplished and weekend adventures over, it was time for our paths to separate and head for home. I think everyone would agree that it was a fantastic weekend spent with great company and despite not everybody getting the race result they wanted, an enjoyable and fun weekend away."
Stu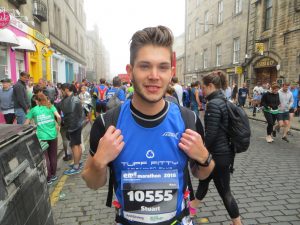 Stu at the bag drop before his first marathon
Full results and times  below.
| | |
| --- | --- |
| EDINBURGH MARATHON | |
| | |
| James Oram | 03:16:53 |
| Stuart Harvey | 03:38:53 |
| Bec Day | 03:47:41 |
| Glenn Parisi | 04:04:06 |
| Ian Moore | 04:06:47 |
| Tom Gray | 04:14:02 |
| Leigh Moore | 04:26:59 |
| Tiff Orton | 04:38:10 |
| Clive Harvey | 04:42:05 |
| Mark Day | 04:42:15 |
| Trevor Harvey | 04:42:28 |
| | |
| EDINBURGH HALF MARATHON | |
| | |
| Jon Roper | 01:51:45 |
| Dom Amey | 01:53:43 |