Weekend Round Up 30th June 1st July
Apologies for the delay in publishing last weeks Round Up. System issues had to be resolved with our host provider.  All the reports ready to publish have been reinstated, hopefully none have been missed.   Yet more variety to report from Triathlon, various runs and two impressive long distance swims:- Read on:-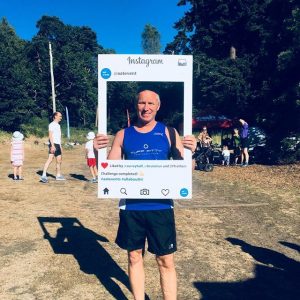 HARDER THAN SNAILS TRAIL RUN 
Pete Littleboy reported in from the second Trail run in a series at Guildford:-
The journey to Guildford is a 1h45 round trip for me on a good day. To take part in a 10k seems mad but having entered this event in May I got held up in traffic & missed the start by minutes, so  I was even more determined to take part in this one. It is a series of distances on the same night of 2k, 5k, 10k or 15k & so my son was able to join me, which in part was the main reason with the 2k race going off first.  It is a well  marshalled event and a few food stalls & massage tent.  It was then time for the other races to start and as a mass start it was very slow progress to start with, but that's not a bad thing when most of this is on leg sapping sand or walking up inclines, and then having to be careful on fast descents. We then came to the point where the 5 & 15k split from the 10k, which was my distance, but it was well marshalled. I crossed the line in 48.04 and 7th overall.   I was well happy with that and add to that the bling and family time on a sunny Wednesday evening near Guildford what's not to love?
Pete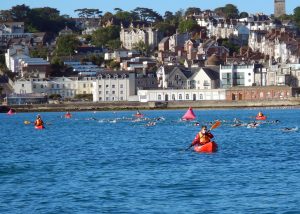 SWANAGE TRIATHLON
Trevor Harvey sent a report from his spur of the moment Tri in Dorset :- the banner photo is looking toward Ballard Down and Old Harry Rocks – the run route.
"Two days prior, I was invited to Dorset by a friend and I noticed that coincided with the Swanage Triathlon Festival.  So with free lodgings I entered the Tri at 3 days notice, (entries should have closed Wednesday, but they forgot so my Thursday entry was accepted).
The event has been going for many years – latterly organised by Concept Sports, who also organised Bournemouth Int Tri and various Fast Twitch events.  These have now all been taken on by Challenging Events; a Truro based company with quite a range of events. STOP PRESS:– It has just been announced that they are also taking over some, if not all, of Race New Forest's events.
The Swanage Triathlon Festival features a long swim on the Saturday (2K & 5K), with an aquathon; relay; sprint and standard tri on the Sunday.  As it was their first year organising, I suppose some leeway could be given, but all the publicised timings went out the window.  The Saturday swim, (I only spectated), was some 40 mins late starting.  On the Sunday, having got up at the usual 'silly-o-clock' and got on the beach for the promised briefing and role call all rubbered up, there was a 30 minute delay for no apparent reason, and after promised wave start briefings, there was just one lengthy one where we were told to head to one buoy, but just as we were about to start, we were all told to head to a different one causing great confusion, and then a mass start!
Anyway – I'd entered the standard tri.  A lovely swim – and then the tough course kicks in.  The first 5K of the bike is up hill to the village of Kingston, before a very fast decent – which takes in a couple of tight turns, (including one with a memorial to a deceased cyclist!), out and through Corfe Castle and up the main road to Wareham.  Heading back to Corfe, turning left the course then goes up and up over the Downs before a fast decent to Swanage.  'Up' sums up the 10K run; heading east from Swanage the course then goes straight up very step steps to the obelisk on Ballard Down, then running along the top out to Old Harry Rocks, before retracing and going down a very rough path.
All in all, a very enjoyable race – their strapline is "The views were worth it", which is undoubtedly true particularly given the weather – the sachets of suntan lotion given out at registration were certainly needed in the heat.  Another T shirt, (4th in 4 weeks), probably not so needed, and of course another medal!
Trev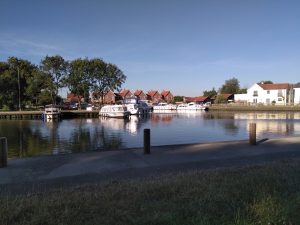 WAVENEY RIVER SWIM 11.5K
Susan Douglas, fresh from her Paris swim has jumped in again for another event:-
"Keeping with my "going big" theme this year, I've done another long river swim, (oh sorry I forgot to tell you about the Jubilee 10k last month), this time the River Waveney, where? In Beccles, you know, in Suffolk, near Lowestoft.
Anyway this was a new event, so still fairly low key with 12 relay teams, 23 skins ladies, 18 skins men, 11 wetsuit ladies and 18 men. If fact unusually the event organisers did advise ditching the wetsuit as the water temperature was 22.2C and, as we're all getting used to, lovely and sunny.
We had been divided into three groups, slow, medium and show off fast. I was in the middle group. We registered in Beccles, the finish of the race, and were then bussed to the start at The Waveney River Centre. The slows had started ½ before, so now a group of about 30 of us entered the water and we were off. It's quite a wide river, so not too much argy bargy and we happily swam along, keeping to the right to avoid any boats. Our first feed stop was at around 5K, jelly babies and water from a man in a kayak. I haven't fed on the go before and I don't like it much, just seems wrong eating in the water, a bit like weeing err well not me of course.. Swiftly on… there was some brilliant wildlife, swans with cygnets, dragonflies, little fishes and Swallows swooping down and having a little drink. The water was the usual brownish to start, but felt clean and by the end it was clear with long green weeds, nice ones, not like Paris.
The finish came into view, seemed like I'd got there quite quickly, but  my time was 3hrs 26min, so not that quick really, although I was 9th Skins lady with no age group categories. The winning girl was about an hour quicker and many, many years younger than me.
The event was a great success, so hopefully it'll return bigger and better next year if you fancy the challenge.
Susan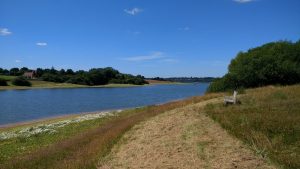 BEWL WATER SWIM 
Bewl Water is the largest stretch of open water in the South East, a reservoir that can hold more than 31,000 million litres of water. So what better venue for Geordie Paul Atkinson to undertake an epic swim:-
After completing the Bewl Water 5km last year, Drew Hunt and I decided to smash the 10km this year. How hard can another 5km be? So after entering the event 6 months ago with the good intention of building up methodically to 10km with a dead good training plan, we basically did nowt more than our usual 2km thrash every week. Too busy cycling after all !! So with a week to go, we upped our game, and smashed out a 6.2km current assisted sea swim. So you won't be surprised to learn that the 10km was not pleasant. Arms were in bits after about 5km, and never experienced cramp in my triceps before!! But we stuck at it in true Tuff style and ticked off the 1km laps until 4 hours later we crawled across the finish line. On a positive note, the burgers at The Vine in Lamberhurst were awesome.
Geordie
BEWL 15 MILE RUN
Whilst Geordie was in the lake swimming, Linda Wright was running around the lake for the Bewl 15 miler. Linda finished in a time of 2:52:10. The course was largely off road on gently undulating hills but the heat was intense. Luckily there were wet sponges at aid stations and crossing the finish line saw runners gain a chunky medal.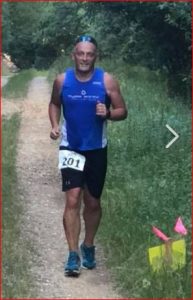 INSOMNIACS CHALLENGE 
Jason Rae just doesn't stop, he reports in from his latest challenge over at Havant:-
This weeks spur of the moment run was On The Whistles "Insomniacs Challenge".
Alex had gone away for the weekend so I had 2 evenings to kill. Friday night I just sat up late watching rubbish on tv and stupidly made an enquiry about an On the Day Entry for this. I went and ran Parkrun Sat morning, feeling pretty tired in the heat, with not much sleep and no breakfast. I sneaked an hour of sleep on Sat afternoon before heading over to Staunton Park to Register. I only recognised one other runner. It was still up towards 30 degrees when the race started and had only been forecast to drop to mid 20's throughout the night. The first lap of the 4.7 mile loop went really well then on the second lap the heat started affecting runners. Severe stomach cramp meant a swift dive into the woods. 3 more stops over the next 2 laps started me thinking is was going to be a short night of running. The medic gave me some dioralites which had an almost immediate effect –( Anyone doing an IM over the next month or so this would be my biggest tip – dioralites or immodium in each of your transition bags.)
I got going again passing runners on the out and back spur of a mile out to the 2.7 mile loop. Everyone cheered each other on as they passed. Darkness was a welcome thing because the temp dropped slightly. Hot food was served at 9.30 pm so I stopped for a bit longer after this lap for some Lasagne. Soup and teas and coffee were available all night , as were the usual, squash, jelly babies, savouries, coke etc.
I eventually made it to marathon distance, then you start thinking about how far you can go. Running in the woods in the dark is really peaceful – if you don't think about the programmes you've been watching on sky recently about serial killers !!!
The course was lit up by glow sticks. The last time I went on an all nighter with glow sticks I had a 2 day hangover, not blisters on my feet – oh how times have changed.
As morning arrived there were fewer people out on the course. For them the ultra was the marathon plus one more lap – whereas for others it was how far can you go in the 12 hour time limit. The last lap was in daylight for me . this was my 10th. Covering 47 miles and 8th place. I'm glad I did the extra lap because I got to see a deer from about 6 feet . I tried to get a photo but just as I pressed the button it jumped into the trees !!!.
The medal was great and was followed by a lovely bacon and egg bap. Great event from a great company – Kiernon the RD is really passionate about running and ensuring all his runners have the best experience he can possibly put on.
Jason
THREE PEAKS CHALLENGE
The National Three Peaks Challenge involves climbing the three highest peaks of Scotland, England and Wales, and the challenge is to do this within 24 hours.  The total walking distance is 23 miles (37km) and the total ascent is 3064 metres (10,052ft) – twice the ascent of the Yorkshire Three Peaks, over a similar total walking distance. The total driving distance is 462 miles.
A team of West Sussex Fire Service Officers undertook the challenge, with the team including a trio of Tuffs – Adrian Willard, Gary Locker & Roy Barraclough. As well as a great expedition, (in very hot conditions) they were raising money for the Fire Fighters Charity. It was a great effort from the team completing Ben Nevis,(Scotland) Scafell Pike (England) and then Snowdon (Wales) The total time was just 20 hours 8 minutes to earn silver medals.  They would be very grateful if you are able to donate to this good cause (click here)
PARK RUN
At Worthing Park Run, there were several 'regulars' but importantly one significant debut. We knew Alex Webb could run from his attendances at the running track, but this week was his first Worthing Park Run – he promptly stormed around in 18:50. Alex reports he "was pretty pleased with that" a PB over that distance for him – great work. Also well done to James Oram in 19:59, Amanda de Ridder, Daisy Bashford, Tim Kenny, & Elaine Rousseau  Across at Bognor Park Run Jason Rae ran ahead of his late night run (above) crossing in a useful 23:26