David Lloyd Triathlon- Race Organiser review
Tuff, Jason Rae is already back competing in races following the success of the recent David Lloyd Triathlon, but he thought he would take a moment to share out all the things that go on behind the scenes to ensure the races we all compete in are well organised:-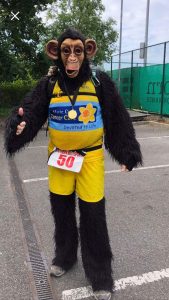 This is not Jason; just one of this competitors!
DAVID LLOYD TRIATHLON
"I thought I'd write a short report to give all you fellow triathletes a small insight into what goes into organising an event.
It started 4 years ago with the Bognor triathlon. Having set up Bognor Tri club I thought a club cant exist without its own home event. Most run clubs had their own event , so I set up what used to be Awesome Sports Events. Having quite a good imagination I'm always seeing if I can fit events into wherever I train. This happened for the Slindon Slog where I ride my mountain bike, Bognor Pool and sea triathlons, Chichester Lake triathlon and the David Lloyd Triathlon.
Organising a triathlon starts the previous winter deciding on a route. Emailing councils for permission and risk assessments are next along with entry pages, website and social media marketing. Once permission is obtained cost forecasts are prepared and entry fees decided so they are very competitive but won't leave you too much out of pocket if you don't hit your entry targets.
The next few months are spent monitoring entries, marketing and answering emails.
Entries have changed over the recent 2 years as more events are appearing. I've kept my entry fees as low as possible and will always offer as much as I can in the hope it will force other event companies to put down their prices or offer triathletes more for their entry fees.
This year at David Lloyd we gave everyone a protein drink, bottle and shaker, protein balls, breakfast and a hot drink, a family weekend pass to David Lloyd and a bottle of water. Not bad for a £39 entry fee (£32 to Tuffs) Still people would rather pay over £50 for a sprint race offering t shirt and a very cheap stock medal – confusing !!!
As the event gets closer your application for a British Triathlon permit is approved if you meet their requirements and a race day official is allocated. They contact you for various info to ensure the triathletes and their equipment stay safe on the day. You also start to gather a team of marshals – those amazing people who help you pull the weekend together.
In the week leading up to the race you spend lots of time printing start sheets, insurance policies, bike and helmet numbers, marshal rotas, race routes etc as well as answering lots more emails. You also need to prepare race briefs, check equipment (Racking, Arrows, Flags, Barriers etc) wash all the high viz jackets. Order race numbers, trophies, prizes, cable ties. A meeting at your event location is also advisable to arrange where everything will be on the day. Borrowing a van from a fellow Tuff (cheers Simon T) to drop off barriers and large items that don't fit in a car a few days before the weekend.
Most events now have online cut offs but have on the day entries so the last 10% will come once you have shut off and need to be added to however you time the race.
As race day approaches a final check of equipment, update paperwork, answer emails again.
On the weekend of the race nerves start building. This year everything in the run up was delayed because I stupidly got off a plane 5 days before , leaving my Macbook in the magazine rack of my seat. By some miracle I got it back on the Thursday.
From Saturday, the weekend pans out like this . Fill your car with as much equipment as you can, drive to event, meet amazing friends who come to help set up.
Once you've waited for members who ignore parking restrictions to move their cars you start building the transition area – racking, barriers signs etc. I had a spare ½ hour so put a few run course signs out. You have to estimate where to put them and leave the ones most likely to be ripped down until the next morning. My other half was in Holland on the Saturday so I had to open registration myself which gave me a break for 2 hours – It was really enjoyable meeting the many first timer triathletes, taking them outside showing them the transition area, how to rack what to bring etc.
The evening was spent avoiding traffic whilst tying arrows around the bike route, before stopping at the supermarket on way home to buy treats for the marshals – Chocolate crisps and doughnuts.
Sunday morning means a 4 o'clock alarm call then grab what you can from the fridge. Alex had arrived home so agreed to set up registration for the day.  First job is to drive the bike route checking signs then get to club to set out run route. Marshals start arriving early so you need to greet them and let them know where they will be. Most get 2 or 3 jobs over the morning so making sure they know where they need to be is key. The Ref arrives and needs a few mins of your time.  Bikes are showing up now and must be checked to triathletes, helmets etc before being allowed to rack. Everything starts becoming frantic as lots of questions come your way about the route, parking, racking, forgotten kit, more first timers. Before long you are gathering everyone for the race brief making it as light hearted as possible. Once this is out of the way adrenaline builds and builds until you set the first swimmer off.
We were 4 marshals down, 2 being on the split point of the bike route so without panicking I called my brother in law to re route from his spot on Highdown to send the sprint bikes up Long Furlong. Panic over once he confirmed he was there. Some of the marshals overthink their roles and panic which in turn causes me to panic and overthink. They are usually doing their task perfectly but doubt spreads – you just need confidence that you've given them something to do they will enjoy. Once I had started everyone off I rushed out on the bike route to the split roundabout and make sure the super sprint did not climb long furlong.  As parts of the bike routes are finished with the marshals, take down the signs before returning to the club. I returned towards the club to ensure the run was going ok , checking the marshals monitoring the crossing of Titnore lane on the way. Its great to see the runners finishing collecting their goody bags and saying how much they enjoy the route, despite how tough the run was. After the last runner is in its time to thank the marshals before sending them off for their breakfast with the triathletes, finding a quiet spot to produce some results from the apps we use. The presentation was great including mentioning one guy who ran in a gorilla suit carrying a 35lb pack – training for a charity event coming up. Lots of the first timers came to say thanks and that it won't be their last triathlon so mission accomplished.
The last few tasks are to collect the rest of the course down, remove racking pack the car, unload the car and go home to finalise the times, adding in transition and split times. Post these on the website and answer more emails.
This weekend I need to send the final info in to British Triathlon and sort out next years date.
Thanks to all the Tuffs who took part, marshalled and came along to support. These events are hard work but worth every minute when they are like last Sundays race was.
Jason