Weekend Round Up 6th 7th October
Another bumper weekend of Tuff activity as follows: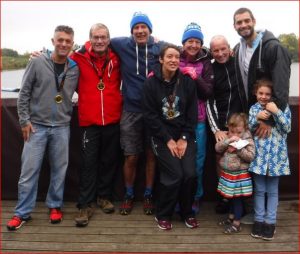 CHICHESTER LAKE SWIM
A last open water swim of the season seemed a good idea although October conditions were starting to deteriorate with 'moisture' in the air and many feeling the water was quite cold.  There was a choice of 10k, 5k, 3k and 1k. There was no Tuff presence in the 10k or the 1k although at £60 and £20 respectively quite expensive. In the 5k there were four club members racing. Drew Gowland came first overall by a really impressive margin of 6 minutes. Nicole Patterson-Lett was third female overall & 1st in her age group. Duncan Harvey was 11th overall, 1st in age group and Matt Staniforth had a good swim -well done to all four.  In the 3k there were 6 Tuffs; Tiff Orton, Pete Littleboy, Jon Roper, Trevor Harvey, Claire Moyle & Antony Oliver.
We have two reports:- Pete reported in followed by Claire's thoughts on the event and a  photo gallery.
"So when I saw the cry for help from CPL after he injured himself and was unable to fulfil his place, I  grabbed my cape and answered the call. So I found myself biking over to Chichester lake to take part in a 3k swim and with the weather not looking good, I only just made it into the alleged 16 degrees as it felt much colder; I was glad I didn't go for the 5k or 10k.  Swimming almost side by side with other Tuffs it was fantastic to swap war stories afterwards with the others I had missed meeting with earlier. It was extra special that Drew, who was the clear winner of the 5k, not only rode back home with me but carried my wet heavy backpack."
Pete
"The last challenge of the season was to complete the 3k lake swim in Chichester lake. I arrived early to watch the longer distances set off and it was a cold morning with the threat of rain. I was pleased the buoys were nice and big and I set myself a goal of focusing on my stroke so I would not notice how far it was. It was good to see lots of friendly faces and it was not long before it was my start wave. Braving the very fresh water I got in and was happy that I felt relaxed all I had to do was get round the course 3 times. The first buoy arrived quickly and I had found my breathing rhythm and had decided to focus on sighting to the next buoy which was good and then focus on technique and soon I had completed the first circuit. The wind was getting up but I felt strong and enjoyed the race and finished before the rain set in which was a bonus. First in my age group (only 1 in my age group) and a good time. Happy to finish the season on a high."
Claire
<
>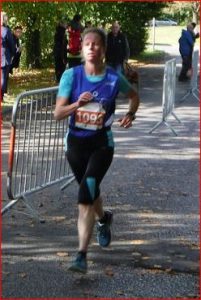 CHICHESTER HALF MARATHON
We have two extracts from Sunday's Half Marathon starting with Pete Littleboy followed by Clive Harvey
"I've taken part in this event many times and never fails to disappoint as it's multi terrain which I have a real soft spot for. Once again I decided to cycle over and  only just made it, as I didn't want to cool down but with the temperature on the low side this was proving difficult. With a sharp 9am start we were soon heading toward the Trundle a rather difficult 2 mile climb which also takes in some of the South Downs beautiful sights. There was also a 10 miler & relay teams as well; the crowds were good and the miles/km flew by. With the sun coming out it was really enjoyable and with Trevor giving us a photo finish I felt it only right to stay a while to cheer a few Tuff's home before riding home"
Pete
"Like Pete, I have raced here before as it is a great course taking in ​the ​Cathedral ​and ​the city ​walls, before heading ​up ​to ​the ​top ​of ​the ​South ​Downs –  the Trundle; around it – and ​winding ​back ​down ​to Chichester via the Centurion ​Way. A couple of days later a running friend at work asked how it went and I said 'rubbish'. The reply was he knew me stating "Don't confuse fatigue with lack of fitness" I thought that was a very succinct quote so packed up and went home for an early night without any admin undertaken.   This comment was of little consequence but what was of great consequence was the very strong 'Terrific Tuff Turnout' as follows:-
First Tuff home was Pete in 1:41:13. Despite running for 13.1 miles there was a dead heat  with both Tony Morgan and Ian Bayley crossing in the same time-  1:44:07 . For the ladies there was a great performance from Kate Cooper in 1:54:28 (pictured above at the finish). There was excellent news from two of our newer members Steve & Jane Bridgeman.  Steve completed his first ever Half and Jane ran well in the 10 mile race.  So that was 11 Tuffs finishers although it might have been more if Catharine hadn't had to pull out with a bad ankle injury, Lucy picking up a bug & Trevor's cold coming out with a vengance after the Chichester Lake swim the day before. Get well soon all.
The full Tuff finishers were:-  Pete Littleboy, Tony Morgan, Ian Bayley, Kate Cooper, Glenn Parisi, Francesca Mordell, Amanda de Ridder, Clive Harvey, Steve Bridgeman, Rachel Brunning & Jane Bridgeman (10 miles) a few pics follow:-
Clive
<
>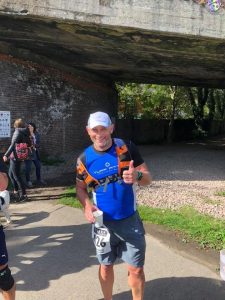 PARK RUN no 99 & DOWNSLINK ULTRA 
An  impressive article follows from Jason Rae, being a short distance specialist one day, then an Ultra man the next:-
This week Dave joined me for the first part of my 99th Parkrun. He stopped at 2k sitting on the grass not making eye contact so a friend said to leave him. It was nice having him hold me up so I didn't smash my legs up ahead of the Downslink ultra the following day. Simon T, Nicole Ewer and Wendy Frost were flying the Tuff flag. I will be doing my 100th parkrun this week at the event I was lucky enough to have set up and which gave me the confidence to organise the triathlons and runs that some of you have enjoyed at some pretty amazing locations I've been fortunately allowed to use.
While I was running around Hotham Park on the Saturday, Danny Cunnett and Jay Macardle were out marking the 38 mile route of the run – most of it in horrendous rain that started after lunchtime. This involves yellow arrows, spraying chalk spray and red and white tape at regular intervals between Guildford and Shoreham. I've run all 6 Downslink ultras now. The first one had 65 runners and the numbers have now grown to 200 which is a testament to the quality of races these guys put on. I decided that you can tell how successful an event is by how many portaloos the race directors need to hire (2 in yr 1 had now grown to a bank of 5 !!)
STE always ensure everyone is safe, the aid stations are regular and well stocked and all runners get value for money.
I was car Park attendant for 2 hours before the race which was to ensure the cars and mini buses made it safely in and out of the registration area at St Marthas on the Hill.
Last year had been cloudy but amazing views were restored for 2018 at the top of the hill, and the weather stayed almost perfect all day- not too hot but sunny. I've mentioned before the amazing community Sussex Trail Events have built and got to run again with a guy I've ran with at four or five races. Its amazing how much easier it is .
Each aid station is manned mainly by different run clubs who have made various locations their own – Horsham Joggers at Southwater and Burgess Hill run Club at Henfield. Tuff's very own Andy Moulding has made the roundabout at Bramber Castle his spot and was there again with a welcoming hug.
I had started with a blister on my foot from last weeks Barns Green Half but managed to not make it too much worse. The last km of any STE race finishing at Shoreham usually involves a very bumpy concrete path from the foot bridge to the scout hut. Unfortunately repair works mean this will probably now be a thing of the past as they make improvements to the river bank. Once back at the finish there is a bowl of chilli a hot drink and a chance to sit down while every muscle in your legs starts to tighten up.
Maybe a rest this week before the Beachy Head Marathon next week and a bit of marshalling on the Sunday at the first Marathon around a premiership football club courtesy of STE (There is also a half marathon option if any of you fancy it)
Jason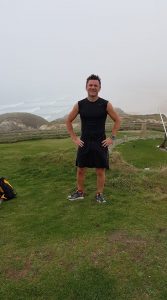 ATLANTIC COAST CHALLENGE
Superb work from Paul Atkinson who entered the Atlantic Coast Challenge, a three marathons in three days event which follows the coast line along North Cornwall. Day one was from close to Padstow finishing at Perranporth -with a variety of terrain which included a trek along a sandy beach to finish.  Day two was when the Cornish weather came to the fore!  horizontal rain and blustery gales straight from the ocean! The route here was Perranporth to St Ives Bay, up and down hills, steps, a couple of miles of beach running and sand dunes.   Luckily day three would see the sun come out which helped to highlight the rocky hilly course as competitors meandered circa 28 miles to reach Lands End.  Job done with three marathons complete, made all the sweeter as Paul had to withdraw last year through injury. Congratulations, if a report follows this will be updated.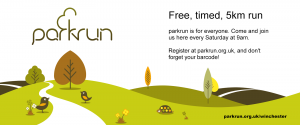 PARK RUN
A very strong turnout this week. At Worthing Park Run Phil Baker set a new PB for the course crossing in 19:52. James Oram in 20:10 Congratulations to Juliette Reader, our newest member also recording a pb in 22:15. Roy Barraclough, Neil Rabone, and Amanda de Ridder who went well despite having entered for the Chichester Half the next day. Francis Blake was another Tuff who obtained a PB. Cathy Oliver & Tony Pearce completed an impressive nine club members racing. Across at Bognor Park Run Simon Thistlethwaite attended crossing the line in 19:15 to take third place overall. Nicole Ewer was also in action & Jason Rae clocked up his 99th Park run.  Finally at Lancing Green Park Run Dave Priest also recorded a pb crossing in 24:24 – well done to the impressive 13.