Weekend Round Up 27th 28th October
As an active club, we have had further members out racing this weekend, but before that a more formal wrap up from our AGM:-
TUFF FITTY ANNUAL GENERAL MEETING
A big thank you to everyone who came along for our Annual General Meeting. The evening started with a round up of the year from the Chairman who set out how it had been another successful year for Tuff Fitty. From people competing for Team GB, right down to members undertaking their first multisport event, achieving PB's or moving up a race distance. Did you know that the Tuff Fitty name was flying at circa 250 swims, cycle, run and multisport events over the last twelve months, winners trophies, and team awards, congratulations to everyone. Add in the members which ensured every week a Tuff was participating in a Park Run and the Tuff Fitty name was on display extensively at home and abroad on over 300 occasions.
The AGM was also the chance to reveal the results of the ballot to select our Tuff Fitty Club Championship races for 2019.  In the Sprint Category it was very close with just four votes deciding the winner and a similarly close margin for the standard distance.  The winners are:-
Tuff Fitty Sprint Triathlon Championship =   Arundel Lido 19th May 2019
Tuff Fitty Standard Triathlon Championship = Worthing Triathlon 30th June 2019
Tuff Fitty Middle Distance Triathlon Championship = Midnight Man 70.3 10th August 2019
You may wish to wait for a period to see if we can gain any discount codes for Arundel & Worthing again next year but if you are interested in the Midnight Man, it is best not to wait too long as it does tend to fill. The candidate races were chosen for a balance between affordability, locality and something different. Midnight Man romped home with more votes than the second and third place nominees combined. Good luck everyone.
Your Committee were voted in for the coming year and in strict alphabetical order, the personnel are:-
Anthony Towers – Treasurer
Catharine Western – Membership and newsletter
Clive Harvey – Chairman
Clive Patterson-Lett – Coach representative and Kit
Drew Gowland – Committee
Nicole Ewer – Social Secretary
Tom Gray – Secretary
Wendy Frost – Coach Rep & Committee
Please remember the club is run by members for it's members, so if you have any ideas, please contact one of the above.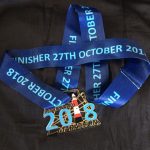 BEACHY HEAD MARATHON
Another week, so highly likely Jason Rae was doing another marathon; He was, and Jason has kindly reported in. Well done to Jason, James Oram, (in a great 4:07) & Linda Wright for tackling the 300 steps and 14 gates, oh, and all the undulations:-
"I'd heard a lot of good things about this Marathon and fortunately it lived up to its reputation. I got a lift with a friend Tim Boone who was running his 50th marathon this year taking his total to about 230 now. We arrived early – very early which meant easy parking and no queue for the loos. Lots of familiar faces were there from the marathon running community and other  races, mostly sheltering in the hall from the biting wind. They were giving out free coffee and cake before the race, so I took advantage with a few coffees. As we lined up for the start it was noticeable that quite a few runners were racing in just a vest. I had a vest 2 t shirts and a jacket on and still wasn't warm. The race started and the first mile is up hill with a really steep first section. A guy was playing the bagpipes a few hundred metres up the hill, always great to hear as my dad was Scottish. James Oram passed me like he was running a 10k, he was probably almost home when I was finishing. The first half of the route felt like it was constantly uphill and into the wind. There were a few water stations with some snacks which I seem to be able to resist now , so I just stuck to water or squash. I made it to half way before I felt warm enough to take off my jacket. Shortly after this we were at Littlington, There was  feed station here with sausage rolls which lots of runners had been talking about. Once again I resisted, had a few cups of squash and got going again. The steps were next, a few hundred cut into the hill – similar to my Rewell Wood Event (Sept 14th 2019 next year ) they were a struggle then on to the Climb up to the Seven Sisters. The views up here make the sore legs worth it but this is the hardest six miles of the race to the finish. You know people are digging deep because most conversations stop with only the occasional words of encouragement and the odd comment of "only a parkrun to go" as you reach the last 3 miles.
The last mile is downhill and one you drop down a bit the biting cold wind stopped.
After crossing the line it was into the hall to get changed the there was some free hot food which I declined due to the large queues. This event is good value for money .You don't just get the standard awful t shirt and rubbish medal . It's the small touches that make the differences – the food at the aid stations and afterwards, the cups of coffee that aren't £3.00 per cup and enough loos so you're not stood in a freezing line for 45 minutes and an absolute army of amazing marshals around the course.
On the Sunday I helped out at Jay, Chris and Danny's latest creation – The Albion Marathon, 61 laps of the Amex with all proceeds going to Albion in the Community. There were quite a few runners who had ran on the Saturday and the route had a surprising amount of elevation on each lap with a biting Northerly Wind .
Jason
Inspired for next year? have a look at the video:-
PARK RUN / STEEPDOWN CHALLENGE
At Worthing Park Run, Phil Baker was back in action crossing in 20:19. Next up, Edward Lay who came along to our running Track open evening and it is pleasing to report he is to join and raced as a Tuff – excellent news. Tim Kenny has suffered from injury but is on the comeback trail with a new PB. Amanda de Ridder  completed the quartet.  Across at Bognor Park Run Nicole Ewer was in action
Sunday saw race 14 the penultimate fixture in the West Sussex Fun Run League; the Steepdown Challenge. The course is one that many club members are familiar with running up from Lancing Manor on a 5 mile trail run. Just one club member at this; Juliette Reader who ran in her running club vest.