Weekend Round Up 8th 9th Dec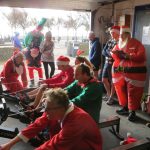 ROW ROW ROW; MERRY CHRISTMAS
The sunday morning walkers along the seafront gained some festive cheer from Tuff Fitty's Christmas caper. Racing Rudolfs, Talking Trees; Elegant Elves and a smattering of Santa's ran along the prom in bright sunny conditions.
However behind the fun atmosphere was a tough event; anyone who skipped the event thinking it was just a bit of fun underestimated the effort everyone had to put in.  Starting from the Rowing club the aim was to run out and back for 2k as the first discipline, with many a running style compromised by restrictive costumes. Tom Goddard gained the quickest run split of 7:36, then strong running from Jon Babbage in 8:50 then a mass surge from Nikki Gatland, Antony Oliver, Chris Sloggett with Stu Harvey just behind. 
From here it was straight onto the rowing machines where competitors rowed side by side, with some needing to make adjustments to their costumes to ensure they didn't get caught in the machines. As the sweat built coupled with shouts of encouragement, festive hats were jettisoned and there was very close rowing going on. There was a clear rowing winner in Graham Liddell who completed the 2000m  in 7:25 as part of a relay team. Tom Goddard was the first full distance rower in 7:56 then Antony Oliver (8:01), Nikki Gatland and Chris Sloggett.
Having completed the row competitors then had to jump up and complete a further 2k run – tough with many comparing it to trying to get the legs working for the run after a very long bike ride. Some were so hot valuable time was conceded as some of the costumes were jettison. The gusty wind was therefore welcome going one way, but not so much the other way as the fancy dress acted as a wind sock.
Crossing the line back at the rowing club saw Santa Clive hand out goody bags and the all important bits of festive bling. 
Everyone adjourned upstairs to the bar where bacon butties, hot drinks, mince pies and cakes were the order of the day; plus the bar was open. Thanks to Catharine for the catering.
It was decided that Jon Babbage was the best fancy dressed competitor, and a prize for the first male home went to Tom Goddard with Nikki Gatland achieving the prize for first lady. 
Thanks to everyone who came along as racers or supporters.  Antony Oliver, Antony Towers, Bob Thomas, Catharine Western, Cathy Oliver, Chris Sloggett, Claire Moyle, Danny Bruce, Graham Liddell, Jon Babbage, Nikki Gatland, Rachel Brunning, Stu Harvey, Susan Douglas,Tom Goddard, Trevor Harvey
Also to organisers supporters, Alice Gatland, Clive Harvey, Gary Edge, Glenn Parisi, Jon Roper, Katie Goddard, Tiff Orton,  & Tom Gray
(Picture gallery follows- click on picture to reveal arrows)
<
>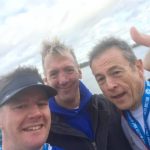 MILTON KEYNES HALF MARATHON 
Next up a great comeback race report from James Brock: –
"I was a bit nervous about this race as I hadn't really done any great distance since I broke my knee back in July. Alas, I had agreed to race so race I did!
I managed to rope in fellow Tuff Roy Barraclough (who also happens to be my next door but one neighbour.) We left Goring at 06:00 this was plenty of time to get to my cousin Jason's house in Milton Keynes for his wife to drop us at the start. Conveniently they lived just round the corner.
The Milton Keynes Winter half marathon was not a race I had heard of nor researched. In a way I am pleased I didn't know too much about it as the unknown makes a race go quicker (in my opinion).
The start was bloody freezing to say the least but soon enough the starting bell went off and the race was underway. I am pleased to report the route was all off road and followed some beautiful canals and lakes. Spirits were high and some fellow runners even started singing Christmas carols. This made me laugh a lot!
Luckily my knee held up just fine. Following advice from Coach Wardy I decided to run a 9/1 race (run for 9 minutes then walk for 1) because the footpaths were quite congested I didn't manage to start this until mile 6.
Good news is I crossed the line in 2 hours 17. This is far from a PB for me but an absolute confidence booster going into the New Year. Roy finished in 2 hours.
I would really recommend this half marathon and will be doing it again. Very well organised, plenty of well stocked aid stations, a nice long sleeved finishes technical running top and a superb bit of bling!
What a great way to end the year!
Have a good Christmas to all my fellow Tuffs
Jimbo x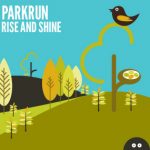 PARK RUN
Tuffs were seen out at just one Park Run this week, but it was a good 'un – Worthing Park Run saw 12 club members racing.  First home was Mr consistent James Oram in 20:42 and strong running from Paul Martin brought him home in 20:51 just 9 seconds behind. Danny Cunnett was next across the line in 21:06 and just three seconds behind him Chris Slogget in 21:09.  Ed Lay followed in 22:13 with Antony Oliver 19 seconds behind. Neil Rabone followed, then  Roy Barraclough, Paul Howie, Amanda de Ridder (6th female), Daisy Bashford and Cathy Oliver. Some good times with three using the run as a warm up for the Row, Row, Row and Roy warming up for his half. .