The Outlaw Half is one of the most popular Middle Distance Races in the country, selling out in minutes. There is often Tuff presence up in Nottingham and so it proved this year. There was a strong Tuff presence which has been followed by great reports with different perspectives on the day.
First up, a truly inspirational report from Steve Bridgeman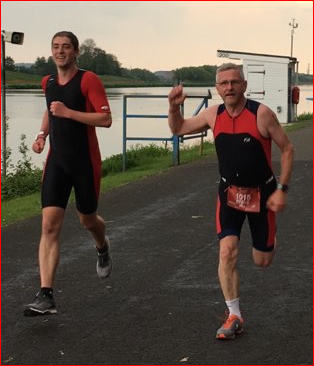 "The above is a picture of me finishing the Outlaw Half Ironman in 7 hours 48 minutes 43 seconds. Joe finished in 6:21:02 and came and ran the last 1.5K with me to see me home. He was my inspiration to do this, as I saw him complete the Outlaw last year and was determined to do it myself. It was a dream come true to have him accompany me down the orange carpet to the finish line."
"At that time, I could only swim 75 metres, so I joined Tuff Fitty and started training in September. The coaches have been inspirational. I hardly believed it at the time when Steve said that I'd be able to swim 1.9K by the following May, but he was right. I am so grateful to the club for the encouragement, support and excellent training and coaching I've received. I completed the swim in 73 minutes, which was within the cut-off."
"Jane was there on the day to support us both and has been such an encouragement, always believing that I could do it. Thanks also to another Tuff, Adrian Oliver, who has gone the extra mile (quite literally) to train with me and support me, even in the bitingly cold sea!
Thank you all at Tuff Fitty!
Steve & Joe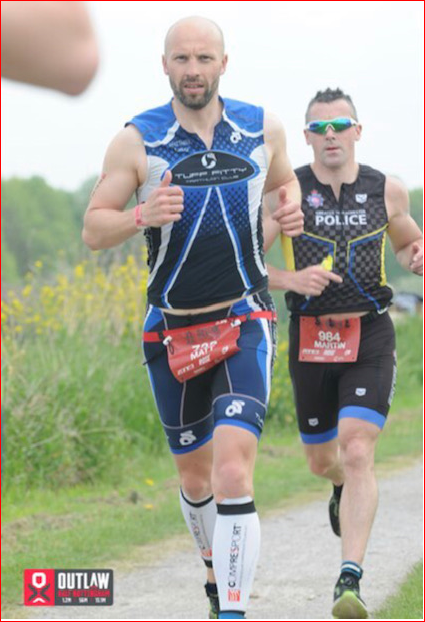 Next up Matt Whittaker reported in having accomplished a great time
"A great first race to the season made all the better having Drew and Pete along, the banter definitely helped ease the nerves and Drew's Mums lasagne fuelled us for the race."
"Up at 4.15am to travel to the start for a 6.25am start. The water not as cold as I expected. My coach advised me to hold back on this race as I had a full week of training ahead so this was always on my mind. This race was meant to be prep and a recce for the full distance event in July but focus has now changed having qualified for the European Championship in Romania in 7 weeks time, so need to find a little bit of extra speed – an experience not to be missed."
"Overall happy with my time and training to date as I felt comfortable throughout the race. However, I definitely need to reduce time in transition and avoid penalties on the bike course!"
"A great event, very well organised and friendly, the only downside was the road surfaces".
Matt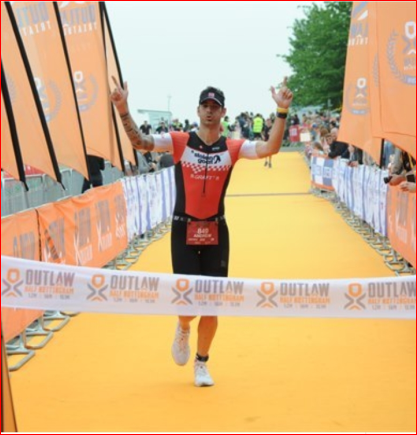 Another super result; this time from Drew Gowland who crossed the finish in just 4:42, and his trademark rapid swim beat many of the elites out of the water. Drew advised:-
"A very enjoyable road trip to Outlaw half (in Nottingham) with Matt and Pete made my comeback benchmark triathlon less nervy… All in all a very good swim and bike and an improving run saw me hit my target time and place, actually exceeding my expectations. The support and help from fellow Tuffs has helped drive my comeback training and block out the arm pain – thank you. I'm strengthening and look forward to racing with more Tuffs through the season."
Drew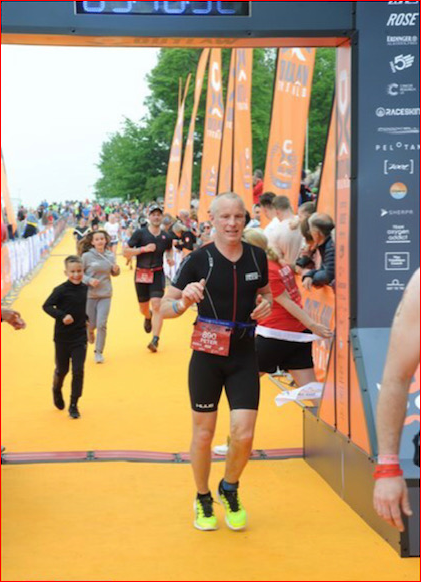 And last but certainly no means least; Pete Littleboy returned home in time to head to Gatwick to leave on holiday, but pleasingly he has just filed the following:-
"I signed up for this race as part of a discounted package which made perfect financial & recreational sense, and to my delight so did fellow Tuff's Matthew Whittaker & Andrew Gowland . Matt undertook the driving and we stayed at Drew's family near the venue. With all the training done, mostly with Tuff's, we arrived for the race briefing and registration on the Saturday. There was a constant check of weather and talk of strategy with plenty of banter. Race day started with a 4 am alarm & we arrived and racked to a dry, no wind, morning and with wave starts, I was off at 6:35am. The water wasn't as cold as I thought for the 1.9k ow swim however it was busy so didn't go as well as planned but 41 mins was OK. There was a, tough on bare feet, transition of 4 mins and I was off on a lap of the lake and onto the road for 56 miles. I was confident with this as my bike had been bikefitta'd only days earlier; even though it wasn't closed roads it was coned and well marshalled. There were good feed stations & toilet stops, however the roads where awful in places and to coin the expression "there was more danger yellow spray paint than white lines". I still returned in 2h 51 avg speed 19.6 mph even had a chat with a newbie Tuff on route. So after a 2 min transition & some say the 4th discipline, & with people shouting your name (as it's on your race number), I was off on the run. This was a 2 lap loop totalling 13.2 miles and in some parts on a single track path so made it tricky overtaking and people stopping at feed stations. This didn't bother me like it bothered most people and also gave me an opportunity to high 5 fellow Tuff's Matt & Drew and having done the run in 1h 40 I was chuffed with a 5h 20 finish and my fellow Tuff's didn't have to wait to long for me. Now I am mentally ready for the full distance in July and I took great strength from being & doing part of the course. However I did get my nutrition and two much clothing wrong; I can hopefully put that right. That is easy for me say as I am currently sat on a sun lounger on the island of KOS Love the sport & Tuff Fitty with it"
Peter