When:
September 14, 2019 @ 11:00 am – September 15, 2019 @ 12:00 pm
2019-09-14T11:00:00+01:00
2019-09-15T12:00:00+01:00
Where:
Totnes, Devon
TQ9 5AL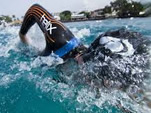 Looks like we have a couple of Tuffs entered this year – Good luck
The Dart 10k was the first, and is arguably the finest, 10k swim on the open water calendar and 2019 is its tenth year. It has grown from 200 swimmers to 1600. The course of the Dart 10K is a unique journey punctuated by landmarks such as the Cormorant Tree, the white rock, Sharpham boat house and Bow Creek. It's supported by volunteers from the local and swimming community who make it special. It's not a race – we have some fantastic and some very fast swimmers, we have skin swimmers, disabled swimmers, newbies, butterfly swimmers – but whatever the level, the language of the day is different. It's a journey, not a race, and there's room for everyone in the river.