When:
June 20, 2020 @ 7:00 pm – 10:00 pm
2020-06-20T19:00:00+01:00
2020-06-20T22:00:00+01:00
Where:
Thorpe Lakes
Chertsey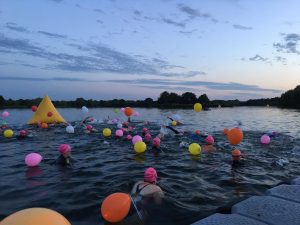 At 7pm swimmers will start in the water and begin their 3 hour swim.
Swimmers will compete either solo, in pairs or teams of 3 to see who can complete the largest number of laps in the time given. The current number of laps will be displayed in the club house so supporters & team mates can see how the scores are progressing.
The swim will begin in daylight and finish by twilight so for the final hour of the swim glow sticks (provided) and tow float (not provided) will be required. Laps will be 1000m long for the first 2 hours and reduce to 500m for the final twilight hour.