Catharine Western's race report from the 2016 Frostbite on the 6th March.
The Frosty certainly lived up to its name this year, with sub-zero temperatures and an ample dusting of the stuff along the pavement. Thankfully the balmy temperatures of the pool acted as a buffer to the cold air temperature outside when exiting onto the run leg. It also helped that it was a beautiful spring morning with stunning views over the sea as the sun rose – although, in hindsight, perhaps I should have been concentrating more on running faster than the scenery?!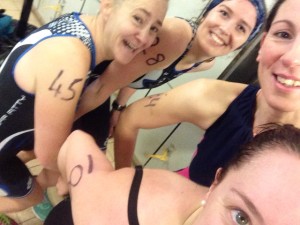 I opted for the shorter Frostbite – a 400m swim followed by a 5k run – and I thoroughly enjoyed it. It also told me that I need to get back in the pool for some training sessions…The marshaling was great, and it was nice to see so many Tuff faces out on the course, both competing and spectating. The early start meant that we were finished and changed by 8.30am, in time to watch and cheer the Tuffs who opted for the longer Frosty event cross the line. I know it was the first multi-sport race for a number of members, and the post-race changing room chat was very positive. With its friendly, relaxed atmosphere, the Frostbite was a great way to start the season.