Clive's Tuff Update – 5th April
A real mixed bag this week some upcoming events and news of the weekend's racing.
First on this list is:
Jon Cassell's Marathon Des Sables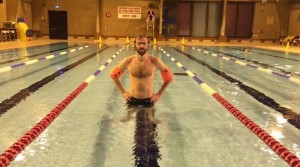 Jon has been wowing us all with his swimming since joining last year, but I am thinking that with all that time thrashing up and down the fast lane that he has finally got water on the brain!!!!!! as he has announced his new adventure to complete the upcoming Marathon Des Sables.
Details are here: http://www.weareblahblahblah.com/sponsor/ if you want to sponsor him. I cannot explain the attached photo…..maybe Jon intends to carry it with him to remind himself what water looks like?!?!?!
Good luck Jon (you will need it by all accounts!)
Goodwood Duathlon
There were 4 Tuffs at this one, 2 of whom will NOT be candidates for the Club Treasurer role, should it ever become vacant, as they cannot count!!!! (Nicole Ewer and Grant Smalley you know who you are!)
Conditions were brilliant and Grant went 8 mins quicker than last year despite the extra bike lap……Nicole was guilty of the same offence!
Bob "The Legend" was flying Tuff colours again in one of his favourite events (NO SWIM YOU SEE!) and reported that he went faster than Simon King……are we talking wild life photographer or dodgy Seventies DJ!!!!!? no our returning Tuff who has been out in Australia and New Zealand.
So all in all a good day out for the Tuffs.
Queen Elizabeth Forest spring half marathon
As part of her intensive Brighton Marathon training Becky LC (swim coach extraordinaire) took on the 1500ft of ascent of the Queen Elizabeth Forest spring half marathon, made all the more difficult by the muddy underfoot conditions. Our friend Amanda Newton was there to start proceedings, with Becky's hard work rewarded by 3rd female prize…..not bad after spending the week searching for the family cat!
Votwo Jurassic Challenge
Continuing the outstanding Tuff prize winning performances was Paul Atkinson who took home the first Fat Geordie from Sussex award at this one..
This challenge consisted of 3 (ultra) marathons in 3 days along the Jurassic Coast in Dorset, starting in Charmouth with a climb up Golden Cap, the highest point in Dorset, and finishing in Poole Harbour by the chain ferry. It was self navigation all the way, but the organisers provided the following useful advice….."keep the sea on your right and you can't go too far wrong".
The whole route was off road, including 10,000ft of climbing, long sections of soul destroying shingle, lots of narrow cliff edges and the final 3 miles along the soft sand of Studland Bay. But the Challenge also gave us the opportunity to run along Chesil Beach, Portland Bill, Lulworth Cove, Durdle Door, Kimmeridge Bay and Poole Harbour. Paul reports "we got to neck the three free barrels of Skinners beer at the event centre, based at the Olympic Sailing Centre on Portland Island. Sad to report that one of the barrels remained untapped when we left on Sunday afternoon".
Pauls total  time was just  17 hours 50 mins for 83 miles!!!!!!
Quest Adventure Girls' Rides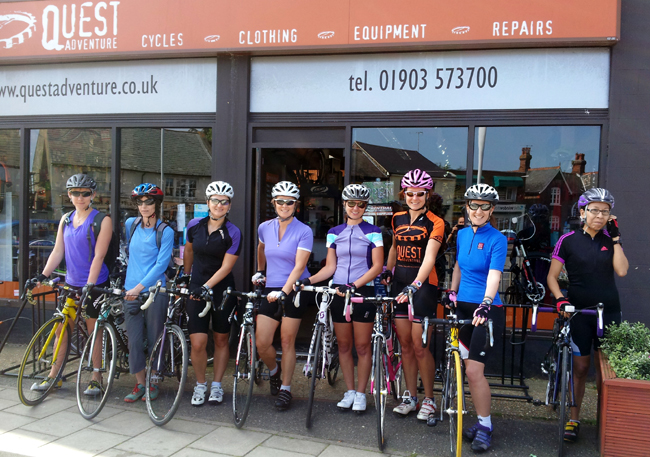 Just a quick mention (or else I wont hear the last of it in the P-L house hold!!!!). For all the Female Tuffs out there here are the dates for the next few months for the Quest Girls Rides
7th May
11th June
23rd July
20th August
10th September
All are 10am start from the Quest Adventure shop and led by Mrs P-L.