Report by Dave March
This is a long post….I'll try and keep it fun. If you purely want to know about the race, scroll down and look for the header. If you're interested in the whole experience, start here….
In case this is the first time you've read about a Swimrun, here's the brief.
Swimrun is a race run in pairs across consecutive running and swimming legs, usually held over rugged terrain and in stunning locations. This is a relatively new sport, especially in the UK, but we now have a handful of races to choose from which all pose their own very different challenges.
The race we were doing was Breca Buttermere in the surroundings of the UK's Lake District, this would be lake swims, trail runs and a hell of a lot of vertical ascent.
So at 9:30am on Friday morning, I'd done the school run, kissed my wife goodbye and climbed into my teammate Tom Goddard's car for our romantic weekend break. It took us over 9 hours to drive up to the Lakes, and somehow we hadn't fallen out with each other yet. We discussed the subtle differences between Bracken, Heather and Ferns. The main difference being we've never met anyone called Bracken.
We came off the motorway at Penrith (which I thought was in Scotland) and when we reached Keswick we hit the single track roads for the last 7 or so miles to Buttermere.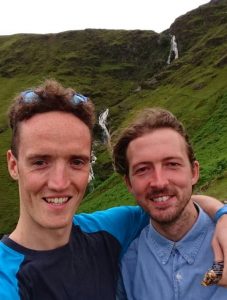 The Dynamc Duo
The scenery was absolutely breathtaking, waterfalls, lakes, streams, fells and valleys. Everywhere you looked there was water, you could hear water running at all times, the rocks had water coming out of them, even the grass was crying. Neither of us had brought a coat.
We arrived at the Youth Hostel (YHA Buttermere) and were welcomed by Ben, the race organiser. We checked in to our room and to kill a bit of time had a stroll down to the first Swim transition point. We immediately realised that there were several bottlenecks on the way to the lake, 2 kissing gates and a steep bank to negotiate before entering the water. I dipped my toes in and Tom took the opportunity to work on his stone skimming (lame) – it was chilly to say the least, we re-assured ourselves by imagining how warm it would be the next day.
We strolled back to the YHA and chatted with some of the other teams, Mike and Niels from the Danish Koge Tri Team 2000 and Richard from Athlone Otters shared our table as we filled up on Pasta, Rice & Chilli. They'd done a Swimrun in Denmark and one in Llanberis respectively. We joked about how flat Denmark was and how big Mikes hands were. The hostel was filled with outdoorsy looking types with down-stuffed jackets, trail shoes and pre-race compression wear. I had skinny jeans on and no coat.
Next stop was the bio-security checks and registration, this went smoothly, we had all the kit, our shoes were clean, and we were given our race vests and red swimcaps. Very efficient guys – good job.
There was a nervous energy in the hostel already so we decided to stroll down to the pub to watch Wales v Belgium in the Euros and stay relaxed. There were 2 pubs in the village, The Fish Inn and The Bridge. Neither of them were showing the football. In fact, neither of them had a TV. We were told the nearest one would be in Keswick……7 miles away, even if we ran there we'd probably only catch the last 10 minutes, and it was raining, and neither of us had a coat.
So we stayed at The Bridge and sampled the local Beers, Buttermere Blonde,Whistling Pig Pilsner and Mowdy Pale Ale being our favourites.
Here we met Josh and his partner Lottie. Josh would be racing in a mixed team on Saturday and Lottie was there to cheer them on. Me and Josh bonded over our matching Red Bull Steeplechase hoodies whilst Tom looked on enviously despite calling us "Steeplechase Wankers" in his head.
This was a perfect way to keep the pre-race excitement at a manageable level. Its always good to remind yourself that we do this for fun. We're not professionals, we take well earned holiday from our jobs, never take yourself too seriously.
With this in mind, we headed back to the hostel and sat outside with a can of beer each. It was 11pm and the fells were still silhouetted against the sky. We could hear the waterfalls and streams and as the temperature started to drop we remembered we didn't have coats and we should probably head inside and get some sleep.
After a terrible night's sleep due to the creaking bunk beds that Tom was too tall for, we were greeted in the morning by our room-mates Haemish and Fredrik. Turns out they raced the event last year so we were keen to get some tips. Unfortunately, it also turned out they came last so we decided to ignore all their advice anyway. The fact they'd decided to return to face their demons was a sign that this was going to be a good day.
8:00am: we went downstairs for breakfast, nothing new on raceday is the usual approach isn't it? Not today, hash browns, sausage, egg and toast please. With a nice steaming hot mug of coffee to wash it down. We still had plenty of time before the 10am race-start and we were going to be out there for a long time, so we thought it best to eat well.
Tom declared "Why stand when you can sit? Why sit when you can lie down?" and with that, we went back to our room for a lie down. People were already milling around in wetsuits with 2 hours to go. Maybe it was like heat acclimatisation?
9:30am: Time to get our kit on, I stuffed my wetsuit pockets with 6 GU Peanut Butter gels, shoved my sealed bandage up my right sleeve, and pulled my socks up over the cut-off bits of wetsuit legs that I'd saved. Then we sat back on our beds and drank some more electrolyte drinks.
9:50am: Pre-race Gel time. The best gels I've ever tasted. If ever there's a disaster where there's a food shortage, I'll happily live on these! We head down the stairs and outside to join the neoprene charged atmosphere outside.
9:55am: Nervous faces all around. Everyone's cracking jokes. Tom's psyching the opposition out by doing swim-warm-ups. There's music playing. Swim hats are making everyone look surprised.
9:59am: We didn't want to get stuck in the bottlenecks in the first 600m run so we'd lined up at the front. People were eyeing us up. We probably looked serious.Guns'n'Roses came on over the loudspeakers.
10:00am
THE RACE
As Axl Rose's voice screamed out "Welcome To the Jungle…" Ben opened the gate and we were off, athletes at the back were all a bit bemused as they were busy dancing but the sentiment wasn't lost on us at the front.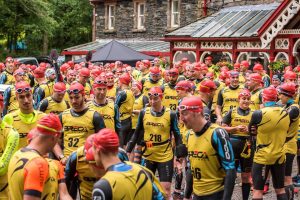 We kept up with the other teams along the metalled road before a sharp turn took us through a series of gates and towards the first lake. We jumped a fence next to one gate, adrenaline surging and impatience getting the better of us.
600m down to the first shoreline swim along Buttermere and we were well placed going into the water. Unfortunately, the water was bloody freezing and it completely took my breath away. I splashed water over my face but as I submerged myself I could feel my body going into panic mode. I kept my head up for a few strokes whilst the water got inside my wetsuit and helped to insulate me and I finally got into an uncomfortable rhythm. The field wasn't well balanced at this point and there were some strong swimmers surging through the water with hand paddles. Tom kept catching the wake of other swimmers and would fly off leaving me in no-mans land, I was having to work really hard to try and get close. We quickly learned that the swim sections were going to be more about keeping me on Toms toes, rather than trying to latch onto teams with hand-paddles.
The water was crystal clear, it was like an underwater scene from a film.
We climbed out after 600m and started running, I think we picked up a couple of places but we kept ourselves in check, reminding ourselves that this was going to be a long day. The 2nd swim was on us, this time across Crummock Water, the wind had picked up quite strongly and the water was actually quite choppy. Tom sighted us upwind slightly so we could get an easier swim in to the shore. I took a few mouthfuls of water when I got hit by the swells but it was so clean you could swallow it without adverse effects. Halfway across the lake, we found ourselves scrabbling over some rocks with some bemusement, it must have looked like we were walking on water from the waters edge!
This was another 600m swim and by the end of it I was starting to worry that I wasn't strong enough in the water to complete the course. Enough with the negative thoughts though, they would return later but this was too early in the day. We hauled ourselves up the shore, swimming right up until we were less than knee deep, no point dragging legs through deep water.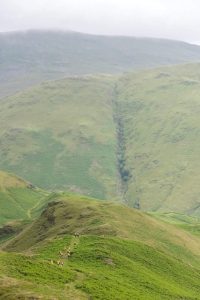 Next stage was a 5.7k run with just shy of 200m climb. We were reduced to walking quite quickly, hands pushing off knees, calf muscles on fire. The hill turned into a rocky staircase hewn out of the mountain itself and we dragged ourselves up, pausing only to see the lake we'd just swam in far below us and a steady stream of swimmers still making their way across.
We reached the summit and took a slight wrong turn which meant scrambling over some rocks to get back on track, sheer drops down to our right kept us focussed as we got ourselves back on safer ground. Tom saw someone go head-first over a ridge further ahead, scrabbling on the rocks with terror in her eyes as her hand-paddles slid over the surface. Someone grabbed her by the legs and pulled her back up. A quick lesson there in concentration and course respect, we need to be careful.
With each run section, any climbing would mean an equal descent to get back to the water. I overcooked it twice on this descent much to Tom's amusement.  The first time in slow motion, clipping an earth mound with my foot and then my ankle before crashing down into the Bracken. The second time, the trail took a turn and I didn't, within an instant I was on the floor. Tom was in bits.
Without further incidents we made it down to the first checkpoint and we entered the 3rd swim. This was one of the two longest 1k efforts. Tom made a terrible entry into the water and ended up falling backwards over a submerged rock. This played into our hands though as it meant we latched onto a group. We stayed with them making great progress through the water until the guy Tom was drafting got dropped. In an effort to pull us back to the group I couldn't handle the pace so we resigned ourselves to finishing this swim on our own. This was my favourite swim section, crystal clear again, several degrees warmer than Lake Buttermere and one of the big ones over before I'd even got chance to think about it too much. We got quite confused at one point as a torrential downpour came out of nowhere. Breathe to the left and it was fine, 3 strokes later, breathe to the right and it was Armageddon. Fortunately, it was over almost as quickly as it had started.
Great support getting out of the swim section again, in fact, all around the course there were walkers, hikers, helpers, locals and they all gave encouragement. We must have surprised a few of them running round in wetsuits though! Proper food at the checkpoints too, cake, maltloaf, crisps. I stuck to a routine of water, coke, banana, then leave with a few jelly babies.
The longest run of the course (12.8k) was fairly easy, a bit of up, a bit of down and a couple of tricky navigational patches but we kept it ticking over nicely. We both run lots of trails so it was perfect for us.
By the time we got back down to the next swim, it was pretty rough weather again. There was a bit of chop on Crummock Water and the swim exit 800m away looked a long way off.
This was a tough swim, in my head I thought it was one of the 1k swims which didn't help. One of the kayakers asked if we were OK at one point, probably because Tom had to keep stopping to let me get back on his feet. I was starting to wonder how bad the weather would have to get before they started thinking about cutting the course short.
Once we got out here we were into a series of short runs and short swims which everyone had been looking forward to.  2.1 run, 0.4 swim, 1.2 run and as we came off the path to enter the 6th swim (0.5k) Tom got trapped hip deep in a bog. This time it was my turn to laugh as a marshall came over to help us get him out with his shoes still on his feet. At least we were still in good spirits!
Out of this swim and it was on to the last big one. The series of short swims/runs had brought my core temp right down. I hit a low point and I mentioned to Tom that I was really starting to feel the cold. He told me I wasn't, that it was probably just my body crossing over to fat burning after using all its carb stores. He tried to cheer me up by singing "A message to you, Rudy" but changing Rudy to Marchy. It nearly worked. This was almost fun.
As we were about to enter the last big swim the marshalls were asking me if I was OK, they said I looked cold. Tom meanwhile was playing with a dog. We were told to sight off the big white building above the shore. The Daelgarth hotel. This seemed fine to me, it was big so it looked close. Tom realised that I was being tricked by the whole perspective/far away thing but thought it best to let me believe it was quite a short swim.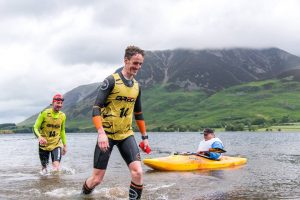 As we entered the water, one of the dogs came with us, I was tempted to give it my race vest and run round to meet them on the other side. I asked Tom to keep it as slow as he could and that if I wasn't tapping his feet he was going too quick.
During this swim, I took a breath to the left and I'm convinced that I saw an Osprey swoop down to catch a fish about 50m away from us. It was a fleeting glance, and I was concentrating on staying as close to Tom as possible so I might have imagined it.
We made it to the other side, Toms swimming had been straight as an arrow again, as it had been all day and we walked up the shore. I felt bad for holding us up in the swims. Every time Tom took a stroke, he moved 2 meters ahead, it was unreal.
There was a check point here, the final one before the climb up Dale Head to the infamous Honister Pass. I tried to drink some coke, I tried to eat some cake, I tried to eat some jelly babies and I tried to eat a piece of Kendal mint cake. I say tried a lot here as my body wasn't working. I was Hypothermic. I started violently shaking and I couldn't move my jaw properly. Tom saw how bad I was and admits he was pretty concerned at this point. We started walking towards the Dale Head climb and took on another GU gel. Someone passed us at this point and said to their team-mate "'kin hell, that guy's blue!!"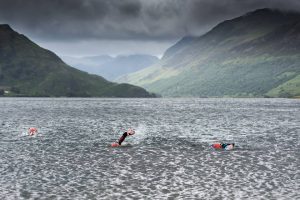 The sun came out a little bit which I was hugely grateful for, and the trail was getting steeper by the second. My core temperature started coming up and I was feeling much better, we gel'd up again and used the fence posts to pull ourselves up the climb.
The view back down to Lake Buttermere was stunning, and as the climb started to level out a bit we could see that we were only half way up. The winds started picking up as we got closer to the ridge, it was a struggle to stay on your feet at times and as we got closer to the top the sky started to fall on us.
We'd formed a little group with some teams from in front and behind us at this point and it was reassuring to know there were other people around. Visibility had dropped to less than 10m and we were being whipped with hailstones. It must have been at least 10° colder up here. We'd already put our swim hats back on for warmth and we were really concentrating on locating the arrow markers. The briefing had said that if we were likely to get lost on course, it would be here.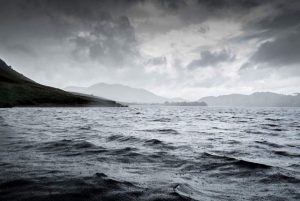 After a couple of false summits, we reached the Cairn that had been mentioned in the safety briefing and we knew we had to head south from there down to the quarry. A steep descent followed, sometimes runnable, sometimes not. Technical in places and at other times, just easier to rest your quads and walk.
We spotted a tent at the bottom and the marshals were waving madly at us, this was the final checkpoint I think. Tom was ready to power through, he'd had enough calories and just needed some water. I grabbed a banana and we left at a run as a French team arrived.
We had made good ground on this section, it was hard work, and scary in places. The weather had thrown everything at us but we knew that it was all downhill to the end now. The next 4 or 5k were along a Tarmac road,  the Honister Pass. Amazing on a bike I'd imagine, but hard on the quads at this moment in time.
Cars along here were all waving and cheering, even rattling cowbells for us. We were sure that the French team were going to come past us any minute now but they never did. This was a 10k section and it must have taken us 90 minutes at least. I was actually looking forward to getting back in the water!
We hit the final swim, 400m. Tom sighting it perfectly, me struggling on behind. I wasn't able to even kick slightly any more. Relying on my feeble arms and shoulders to produce all my power. As I approached the final landing bay my body had nothing left. Tom waded back into the water and we showed the marshals and spectators exactly what the Swimrun team ethic is all about.
1.8km left to run. And that would be it. All over. I felt sad! I can't remember if it was raining. We didn't have coats. We were grinning like idiots. The final trail run alongside Buttemere was beautiful. It felt like we were flying, In fact, Tom was. He tried to style it out with a commando roll and he still thinks it looked cool.
The path entered a rocky tunnel, it was pitch black and we were shouting and whooping. There was a troll in there, facing the wall and swaying. I was terrified. It was like that bit in that Will Smith film, I Am Legend. (Turns out it was just an old man with his wife and we must have scared the shit out of him as we steamed through shouting our heads off)
A moment later we were rounding the final corner, the Youth hostel was in sight. The Breca flags that marked the finish line were flapping in the wind and cheers went up as we came into the driveway. We gave each other Bro-hugs and Ben came over with beers for us!
Seven hours and eight minutes it had taken us. And we finished in 15th place.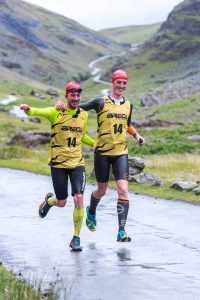 Post race
We hung around outside to cheer in the next couple of teams before heading in to get warm and dry. We still didn't have coats.
I was shaking again and desperately needed some proper clothes on. We hung up our wetsuits and shoes in the drying room and hit the showers and free massage tables.
We swapped stories with other teams as we waited for dinner, still cheering finishers in from the dining room. Everyone was buzzing about how much fun they'd had, no one asked about times, it wasn't important. We cracked on with the beers and devoured the Sausage and mash when it came out. The crumble and custard for pudding was most welcome too.
The biggest cheer of the day came when the final team crossed the line almost 11 hours after the start. That's a long time to be out on that course and I know I couldn't have kept up that effort for that long. Chapeau! The kitchen had kept back some plates of food for them when they arrived too, nice touch and desperately needed, they didn't even remove their wetsuits!
After dinner we went to the pub again to reflect on an amazing event. Spectacular scenery. Great encouragement and support. Well organised and really looked after in the water. Without a doubt, the best event I've ever done.
The thing that really made it special, was that you had a teammate all the way through it. Someone to encourage you when you felt low. Someone to help you up when you fall. An extra pair of eyes to make sure we both took everything in from the experience. And someone to distract the marshals whilst their teammate tries to stop looking so dead.
I experienced amazing highs during the race, and at other times felt terrible, but never once wanted to pull out. I've never run that far before, and never swam that far either. I verged on cramps in every muscle from the hips downwards at some point in the race but somehow pulled through it.
And now, sitting in my living room 3 nights later writing this, my legs still feel battered but I'm still buzzing. In fact, I'm still wearing my Breca finishers T shirt. I'm already hoping we can do it again next year, and that we can take a crew of club mates with us.
Thank you Breca Swimrun for this race, it's a truly wonderful thing.
if you've read this far, thanks, I urge you to sign up next year, it's incredible. Let me know if you're tempted.
If you have any questions, fire away and I'll do my best to help.