The Long Course Weekend – Wales
The Long Course Weekend is an event in Pembrokeshire covering one of the most difficult Ironman triathlon courses in the country – Ironman Wales in September.  The Long course weekend started on the Friday evening 8th July with The Wales Swim, the full Iron 2.4mile distance on Tenby's North Beach. Try and get some sleep as Saturday dawned to The Wales Sportive; the full 112 miles of the undulating Welsh countryside. Then to round everything up the is the small matter of a full 26.2 mile Wales Marathon which has become established as strong event in its own right.
Nicole and Clive Patterson-Lett travelled to Tenby for a combination Race/Holiday break. Their preparations could have been better because they were camping in the cold and the rain with soggy kit! However this clearly didn't dent their enthusiasm as Nicole stroked home in the swim in just 1:02:38 – second in her age group and 8th lady overall, beating some pro's and 'chicking' countless others. This result does not diminish Clive's own performance as he finished in 164th position in 1:13:08. Superb from both considering there were 1,667 people who ran into the sea at the start.
The next day Nic embarked on The Wales Sportive.  As you will see from the picture, plenty of razzamatazz and support was on offer. The 112 miles were covered in 7:57:47; 22nd in her age group for another strong result.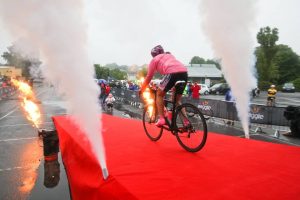 The final leg was the Wales Marathon and Nic produced another great result finishing in 5:00:51. Competitors could enter each discipline on their own, but those who completed the full long distance in all three had their times aggregated. So not only did finishers get three medals (one for each race) Nic's aggregate time was 14:02:37 which secured her 3rd in her age group 228th position out of 792 who had set out to tackle all three events.
CPL (rightly so) stated he didn't think he had ever been so proud of Nic's achievements, particularly in those conditions.  Not only did she beat several pros in the swim, the bike course was truly epic. It included 8000 feet of climbing and driving wind and rain all day. Despite having only run up to 12 miles this year she still smashed it!!! and comes out smiling! Chapeau!!!
Clive left his reporting at that, but what he omitted to say (that after digging around in the results) it was learnt that after completing the full Iron distance swim he turned his attention to the Wales Sportive completing the 66 mile route in 4:05:08, which still packed in more than its fair share of undulations. Clive crossed in 29th position.
He is still supposed to be on rehabilitation after his serious accident last year and many people would have had enough by now, but the big test was still to come. He entered the 5k run and completed the course 1st in his age group and 5th overall. What an awesome result, but it is put into context when you read he covered the distance in just 19:31; incredible.  You must be left wondering whether he didn't report his great trio of results for fear of his physio finding out. Surely The Long Course weekend doesn't quite fit the bill of ease back into things gently.
What great performances from them both, they are staying in Wales for a little while longer, we think they have deserved the break.