Tuff Fitty's 25th Birthday party
A huge thanks to everyone who came along this evening to play their part in Tuff Fitty's 25th birthday celebrations. Great weather, great company and some cracking race results with half the field dipping under the magic 30 minutes barrier.
There was a mix of members coming to race, race and party, or simply just to party, and 80 people were present. People had to be pushed towards the Lido exit as the party was still in full swing at closing time.
The race formed a team event where three people had to work together to get everyone back across the finishing line as fast as they could. This necessitated the slower runners starting their swim first before tagging the second swimmer leaving the quicker runners to chase the rest of their team home.   However this race also served as one of our club championship races so it was important to list everyone's swim splits and total times independently. These are all recorded below.
All the food went, and then it was onto Catharine's gorgeous cakes, where everyone discovered a second wind from their barbecue and alcohol first course. The creative designs are shown here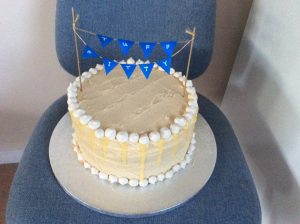 There were several people who worked hard on our behalf, Trev took my camera so there are plenty of photos on the gallery below; feel able to use any yourself if appropriate.  Steve Jones and Glenn Parisi who slaved away over a hot barbecue all evening, and worth stating again Catharine, it is known she was up late ensuring the cakes tasted and looked sensational.  Great that Anthony, our treasurer was present as he is our longest serving club member.
All club members present received a Tuff 25th commemorative medal.
I think it was about 1996 when I visited a tri club with some trepidation and after a couple of months remember saying 'we just needed to get organised' when numbers were low. That comment led me to being asked to join the committee in 1997 which led to Secretary in 1998 which morphed shortly after into the Chairman's role. I never expected to last this long or that people would have to put up with me this long either!
Many people were away on holiday, but to all Tuff's, present or not, Happy Birthday and thank you for your contribution in making our club the success it has become. Lasting for 25 years with many superb highlights and helping people meet their personal goals over the years, you should all be proud of.
Clive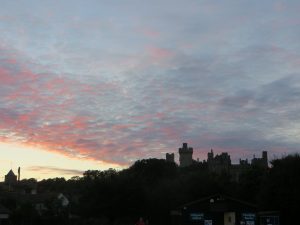 | | | | |
| --- | --- | --- | --- |
| Name | 400m | 5k | Total |
| Joe Pascoe | 06:00 | 18:39 | 24:39:00 |
| Clive Paterson-Lett | 05:24 | 19:53 | 25:17:00 |
| Ollie McDonald | 06:29 | 20:28 | 26:57:00 |
| Dave March | 06:30 | 20:37 | 27:07:00 |
| Simon Thistlethwaite | 07:46 | 20:30 | 28:16:00 |
| Gavin Sewell | 06:53 | 21:34 | 28:27:00 |
| Miki Floyd | 07:10 | 21:36 | 28:46:00 |
| Tom Frith | 07:15 | 21:32 | 28:47:00 |
| Phil Lintott-Clarke | 07:12 | 22:01 | 29:13:00 |
| Andy Ward | 07:43 | 21:38 | 29:21:00 |
| Tom Gray | 07:17 | 22:12 | 29:29:00 |
| Becky Lintott-Clarke | 07:44 | 21:54 | 29:38:00 |
| Matthieu Cauchy-Duval | 06:50 | 23:35 | 30:25:00 |
| Steve Custance | 07:25 | 23:18 | 30:43:00 |
| Andy Heath | 06:45 | 24:29:00 | 31:14:00 |
| Tony Morgan | 08:30 | 23:53 | 32:23:00 |
| Simone Scott | 09:00 | 23:48 | 32:48:00 |
| Debra Cauchy-Duval | 07:45 | 26:01:00 | 33:46:00 |
| Graham Liddell | 07:56 | 28:00:00 | 35:56:00 |
| Tony (Bear) Day | 08:02 | 28:49:00 | 36:51:00 |
| Bob Thomas | 09:33 | 28:08:00 | 37:41:00 |
| Nicole Ewer | 08:30 | 29:45:00 | 38:15:00 |
| Liz Gordon/Leanne Levitt | 07:35 | 31:56:00 | 39:31:00 |
| Claire Moyle | 09:45 | 33:21:00 | 43:06:00 |
Finally a get well soon message to Tiff who unfortunately had a bike accident and ended up in hospital. She had helped to prepare for this evening; we missed you,(and Jon). From us all we wish you a speedy recovery
HAPPY BIRTHDAY TUFF FITTY
Clive