Weekend Round Up 20th -21st August
SATURDAY RUNS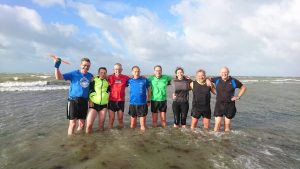 Yesterday there was a spring tide and with summer still here – (almost) the Saturday run changed to a Beach Bum run from Bluebird Cafe; great fun and Glenn encouraged the runners out on a route 'out south' at one point, the result is shown above – good job everyone had old trainers on.
The purpose of this section, apart from showing Tuff's with wet trainers, is that we have almost completed a year of holding Saturday morning runs from West Worthing Tennis Club. The aim of this change was twofold. To try and establish a 'Club Hub' which we could use, and, centre the start of the Saturday run in the middle of our catchment area.  However this did not attract as many fresh attendees from the 'east' as we would have liked and the regulars after a while found the range of routes from Arundel more endearing. Up into Arundel Park, across to Rewell Wood, Out to Warningcamp or Houghton and as the marathon season approaches further up onto the South Downs.  Such routes are more interchangeable to accommodate Autumn and Winter weather and provide some great 'undulation' training.   In conclusion from Saturday 27th August Saturday runs will start from outside Arundel Museum, opposite the Lower Castle Gates in Mill Road Arundel. (postcode BN18 9PA)  7:30am start, and worth bringing a dry t-shirt and some money for a coffee afterwards (not obligatory). All welcome.
MONSTER MIDDLE DISTANCE TRIATHLON
Andy Ward competed in Cambridgeshire and reported in:-
So this weekend we (Amanda and I) decided to head back to Ely after last racing here 3 years ago and posting a very pleasing Sub 5 hr Middle distance race.
This year the organisers had tacked on some extra k's on the bike but apart from that it was a 1.8k swim 93k bike and a 21k multi lap run.
Ely is an area I knew well as it was not far from here that I served in the RAF and once scored a try for Ely rugby team (well 4th team actually)
We arrived on the Saturday to fairly blustery conditions but were assured that tomorrow would be different….!!     How right they were!!
10 things to consider when re-visiting a Half Ironman (in no particular order)
3 years is a long time and what you did then doesn't have any reflection on what you'll do today.
Flat doesn't mean FAST especially when the wind is blowing so hard that you're reminded of the Queen K Highway at Hawaii Ironman Kona (TV footage obviously!)
Nutrition – Forgetting to take Gels on the bike and relying on 2 bottles of High 5 will bite you in the arse when the run comes along.
When you have a choice between a hot room and the windows closed or window open and listening to EVERY SINGLE CHIME OF ELY CATHEDRAL!!!!!! Go for the hot room.
Caffeine Gels really work….especially when you feel about to give up.
You're wife/partner/significant other deserves you to finish…so whining that you feel shit won't cut the mustard with them.
Training in your triathlon-suit more than once prior to riding over what can only be described as tractor roads is to be recommended.
You may think at times that you're doing crap, but when you're sitting in your hotel watching people STILL running around with 2 laps to go after you've showered and eaten a croissant and a muffin then perhaps it's not so bad after all.
The run/walk strategy really works!!
Smile for the photos you never know who's looking at them.
Until next time,
Coach Wardy!!
NEW FOREST TRIATHLON
Claire Moyle reports in from the Sprint distance Triathlon, a 400 m swim with 1km transition run, 33km road bike then 5km trail run
This one had to be done not only because it was at Moyles Court but also in memory of my parents who have now both passed. This was part of our memories weekend. Arriving on Saturday to pitch our tent at Homesley in gale force winds was not ideal, then off to get our numbers and check out the bike course. One longish hill and a couple of sharp bends so not to bad.
Sunday up at 5 although I am not sure we had slept wind and rain made it very noisy we headed for the start. The lake look beautiful and preparing for the cold water were delighted that is was warm. Fraser was first out the water and back to transition 1k away, was back 3rd on bike and finished 3rd on run. He would find out he was fifth overall, in a time of 1:44.
For me the swim was solid with good sighting, followed by a nice run back to transition and a good start out on the bike. Just up the first incline and to my first hazard; a herd of horses stampeding across the road. I managed to avoid them and settled into a good pace despite the very strong side winds. Just a we got half way we turned into full head winds and more horses getting in the way before the long climb. I got a boost as I passed 3 other competitors on this climb and the raced down the last stretch for final transition.
Fraser was already there with his medal as I came in but he shouted enjoy the run you might find it tough; it's quite hilly. You know me, I don't do hills but hey ho, I was determined not to walk. I was very pleased when I reached the drinks station as I knew I was only 2 hills away from the finish, so with heavy legs I ran onto the finish. The views were stunning and I did enjoy it despite the nasty winds. Bring on the next challenge
Claire
WEYMOUTH TRIATHLON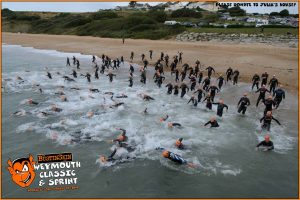 Bec & Mark Day were in action down in Weymouth this weekend for Bustinskin's event Weymouth Sprint and Classic Triathlon. Mark was undertaking his first tri starting with a 750m swim in Bowleaze bay; then a 200m run to transition before heading out for a 20km ride in the Dorset countryside. The run was billed as a serene 5km through the nature reserve but competitors had to finish with a climb back up to the finish.  Bec entered the Classic distance of  1,500m swim, 40k bike and 10km run. Those club members who have competed at Weymouth will know there is only one way out of Weymouth on the bike and that is up! Bec completed the Classic in 3:00:49, a great result across a tough course and Mark completed the Sprint in 1:37:42
Bec has kindly reported in; whilst the photo looked as though the sea was calm she summarised that  "the sea didn't feel calm and the wind was horrendous" Thanks for reporting in with:-
What would be good for your first triathlon?  a nice calm sea – fail, a nice still day –  fail! Despite gale force winds Mark successfully completed his first tri, a sprint, and has said he'd do another!
I did the standard version which was my first and possibly last sea swim. The bike ride was really hard, the wind was so horrendous I was having to put a lot of effort in to cycle downhill.
The course was great, you have to like hills, but I'd definitely recommend it.
ARUN RIVER FESTIVAL SWIM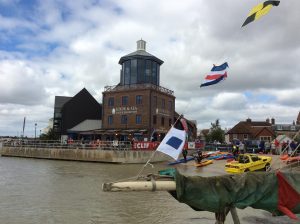 Organised by our friends at Raw Energy Pursuits, which would mean there were lots of our club members helping and marshalling, two river swims were staged as part of Littlehampton' waterfront festival. Many events were held on the river Arun and the swims were a choice of either  1.5km or 3km.   The start was in the river by the launch ramp at Fisherman's Hard by the RNLI station. From there swimmers swam north under the old bridge to a turn point at the Marina. Then back down on the opposite side where the race would finish back as swimmers ran out of the water. The 3km swimmers had to undertake a second lap.
Just three club members in the 3km race, but well done to Nicole Patterson Lett, first Tuff home, first in her age group. Anthony Towers did well finishing in 15th having raced on Friday at our August Assortment. Congratulations to Nicole Ewer on undertaking the longer race
3k swim

Nicole Patterson-Lett
48.08
11th
1st in age group
Anthony Towers
50.11
15th
Nicole Ewer
74.26
There was more Tuff presence in the 1.5km race, with Nikki Gatland first female overall.  Five in the top fifteen is an impressive result with Dom Chapman 7th overall and Clive Patterson-Lett 12th.  This was a quick time from CPL considering he suffered from bad leg cramps coming up to the finish; good job our very own Jon Fivecakes Roper was on hand helping swimmers out the water!  Ollie McDonald and Tom Gray both going well despite having raced hard on Friday.  A 'jet lag from holiday in Ireland' Matt Whittaker also did well in 15th. A special congratulations to Marina Waelti. Having been a Tuff for a while it was great to see her as part of the Tuff squad. It was pleasing to see ex-Tuff Mike Latham handing out prizes fresh from his cross channel swim.
1.5k Swim

Nikki Gatland
24.21
5th
1st female overall
Dominic Chapman
25.15
7th
Ollie McDonald
26.56
10th
Clive Patterson-Lett
28.21
12th
Matt Whittaker
29.53
15th
Tom Gray
33.33
Marina Waelti
53.34
What have you been up to?  You have worked hard for your latest result.  Whilst you may have the medal or T-shirt, have you got your recognition here?  Please find the time to report in with where you have been racing. A picture would also be brilliant.  Please email clive.harvey@tinyworld.co.uk