Weekend Round Up 27-28th August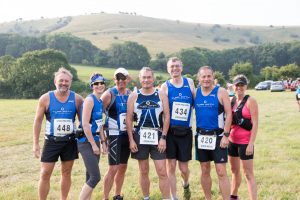 It's behind you… the Big Hill.
13 THE HARD WAY
Graham Liddell reported in from a scorching 32 degree run on Saturday morning:-
Somehow it seemed like a good idea: a decent length route over The Downs on the weekend of my birthday with fellow Tuffs.  In the end, it was a great idea. But I have to admit that for a half an hour or so (when it was way too hot, there was a never ending hill ahead and when it slowly dawned on me that my mid-race push had been unwise) a few doubts crept in. It is at these times and at these sort of events that you find out stuff about yourself and about other people. This is what I have learnt.
1          Join the queue for the Portaloo well before the scheduled start time, especially if you can all see the big hill at the start of the race. This can make some competitors nervous and so increase queuing times.
2          Even if you are obliged to attend a leaving do and it is your birthday in the days leading up to an event, you still need to carb load and go to bed early. Despite benefiting from tannins, red wine is not the food of champions.
3          If, four miles in, you bump into a fellow competitor who just happens to be a senior NHS executive, this is a great opportunity to run along with them and network. However, this can be compromised if you are then joined by Rachel Brunning who announces loudly that her bottom got stung by a nettle when she was having a wee behind a bush.
4          The phrase  "the hard way" is an absolute term and a bit of a clue. It refers to hills and is not a description of the compactness of the ground.
5          "13 miles" is a relative term:
GPS running watch manufacturers like to overstate distances. This is to make you feel good about how far you have run.
Trail run organisers like to give their customers value for money. This means that they tend to understate the length of their course.
6          The word "disappointment" does not come anywhere close to summarising your emotions when you finally figure out that because "13 miles" is a relative term, your final mile is, in fact, three miles.
7          But it will end. You will get to the bottom of the final hill and it will all be over. You will have nothing left to give but slowly you will start to recover. Then it will be time for:
a photo wearing that well-earned and reassuringly solid medal. It looks good round your neck and is just what you need for that brand new medal rack;
a cup of top quality coffee from the nice man with an espresso van and one (maybe two) of Rachel's fantastic flapjacks;
the Chairman to feign cramp, just so he can get a massage from the nice lady in the massage tent;
a member of the committee to sheepishly (and yet somehow proudly) confirm that his nickname at work really is "Sleazy Parisi".
All will be good with the world.
13 Miles: The Hard Way was organised by the excellent Sussex Trail Events of Chris, Danny & Jay. The route started at the foot of a ridiculously steep hill at Clayton (near Hassocks). We went up the ridiculous hill and along the South Down Way to Ditchling Beacon and after some minor undulations followed a long descent to the A27 east of Lewes where we picked up jelly babies and water. We then retraced our steps to finish at the bottom of the hill where we started. There were seven Tuff's taking part: Debbie Boxall, Glenn Parisi, Clive Harvey, Trevor Harvey, Murray Hodge, Rachel Brunning and Graham Liddell. A special thanks to Rachel for getting me round and, of course, for the post-race flapjacks.
Graham 
The gallery includes  'pain in action' shots climbing the steep first hill and almost at the finish when everyone was fit to drop; we have permission to share if we credit the official photographer Jon Lavis, (thanks Jon) and to John Palmer who took the shots at the start.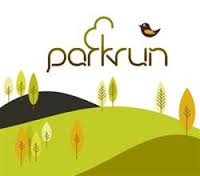 PARK RUN
A lot of Tuff's out running Saturday but still Tuff presence at Park Run.  Bob Thomas travelled to the Bognor Park run. Our very own legend has recently had another birthday but that didn't stop him getting within 8 seconds of his PB in 26:44. Across at Worthing Park Run Simone Scott was back in action crossing the line as the second female home in 21:30. Good to see Maynard Floyd continuing his comeback, also at Worthing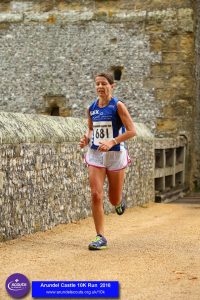 ARUNDEL 10K
Despite the large contingent of Tuff's racing along the coast at Worthing Triathlon, this still left a good number who raced at Arundel 10k, and another two on the organisation side.   After the hot weather of the previous day, there were two sharp downpours at the start but the runners would soon dry off as they entered the Castle grounds and after a lap of the quadrangle and over the drawbridge it was the start of the long climb up to the top of the Park. Runners then raced down Target Valley before climbing back to Hiorne Tower with a downhill stretch to finish back in the Town square. As the runners came out of the castle gates and turned into the High street there was a fierce battle as two Tuff's raced up the hill together. Great work from Simon Thistlethwaite and Andy Crawford crossing in 14th and 15th position out of over 500 finishers.  (You can see from the lead photo that they gave it their all). Simon must have timed his stride to perfection getting credited with a quicker time by 1 second. There were further great times for our regular Wednesday runners, Becky Sutton  who crossed as 2nd female overall, Malcolm Brown and Nina Tully. Becky Lintott-Clarke also raced well crossing in 10th female overall. Paul Durrant, one of our newer members was next and Leanne Levitt – great times from everyone over a tough course.
| | | |
| --- | --- | --- |
| Simon Thistlethwaite | 41:09 | 14th |
| Andy Crawford | 41:10 | 15th |
| Becky Sutton | 43:46 | 2nd Female |
| Malcolm Brown | 44:53 | |
| Becky Lintott-Clarke | 47:45 | |
| Paul Durrant | 48:46 | |
| Nina Tully | 63:22 | |
| Leanne Levitt | 74:56 | |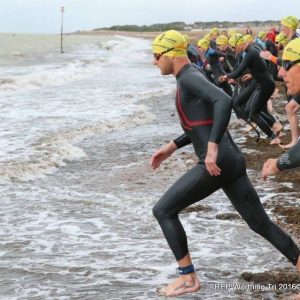 Joe heads into the surf at the start
WORTHING TRIATHLON
So a busy weekend for the club, but this was before we even count this weekend's Worthing Triathlon staged by our friends at Raw Energy.  Tough conditions in the sea so well done to the 13 club members who raced in the Standard race, and 11 in the sprint. Add in the many Tuff's helping on the organisation or cheering and the Beach Green was stuffed full of Tuff's.
There were some great individual results and podiums which will justify its own separate race report which we hope will follow shortly. Congratulations to all.
What have you been up to?  You have worked hard for your latest result.  Whilst you may have the medal or T-shirt, have you got your recognition here?  Please find the time to report in with where you have been racing. A picture would also be brilliant.  Please email clive.harvey@tinyworld.co.uk