Worthing Triathlon 28th August – Race Report
An amazing 24 Tuffs turned out for the Worthing Sprint and Standard triathlons on Sunday 28th August, which according to the seasons should have been summer, but the wind, rain and sea conditions suggested otherwise! The standard race was an ETU European Championship qualifier, so a strong field was expected and good racing to be had.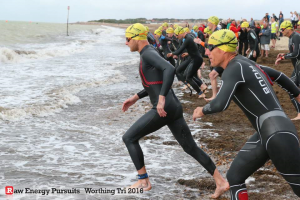 In the sprint race, Joe Pascoe had an excellent race yet again, finishing 2nd overall, but it wasn't without mishap. After a good swim, he came out of T1 and jumped on his bike, slipping into his shoes that were all set  up on the bike, only to find he'd put them on the wrong way around (left on the right and vice versa). He had to jump off the bike and swap them, so a 2nd place is even more impressive!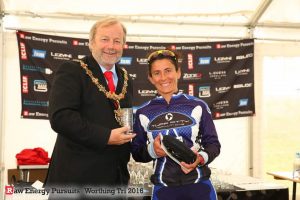 The 22 press ups for 22 days challenge did Micaela Floyd very well as she came in an equally impressive 2nd lady overall for the sprint race. She was then seen out for a 91km bike ride the next day, there's no stopping her!!
Tom Gray decided his first ever sea swim would be in what was later called "the roughest conditions in Raw Energy Pursuit's 15 year history". Leaving the swim a bit disorientated, he managed to get through transition – "accidentally" leaving his swim cap on underneath his bike helmet in the process (improved aerodynamics??) As he left transition he took a big swig of water, but still had the taste of the sea in his mouth, so spat it out right away…without realising Katie Goddard was right behind him – receiving a free shower in the process…  (Tom – Sorry again!)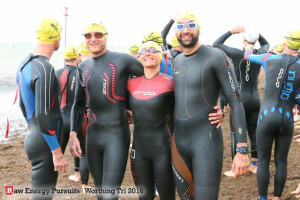 A bit disorientated before the swim during the pre-race photo, Clive Patterson-Lett made his triathlon comeback in the sprint and looked really good on the run – the familiar drool was back once again so he must have been pushing it!
Also in the sprint race, Tom Goddard finished 8th overall, despite his aero bars collapsing as he started the bike section! Well done to Ben Abbott, Catharine Western, Wendy Frost, Nicole Ewer and Simon Barker who completed the Tuff contingent in the sprint race.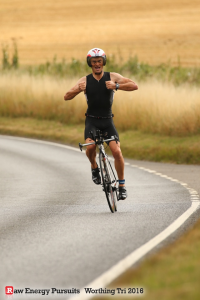 In the standard race, in a very strong field, John Mcgrath and Karen Mcgrath were the first Tuff man and lady home respectively. Karen was especially pleased with her race, as she beat husband John out of the swim for the first time ever! Not sure what John thought about this, but it seemed to bring out his inner caveman on the bike! (He may have rode like this the entire way…?)
Martin Hawkins had a good race in the standard, coming back from a recent bike crash and on a borrowed bike! Being in the Navy the rough sea conditions should have been well known to him, but not quite so, as half way through he pulled alongside a nearby kayak to quickly throw up…then finish the swim! Fair play though, many would have given up (and did) at this point!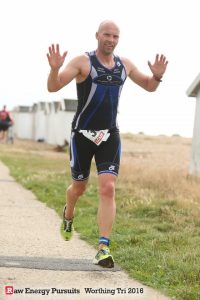 More good performances from Ollie McDonald and Matt Whittaker as they followed John closely in at the finish. Chris Robinson and Sharon Tidmarsh continued their preparations for their Weymouth Ironman 70.3 and Ironman races coming up in 2 weeks with more fast performances. Phil Baker broke the golden rule of not trying anything new on race day with a fresh new saddle, but had a good bike split nonetheless! Completing the Tuff contingent with good performances of their own were Stephen Feest, Jeremy Littlejohn, Paul Martin and Chris Evans.
Last but not least, a special mention to the Tuff volunteer marshalls Jon Roper, Tiff Orton (now back on the turbo after her accident, which is great to see!) and Jane Custance keeping everyone in check, and all the support from fellow club members who turned up to take photos and cheer (very) loudly for those taking part.
Full results and photos below!
Well done all!