This years Tuff activity Camp was held over the weekend of 23rd/26th September at a holiday camp at Warmwell.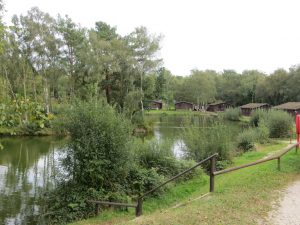 Situated just above Weymouth, the accommodation in lodges proved an ideal location for Swimming, Cycling, Running, socialising, plenty of laughs, and er, plenty of drink!
Many were caught in traffic leading to late arrivals on the Friday evening so once everyone had their evening meal (and drink) it was into the clubhouse and the live singer.  Initially Tuff ladies did not have much success in enticing the gents onto the dance floor. However the singer broke the ice when she went and asked a young man to join in her song, but his reply was "never heard of it". The whole audience erupted and with shots being consumed (thanks Simon) everyone succumbed and there was a superb performance of the Macarena…synchronised Tuff's? well almost; if you ask nicely you may see a repeat at the end of season Tuff bash!
Saturday morning dawned to beautiful sunny and warm, if windy, weather as the camp split into two groups for the cycle ride. One of the reasons for this location is that the Ironman Weymouth bike route went right past the front gate. So both distances, one led by Clive P-L and the other by Jon followed parts of that route. The consensus was to complete the ride then eat. Upon return there was even a competitive crazy golf match won by Trev.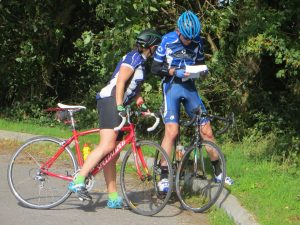 Are we at Affpuddle, Tolpudde, Briantspuddle or Puddletown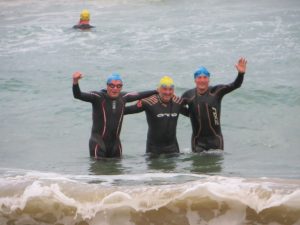 Following in the footsteps of the recent Weymouth Ironman, a short trip down to Weymouth saw the group don wetsuits for a great swim around that course. Despite the wind having picked up, the conditions were fine attracting quite a few spectators.  After this it was back to the site for the evening meal/drinks discussing a great days training.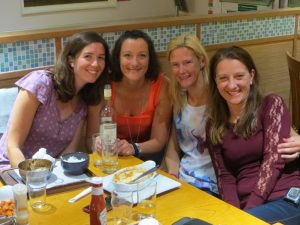 SUNDAY – BLACK HILL TRAIL RUN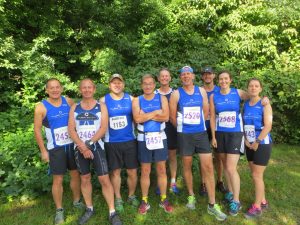 Rather than work out a run route it had been identified that there was a 5km/10km Trail run nearby. Whilst most undertook the run, the remainder cycled over and the large amount of Club kit on display certainly established the club to a new audience.  We'll let Joe take up the story
"So it's been a while since I arrived early on a Sunday morning at a scout hut in short shorts! In the middle of Dorset, south of Piddletrenthide, and just east of Shitterton was the location of the 5th Black Hill run.  After looking at the winning times from last year, we came to the conclusion that it was either very hilly or the competition wouldn't put up much of a fight.  After a short warm-up it became apparent that it was the former option."
"The 5k took on the same hills, but turned off early while the 10k carried on for an extra loop.  Clive PL, Tony and myself decided that speed and quality was better than quantity and demolished the 5k course while Catherine, Glenn, Jon,  Muz, Bec, Simon, Clive, Trev and Wendy opted for the 10k.  After some sharp uphill and quick descents we were cheered home by Nic's incredibly loud whistling power, Tiff cheering and Gary laughing. Great performances by all, especially since a tough bike course and sea swim had been undertaken the day before."
"Great race, lots of hills and plenty of cake afterwards.  As it was all recorded with a chisel and stone tablet the times have only just been released"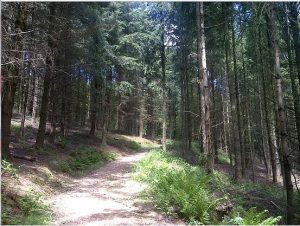 Piddle Wood
Joe is being very modest in failing to mention that he was the second runner home in the 5k. The time of 24:42 is an indication of how hilly it was running through Shitterton, which was a bit squishy underfoot,  and through Piddle wood. For his achievement he collected a goody box and a rosette. A tough workout, but one everyone said they would race again. Simon was the best placed Tuff in the 10km, despite having completed the long walk to the start only to realise he had left his coat outside. A quick run back to the Scout hut, and then back as the starting gun went, didn't prevent a top 20 finish.
'best in show' rosette for Joe
The lodges proved a great base to return to after each event and eat cake (again). The afternoon saw Clive stage a game to win prizes which proved hilarious as everyone tried to prise prizes off each other. The final round did see everyone end up with a prize whereupon Wendy announced  she "prefers things that come in smaller packages".
A great location, great activities, great weather with excellent company. Good performances from the Tuff collective, particularly Tiff which marked her successful comeback after her accident. A very successful weekend; you wouldn't want to miss out on the next one.