Weekend Round Up 10th 11th Sept
It was a fabulous weekend for club members out racing in the glorious sunshine.  Separate reports have already been published from Bognor Triathlon, the antics at the Bacchus Festival runs and we are pleased that our latest Ironman Sharon Tidmarsh has reported in. However this still left many other Tuff's out doing what Tuff's do best, including another full distance finish for Danny; read on.
THE BRUTAL TRIATHLON  – LLANBERIS, NORTH WALES
Having completed the swim and bike,just a marathon up Snowdon to go for Danny
The Brutal Extreme Triathlon started in the beautiful (and slightly chilly) Lake Padarn. (pictured above) The bike course went through stunning scenery and over some challenging hills. And finally, the run took competitors on a undulating trail round the lake and up and down Wales' highest mountain, Snowdon. So who was up for this; a race that has been billed as the Worlds toughest Ironman by readers of 220 Magazine. Well none other than our very own Danny Cunnett. Danny's result was stunning finishing in 15 hours 36 minutes a result that propelled him up to 18th place overall placing the Tuff Fitty name on the first page of the results.   Superb result Danny; congratulations from us all
IRONMAN WEYMOUTH 70.3
Paul & Chris on Weymouth Beach and an aerial shot of the finish line
Paul Howie reported in from the Ironman Weymouth 70.3.
Phil Baker, Chris Robinson, and myself were in Weymouth for the Ironman 70.3 this weekend. Sharon Tidmarsh putting the lads in the shade completing the full distance.
Both distances started together. the pro's off 10 minutes before the age groupers. The swim was great – sun rising over the cliffs to the East, warm & flat. You seed yourself as best you can in the start pen scrum and complete one or two triangular laps with an 'Aussie style' re-entry for the full distance. The Bike was one or two laps of a 90k closed road route around the (hilly) Dorset country side with the local villagers giving their support as you went through. The speed the pros came past after completing their second swim lap was impressive to see (very) close up. The run was laps around Weymouth seafront, through the enthusiastic crowds but with nowhere hide from the sun – good for the spectators with their pints and ice creams, not so good for middle aged blokes whose back and legs had have enough!
Everybody crossed the finish line safely. Brilliant from Sharon in the heat. Thanks to all the club members coaching, advice & encouragement in the build up. Anybody for a relay?
Paul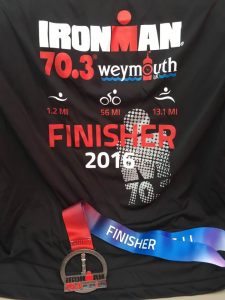 LITTLEHAMPTON CHESTNUT TREE 10K
A strong turnout at the Chestnut Tree Littlehampton 10k on Sunday. Over the years, with the aim to raise money for Chestnut Tree house numbers have risen to 1,100 finishers this year with the glorious warm weather no doubt contributing to the numbers.
First Tuff home in 41:13 was Gavin Sewell  44th person home with another Tuff Blue vest close  behind in the form of Huw Williams (42:23). Bec Day was first Tuff lady home (46:11). Always great to see our club vests being worn and good to see Tony Morgan on the comeback trail. We know he hasn't raced so much this year, but has it been that long?  It looks as though he has the Tuff vest on back to front…  evidence below?

The route was upgraded this year to be entirely on closed roads with some fast times.  Debra Cauchy-Duval was  next home with Wendy Frost and Leanne Levitt completing the seven – well done to all
| | |
| --- | --- |
| Gavin Sewell | 41:13:00 |
| Huw Williams | 42:23:00 |
| Tony Morgan | 43:27:00 |
| Becky Day | 46:11:00 |
| Debra Cauchy-Duval | 50:43:00 |
| Wendy Frost | 52:24:00 |
| Leanne Levitt | 69:02:00 |
 BRIGHTON AND HOVE TRIATHLON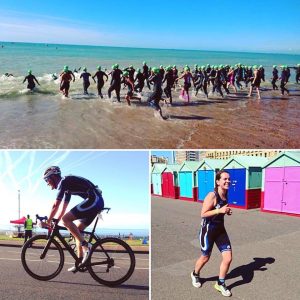 Tom & Katie
A report from Dom Amey
After registering and racking on a windy rainy Saturday it was good to see sunshine and a flat calm sea on Sunday morning, we all know that a tri on the Sussex coast can be transformed by the weather. Closed roads for the bike leg meant that even Tom's first wave (drafting sprint) didn't go off too ridiculously early and start times continued for different waves through the morning.
The organisers have admitted that the swim distances were significantly long for all waves and have assured people that they will get that right next year. If they can also organise a similar bright blue, millpond sea for 2017 they'll be doing well. The closed road bike leg was just up and down the seafront, 4 laps for sprint, 8 laps for standard and with no hills to contend with the biggest challenge was keeping count. Even the dead turns at each end were wide enough to carry a decent amount of speed through although I did see one competitor sail through the cones at the far end (perhaps putting too much brain energy in to remembering which lap he was on).
The run was on the prom which was getting busier as the morning went on. Again, not the most interesting of routes in itself but the added challenge of avoiding small children, large dogs and Chris Eubank trying to meet and greet anyone he could get hold of was just about enough of a distraction.
If you like a big event village with piles of freebies I'd absolutely recommend this one. If you like a scenic route round the Sussex countryside then I definitely wouldn't.
Well done to Tom Goddard, in the draft legal sprint riding home in an excellent 9th position overall.    Matt Whittaker who finished 17th overall in the Olympic distance race achieving 2nd in his age group.   Dom also competed over the Olympic distance.  Katie Goddard raced in the Sprint event coming 4th in her age group.  To complete a Tuff presence in all formats of this debut event Paul Durrant raced as part of a relay team.  Thanks also to Kev Pearson for cheering us on.
Dom
Tom also added to the detail about this inaugural event, being held again next year on the 17th September stating that unfortunately I didn't manage to do much drafting in the draft legal race apart from when I was lapping people. Our swim measured over 1400 m which I didn't actually notice as the conditions were so nice I was just enjoying it. They altered the course after our wave but I think it was still way over distance. Katie did really well getting the hole shot on the swim and making it to the first buoy in the lead. There was a great atmosphere and I would race there again. Finally, don't have a big bowl of porridge an hour before the race. You will get stomach cramps!
Dom & Matt
THE PILGRIMS WAY MARATHON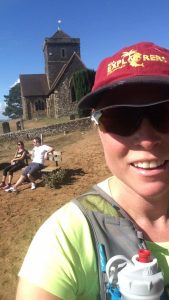 Also congratulations to Nina Kyprianidis who completed the Pilgrims Way Marathon, a tough full marathon around the Surrey Hills. Nina completed the course in 5 hours 44 min. A great result as the course went along the North Downs along to Martha's Hill and then back again = Congratulations Nina.
What have you been up to?  You have worked hard for your latest result.  Whilst you may have the medal or T-shirt, have you got your recognition here?  Please find the time to report in with where you have been racing. A picture would also be brilliant.  Please email clive.harvey@tinyworld.co.uk