Weekend Round Up 17th -18th September
Some say the season is starting to wind down; evidently not if you are the following Tuff's with hills appearing to be a recurring theme for the weekend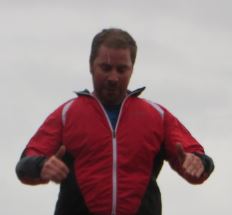 IRONMAN WALES
Another week and another Ironman completed by a Tuff. This time it was Kev Harris, one of this years Tuff intake.   Make no mistake Ironman Wales is one of the tougher courses; a two lap sea swim with an Australian turn before a 1km zig zag run just to climb up into T1 !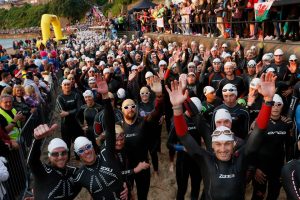 Kev continued the Tuff presence – Grant raced here last year, as it was then into the hilly Pembrokeshire countryside for the 112 mile bike. As riders reached Saundersfoot they had to contend with Heartbreak Hill although the steep climb was lined with spectators cheering everyone on.  With 1,700 athletes there was a great atmosphere as competitors raced to beat the 17 hour cut off.  This target was certainly not a problem for Kev as he completed the sea swim in 1 hour 17 min, the bike in 7 hours 18, and the marathon in 5:58.   This saw a grand total of 15 :08: 15.    An awesome achievement Kev, congratulations from us all.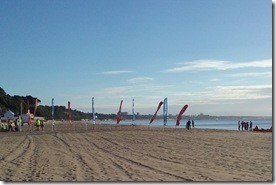 BESPOKE EVENTS POOLE SWIM SANDBANKS
Saturday 17th 
Susan Douglas has reported in from the above race.
Event 4.5k– Conditions breezy, but sunny and with just a little bit of chop on the water.
There were four races 750m, 1.5k, 3k & 4.5k
We all sent off together, only about 50+ swimmers, round the 750m rectangular course. I wasn't worried about the swim, just losing count during my six laps!
Thankfully I kept count and had a lovely swim, although the majority of the time, and certainly the latter, I was mostly on my own with only 16 doing 4.5k. I thought I swam reasonably well, my sighting has improved immensely thanks to TF training and I even threw in a few fancy turns around the buoys, Lardy would have been proud.
I finished in 1hr 40mins, slower than I thought, but with the lack of competitors around me, I may have forgotten I was in a race. Still, I came 8th, non wetsuit and 2nd lady, but there were only three of us.
No prizes, last year we had fantastic goodie bags, but this time it was just a bottle of water, Jaffa cake and a medal.
Susan
Trev – post race & Corfe Castle nearing the finish
PURBECK RUNNING FESTIVAL – MARATHON
When entering an event, perhaps the comment This will be a very challenging marathon. There is no runners world classification for 'very hilly'!!!!!! Please don't expect it to be like a city marathon as it isn't! should have dissuaded Trevor Harvey from entering the Purbeck Marathon – but it didn't.
Trev reports in:- So it was that on Sunday I was on the start line for the event billed as 'It's more than a Marathon' at around 27 miles.  The start was at Swanage and then heads up, and west along the very 'undulating' Jurassic Coast.  It was a glorious day, (if a tad warm), and in the clear blue skies the scenery was stunning – certainly one of the more scenic marathons.  Some of the hills were brutal, with several styles to get over and with little respite on the downhill sections as they were so loose and stoney. The route then headed down to Tyneham an abandoned village on the MOD firing ranges, before a steep ascent up onto the Purbeck Downs. It was then back east along the top of the (yet more undulating) Downs.  At this point it seemed a good idea to trip over, (clumsy oaf), lacerating both knees and an elbow – as per the picture.  The course then descended to Corfe Castle, crossing the steam train track before a 2 ½ mile ascent up a hill prior to a couple more miles rocky downhill to finish on the seafront.
A medal; bag; T shirt; a bottle of cider, a tub of ice cream, and a visit to St Johns Ambulance, awaited at the finish.
Given that some of the hills necessitated walking, (I tried to run some but when you are only moving slightly faster than walkers, energy conservation wins out), (likewise some of the loose downhill sections), after some 3,300 ft. of ascent I was happy with my time of 5 hrs. 40 mins.
There is a 16 mile option that I completed last year, hence the return for the biggies this year. A great day, and finishing on the seafront, a sea swim afterwards rounded off a great event.  Not a course for a PB, (unless you count ascent), but certainly a good one.  Does 27 Miles class it as an ultra???????????
Trevor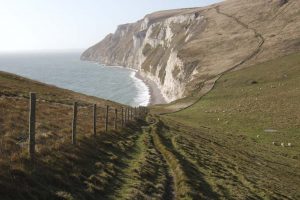 Just a few hills along the Jurassic Coast
Tony & Geordie during their successful trip 'Oop north'
OMM LITE – NORTH YORKSHIRE MOORS
Paul Atkinson has reported in following his weekend trip:-
Spartan Tony and I were in the North Yorkshire Moors at the weekend, competing in the two day Autumn OMM Lite. We did the Long Score event again, involving 7 hours run on day 1 and 5 hours on day 2 to collect as many points as possible. The scenery was stunning, combining forest and moorland running, but some of the steep valleys were brutal. We finished Day 1 in good shape, 2nd overall and well clear of the third pair, but 60 points behind the leading pair with a lot of work to do. Went for broke on a beautiful, sunny Day 2, and finished an agonising 2 points behind the winners who finished late and amassed a large penalty score. In fact, after 12 hours and 55 miles of running, if the winners had finished 5 seconds later and picked up another penalty, we would have snatched it. There's always next time!
Cheers
Geordie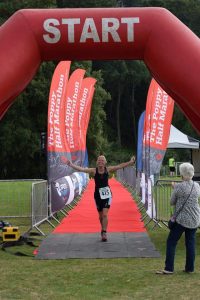 SUSSEX TRIATHLON FESTIVAL – ASHBURNHAM
Mark Day has reported in from events in East Sussex
Bec, Nicole Patterson-Lett and Elle Williams all entered the middle distance event with Clive P-L and me doing the sprint distance.
The weather played ball – a bit over-enthusiastically at times as the day wore on – and the course is all in and around the grounds of Ashburnham Place which is very pretty and fortunately, on much of the run, through some very nice shady woodland.
It's probably not the course for a PB given the number of ups and downs including one absolute killer on the run course which the girls had the pleasure of doing 4 times but doing laps of the grounds meant there was lots of support each time people passed the lawns in front of the main house and transition area.
All in all it was a really nice (and popular) event and very successful given the list of achievements:
Fastest middle distance swim (Nicole)
First in age category – not saying which one (Elle)
First in age category – despite one puncture and 4 wee stops (Bec)
Second in age category (Clive)
Swim PB (i.e.less slow than the other time) (Me)
Bec added that the course was excellent, I'd really recommend it but I wouldn't recommend only training for a standard then doing a middle!!
Mark  
Tuff Ladies; Bec, Nic and Elle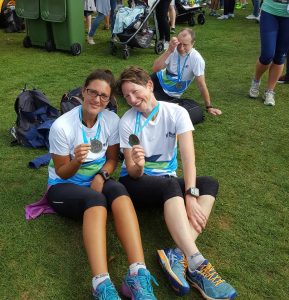 REIGATE HALF MARATHON
Glenn Parisi, Rachel Brunning and Claire Bridges from Tuff Fitty were joined by friends from other clubs and some work colleagues as they completed the Reigate half marathon on Sunday.  (Claire & Rachel photo'd above with their bling, prior to hitting the burger stand)
This event keeps growing year on year. Now in its third year – 8000 entrants were at the start line and there was also a 10k race which set off half an hour before the half marathon.
Dame Kelly Holmes was in Priory Park to press the buzzer for the start of both races and to add some words of encouragement as we all set off out of the park and up the first hill.
The course was mainly on road and fairly undulating.  Big crowds lined the route and the party like atmosphere continued throughout.
The locals seemed to embrace the event with music blaring from various houses and I lost count of the number of plates of jelly babies being offered up as we passed through the various villages en route.
The last mile was a bit of a killer with a very steep hill that seemed to go on for ages.   Just what we needed!
Then it was back into the Park for the finish. Great atmosphere again along the finishing shoot and masses of crowds to welcome us home.
We were presented with a good medal and a T-shirt. (Surprisingly I wasn't asked what size I needed.  I was merely ushered towards the guy calling out the 'large'!!).
The expo doubled up as a food festival and so after a quick change we hit the burger bar and chocolate stall!
Numerous kiddies running races followed and added to the family / party atmosphere.
A great event that I'd thoroughly recommend to all.
Glenn
MEON VALLEY EXPRESS HALF MARATHON
Becky Lintott-Clarke took part in the above half marathon.  This was a flat and fast, out and back run along course of the disused Fareham to Alton railway line, from Wickham to Corhampton and back.  She had not entered with a view for pushing for a fast time but coming home in 14th place she was second female overall, with the 1st female overall crossing in 13th position. With a chip time of 1:41:25, a good result.
PARK RUN
There were two Tuff's at Worthing Park Run. Karen McGrath, raced this course for the first time crossing in 23:53, but what about Danny Cunnett?  We could have forgiven him for having some 'downtime' after his success at Llanberis extreme Iron distance Tri just last weekend, but what does he do? Rock up at Worthing Park run and cross the line 12th overall in 20:08, just 25 seconds off his PB; no tired legs there then; awesome.
What have you been up to?  You have worked hard for your latest result.  Whilst you may have the medal or T-shirt, have you got your recognition here?  Please find the time to report in with where you have been racing. A picture would also be brilliant.  Please email clive.harvey@tinyworld.co.uk