Weekend Round Up 24th/25th September
Several races occurred to report on. However two 'biggies' justify separate reports which will be posted shortly. Firstly our mega ultra legend that is Chris Ette who entered the King Offa's Dyke Race; A 185 mile non-stop trail run along Offa's Dyke. Starting on Friday 23rd September  Chris had four days to complete the event which included 9085 metres of elevation, but he completed in 75 hours with just one hours sleep. There are not enough superlatives to apply here, we look forward to reading all about it. The second event was the latest Tuff Fitty Activity Camp; held in glorious weather in Dorset where swimming, cycling, trail running and partying were the order of the weekend. Before these reports are released, read on:-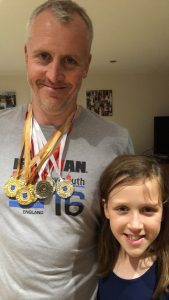 Now that's what we call a medal haul!
ASA SUSSEX MASTERS SWIMMING
Paul Howie was going to let his achievements pass under the radar at the recent ASA Sussex Masters swimming. However he stated he wanted to acknowledge the Tuff coaching from Steve & Kev, who got him thinking about parts of his stroke that he had never given any attention to before joining.
Paul reports:  "I lend my limited coaching skills to Worthing Swimming club on Tuesday & Thursday evenings and as a member was entitled to enter the Sussex ASA masters. Not really a Tuff  sort of event, the 25m freestyle was over in 13 seconds and involved no biking or running afterwards! You could do as many races as you wanted, all strokes & up to 400m in freestyle."
"It was interesting to race absolutely flat out and age grouping (40-44 for me) kept the competition close – 13.86 vs 13.87 for 'gold' in 25m freestyle. I entered a few events to fill the afternoon and even managed to win a few! Diving off a block was interesting the first time & as for 50m fly….[insert expletive]"
Paul

SWIM SERPENTINE 
Meg Gritton reports in  on this new Open water 2 day event organised by London Marathon Event held in Hyde Park on 24/25th September, had up to 6,000 swimmers in 18 Waves for both Wetsuit or non Wetsuit swimmers with a tow-float. (Claire and Meg get the star photo billing above).
It was a ballot entry and I along with Claire Moyle were lucky to get a place.
I hope this becomes an annual event as it was so well organised, Dry/Wet Change, Bag Drop, Sprinklers, Hot Tubs and a Sauna plus loads of fun things for children. OK, the day was sunny so that did help.
Waves went off every 1/2 hour and each group could pick what music they set off to.
I didn't rush off at the start took a steady swim up to the first buoy I found sighting really good, the course was just around the lake so no chance to get lost. It felt a good swim and I finished in 36.47 so I was really pleased with that.
If this event continues it would be excellent and anyone starting off on their first open water swim as plenty of  kayaks for safety and a no rush approach.
Meg 
Claire reported "it was an early start on Saturday as we headed into London their wave start at 12 noon. The water was 18c; very nice indeed. Out to the first buoy seemed quite quick as did the first turn, then down the long back straight which I think I zigzagged before turning round to the finish. Meg was out the water a good 5 minutes before me I think but I managed a PB by 3 minutes so am well chuffed".
Claire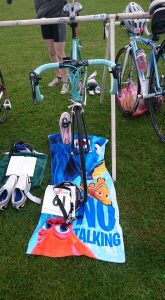 ROADE TRIATHLON
Tony Morgan reports:-   "Back in the mists of time the very first triathlon I did was Roade tri, a very beginner friendly sprint event near to Milton Keynes. Fast forward to 2016 and I found myself back again, this time acting as a chaperone for my good friend Jenni who lives in MK, and needed a bit of a confidence boost.
The weather overnight was driving rain, and it still poured down as we loaded bikes into the car. By the time we'd arrived 20 minutes later the rain had stopped, although the temperature was a bit of a shock after the glorious summer we'd had. Registered, racked, (I'd spoken with the organisers and they'd given us concurrent numbers so we could start close together), we went poolside. Jen started 3 minutes ahead of me but we exited the pool at the same time. In fact it was one of the best 400 metre swims I'd ever done, even though with the pressure off I felt taken it easy.
Out on the bike the course was damp and fairly technical. I wasn't really racing and as such spent the ride chatting to marshals and egging on other competitors. The rule change allowing drafting meant Jen could sit on my wheel whilst I pulled her along, so we finished in a reasonable time with her legs still fairly fresh. A slightly short (2.7 mile) flat run went by without incident and the race was finished. The usual postmortem of what could have been done better where, chat and banter amongst other competitors and we were done.
I have to add here that I've now done Roade 6 times and it is without doubt the friendliest triathlon I know, (and that's saying something as pretty much all triathlons are happy places). The organisation is superb, and the technical T shirt always a welcome addition to my clothing drawer. Recommended.
BARNS GREEN HALF MARATHON
A well established half marathon with this years event being the 34th staging. Held on closed roads it is very popular amongst Tuff's some running under their running club vests.  Well done to Tim McGrath (1:43:47) Ian Moore (1:49:48) and Linda Cooper (1:55:55).  A new addition to the race is a 10k distance and it was congrats to Leigh Moore who completed the course in 55:22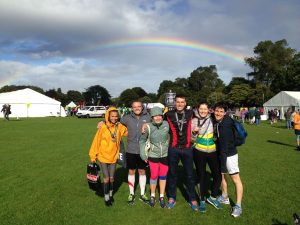 LOCH NESS MARATHON
Another Tuff in marathon action, Simone Scott reports in from the Loch Ness marathon:
"Perfect conditions prevailed over the Scottish Highlands on Sunday, with an eight-strong squad heading north of the border to Inverness. Five of us took part in the Loch Ness marathon, one in the 10k and two were 'support crew'. I was the only Tuff, but friends Will and Lizzie are 'Honorary Weekend Tuffs', having joined us at a few sessions over the years. Practically every coach in Scotland convened in Inverness city centre to convoy 4000 nervous runners out to the start, way out in the wilderness. After driving for well over an hour, the thought of then running all the way back was pretty daunting. We arrived to a scene from Braveheart – stunning skies, dramatic hills, enchanted forests and a full rainbow… soon to be reminded it was 2016 by the sight of portaloos, puffa jackets and foliage-based 'urinals'. Och aye!
After a ceremonial farewell from the bagpipe band it was time to go. The first five miles were mainly downhill which, with the fortunate tailwind, made for a steady start. We wound our way along country lanes before dropping down to the shores of the magnificent Loch Ness for the most beautiful marathon I've ever taken part in. We ran through villages where the locals were out in force with plentiful vocal support and Jelly Babies. A long uphill drag between miles 17 and 19 called for a little mental 'encouragement', capped off with a sign declaring 'downhill from here…sort of' at the top. What this actually meant was 'sort of not' as a few undulations took us through to mile 22.
With the toughest part done, we headed towards the city centre where the streets were lined with well-wishers – including Will who was dishing out high fives. The final mile took us along the banks of the River Ness to the finish line where I got a name check which, with the tannoyed Proclaimers '500 miles', made for a memorable finish.
One by one we all safely crossed the line and headed to the finishers tent for soup, stew and a fiddle band playing Celtic classics. Replenished and relieved trip we shuffled back out to be greeted by yet another rainbow. A perfect end to a great day.
I can't recommend this event enough for anyone looking for something a little different. Relatively cheap, brilliantly organised, well-stocked aid stations, great marshals, 'Nessie' t-shirt, Bobby Dazzler medal, hearty post-race scran, and a wonderful Highland welcome. 2017 Tuff Jolly Boys Outin anyone??"
PARK RUN 
This still left a Tuff participant at Worthing Park Run, and a quality one at that.  Dave March one of our run coach specialists showed us how it is done, finishing  10th overall in 19:13
TOUGH MUDDER
Tom Gray took part in his annual "obstacle race" at the Tough Mudder in Horsham. Reporting in, he confirmed there was indeed a lot of mud and the obstacles were tough! All that triathlon training over the summer was worth it then!