Ironman World Championships – Kona; Hawaii
Craig Hunter has just returned from Hawaii following the Ironman World Championships in Kona.    Held on the 'big island' amongst the barren lava fields, this would be Craig's second trip to The Aloha State having qualified at Frankfurt.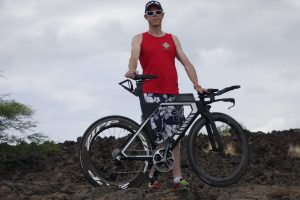 Craig prior to registering
Craigs last visit here was in 2014 when he achieved an impressive time of 10 hours 42.  Things got off to a great start as he exited the swim in 1:07:28 over seven minutes quicker than 2014.  (Aerial shot of the swim above)
After the swim it was onto the bike and the challenging course it presents. Known for its tough conditions the  approach to Hawi and the climb to the turnaround point was met with a cross-wind. The heat was continuing to build as the day progressed. However as the miles racked up on the homeward leg there would be a strong headwind back to transition two.  Unfortunately disaster struck when Craig suffered a split tyre which impeded his progress. Such misfortune would have thrown many people totally off their game plan.  However Craig was having none of that because as he dismounted to run across the line into T2 his split time was 5:54:25.  A great bike split at any time, but when it is noted this split last time was three minutes slower  it was all the more impressive.  To achieve a quicker time having had to sort out his tyre,  just shows what good shape he was coming into the race, both physically and mentally to have been able to deal with what was thrown at him.
Then it was off for the burning heat on the difficult marathon course and putting the disappointment of the bike leg behind him, he finished the marathon 1 minute quicker in 3:17:22.   With all three disciplines quicker the total finish time was 10 hours, 27 minutes and 33 seconds. That was over 14 minutes quicker than 2014 – what a great achievement.  A further comparison is that in Craig's age group he moved up from 13th to 4th overall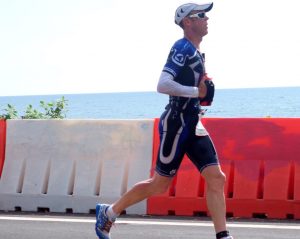 What an inspiration – congratulations Craig