Sussex Cross Country League -Goodwood
Today saw the start of the new season of the Brooks Sussex  Cross Country league. This sees most of the top running clubs from the county take part, with Tuff Fitty in the mix over a series of four races across the season.
It is accepted that Cross Country is a bit like marmite, some love it, but equally others loathe it. Slap bang in the middle of the day also keeps people away, so as Clive put up Tuff City would we get sufficient numbers for teams?
Numbers were down but with ladies off at 2:05pm it was great to see we could muster a scoring team and time for a team pose before they headed for the start line.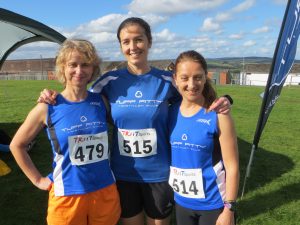 Tuff ladies, Susan Douglas, Catharine Western & Wendy Frost
The route took runners for a loop around the hill top in the exposed wind before heading into the wood for some considerable 'undulations'. Wendy was off like a rocket with Catharine electing to adopt a more measured pace and gradually moved up the field to finish as first Tuff home. Wendy smiling as usual finished next with Susan wearing her trademark orange shorts next to ensure a good team finish across the 5km course.
Next up the men and four runners would be required for our main scoring team. Much of the initial expression of intent in the weeks before appeared to evaporate so just having five male runners was a shame, but it was a case of quality over quantity:-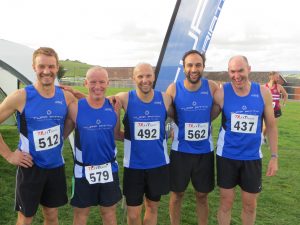 Simon Thistlethwaite, Pete Littleboy, Matt Whittaker, Tom Gray and Phil Baker
It is great news that after a years sabbatical, Pete Littleboy returned to the club this week for swimming and turned up to be part of Team Tuff. Simon wondered how he would perform after his great performance at Bear Grylls  Ultimate survival race last weekend but would come home as first Tuff. Strong running from Matt who was the next Tuff home around 2 laps of the 8km course .
The remaining trio of Tom, Pete and Phil didn't make life easy for themselves as they were in contention close together for most of the race, despite Phil taking a tumble half way through the second lap. Why it wasn't easy was that as they headed for the final turn circumstances built to the inevitable outcome. Oh no, they are not competitive……….much, so after 5 miles of tough undulations, there was only one option; a balls out sprint for the finish. Great racing from everyone.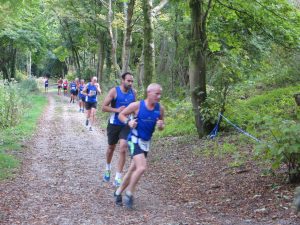 the wooded section has some tough climbs
Thanks to Bob who joined Clive as Tuff cheerleaders. Having been warm and sunny all afternoon as the squad were back at Tuff City consuming the Jaffa cakes and cake it started to rain so everyone's strong performance got them back in time.  Race 2 is at Lancing Manor leisure centre on the 12th November, when perhaps we can tempt more Tuff's out.  One great reason for attending today was the lure of Catharine's cakes, yummy chocolate brownies.  Race results will not be out until later but thanks to all for placing both our ladies and gents in the league.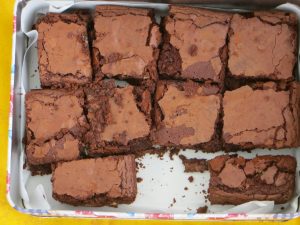 a countryside jaunt creates an appetite for cake