Sussex Sausage Sizzler Report 22nd October
Having had a fine bout of weather recently, Saturday morning dawned to nippy conditions with many cyclists pulling on their cycle overshoes and tights for the first time this season.  However this did not deter a good number of cyclists arriving at West Worthing Tennis Club for Tuff Fitty's cycle sportive.
It was a welcome return for this event which attracted a good number of club members, guests and several from our friends at Worthing Excelsior. Named the Sussex Sausage Sizzler Sportive, the ride would circumnavigate a course to arrive back for hot drinks and Sausage baps.
There were two routes, a 50 miler which went along the A27 to Sompting across the Bostal to Steyning, Partridge Green, Poynings and Shoreham before traversing back for the food and drink.  Co-incidentally the  route drawn on the map resembled a sausage!  Riders set off in smaller groups, better able to fit in with traffic; however some people ended up elongating their sausage by adding a bit extra onto the route.  There was also the short sausage route; again with the challenge of going across the Bostal but the sausage shape was rounded off by cutting across earlier to Henfield for a 30 mile route. Particular thanks to Clive Patterson-Lett for rallying participants and designing the route. Also to Jon Roper as one of the group leaders, and Glenn Parisi in organising with the tennis club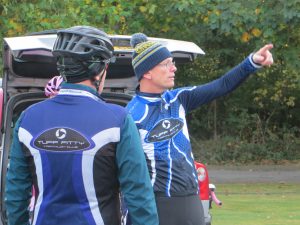 You need a map?…. It's that way!
It was pleasing that the sun did come out and conditions started to warm up, so those who resisted the urge to cover up their legs could feel quite smug. Riders then devoured the food and drink after which everyone pedalled off home with another successful Tuff event completed.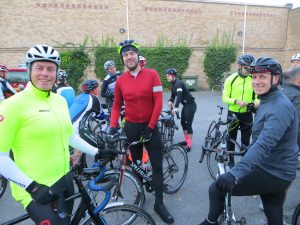 Cliff, Rob and Stew
Chris, Glenn, Mark, Sharon, Jon, Nic & Clive