Weekend Round Up 26th 27th November
We start this round up with cycling; so what is your preference; mountain bike or road bike?
WIGGLE FALLEN LEAVES MTB SPORTIVE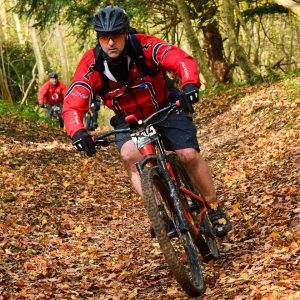 Gary Edge reported in, as shown in action pose at Saturday's fallen leaves MTB ride. Starting at Fontwell, the route took riders up to Eartham and over Nore Hill. There were also some swooping downhill sections. Three Tuff's entered the epic course a 32 mile route covering 2,667ft elevation, deemed to be rated 7/10. Gary stated that there 'were plenty of steep climbs and fast descents but a tad on the cold side!!". Also racing were Miki Floyd who sped around the course in 2:26:26 to secure a Gold award. A similar gold award for Jon 'Fivecakes' Roper who finished in 3:16:03. Great to see Gary coming back strongly on the bike who finished in 3:52:27
FONTWELL FREEZE SPORTIVE
Sunday saw another Wiggle Sportive from Fontwell, this time a road bike ride. The route was billed as a hill every quarter to keep the riders warm with the longer route heading out as far as Rowlands Castle. There were also two feed stations around the course, one at East Dean and a second one at West Ashling. James Brock has had a fantastic year in clocking up some great events and pb's. He elected to ride the 63 mile Epic route with brother Steve and he returned to Fontwell in 3:45:40. This secured a gold standard time. Another person who has been clocking the miles up was Claire Moyle who undertook the standard distance 50 mile route where she obtained a silver award.
Other Tuff cyclists were out training over the weekend as well as the usual Saturday morning run, Saturday evening swim and the Tuff circuit class which has now moved to the earlier 6:30pm Sunday evening slot in the Sportdome.
JIGSAW 10k
Clive and Trevor Harvey met up at Dunsfold for the Jigsaw 10km. A charitable run raising money for the Jigsaw Autism school which is situated on the edge of the airfield. The attraction of the event is that after a long run along the length of the runway, the two lap course took in parts of the Top Gear test track. There was a chill breeze in places but it proved a useful outing with a goody bag and silicone medal.
 WORTHING PARK RUN
Also out running at Worthing Park Run was James Oram who got to within 1 second of his PB on this course in 22:45. Also well done to Cathy Connor who completed in 28.18
What have you been up to? Please submit a short round up to Clive Harvey to ensure you get a mention in this round up section