Merry Christmas from everyone at Tuff Fitty
Thank you to everyone for their support during another successful year for our club; one which saw us celebrate our 25th anniversary.
With the shortest day now behind us we can start to look forward to the warmer lighter evenings and your committee and coaches are already thinking of ways to take Tuff Fitty forward in 2017.
The way Christmas and New Year falls, our next formal training session is New Years Eve – Saturday morning 31st.  We have hired the Lido at Arundel from 9am until 10am.  It is heated so will be nice and warm and the cost is £5 per person. Those who fancy a run beforehand there will be a meeting point outside the lower castle gates at 7:30am. Several will be keeping it short due to the HangOver 5 the next day, or why not ride up to the Lido. The Lido opens to the public at 10am, but having paid, we have permission to swim as long as we want. If you would rather come just for the swim, of course you would be most welcome.
There are quite a few Tuff's looking to kick start their resolutions at the HangOver 5 at Hill Barn on New Years day – 5 miles up to the top of the Downs and back. Race starts at 11:30am although you must register (£5) before 11am – with several Tuffs anticipated (hangovers permitted) a Tuff flag will be flying.
Once we get through New Years day, the regular training sessions get back into full swing
Monday Evening Runs  (Please note the regulars are proposing an earlier start time, keep an eye on the forum for details)
Wednesday Evening Track. Numbers continue to grow – all welcome £2 and it is suggested you bring a drinks bottle for trackside
Thursday Evening Swim – 8:30pm – Have you been lately?, the structured sets are superb from our team of coaches
Saturday Morning Run 7:30am, the mileage will start to increase for the marathon season
Saturday Evening Swim 6pm – Great sessions from different coaches as we help you reach your 2017 goals.  Please note that we are still obliged to move to an earlier hour periodically; the next early dates are 21st January & 11th February when the start time will be 5pm
Sunday Cycles; There are different groups cycling depending on which distance races members are training for – ask for details
Sunday Evening Circuits. These restart Sunday 8th January.  As an introductory offer for people to try the first week, the cost is…. nothing, zilch, free of charge so will be a great way to add some variation to your training. (normal charge £4) Start time 6:30pm for an hour, just bring a drinks bottle and handtowel. Come and try, all welcome – great venue in the Sportdome behind the Pool.
Merry Christmas from us all; here's to a successful 2017 , lots of personal best times and whatever your goals, Tuff Fitty look forward to help you reach them.
To complete the round up:-
PARK RUN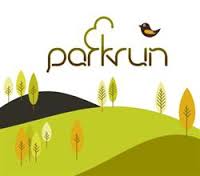 A great Pre-Christmas canter out for some Tuffs at Worthing Park Run this morning.  It was great to see several give themselves an early Christmas present with personal best times.
First Tuff home was Becky Sutton, 3rd female & 11th overall in 18:44, a new PB. Danny Cunnett was next in 21:06 and Alice Gatland 21:33 – also a PB. Tom Gray  followed, then James Oram. Debbie Gatland was next with Catharine Western also achieving a PB
Three PB's at Worthing, but that wasn't all because across at Bognor Park Run, Simon Thistlethwaite ran in Hotham Park.  Simon crossed the line as fifth runner home overall in a swift time of 18:59 – a new PB for him.
SATURDAY MORNING RUN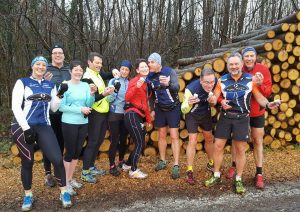 l to r Tiff, Dom, Jane, Steve, Wendy, Rachel, Clive, Trev, Glenn Jon.  Stew, as Tuff Creative Director was behind the camera
The last Saturday run before Christmas saw the runners head off road around Rewell Woods. However in homage to the festive season, Jon Fivecakes carefully carried Mince Pies and Clive Harvey the Squirty Cream. Once a suitable hill had been run up the Festive Fare was consumed
Merry Christmas Everyone.