Weekend Round Up 7th/8th January
Well done to all the Tuffs who got our 2017 training sessions off to a great start. Things started with strong numbers in the freezing cold on the running track, through into the weekend training sessions and concluding with the new season circuit training launch.  Tuff Fitty; a great place to achieve your 2017 fitness goals.
Meanwhile race reports are already starting to filter through starting with Simone Scott who was 'Oop North'
STUART PAILOR MEMORIAL 'OLD MONKS' TRAIL RACE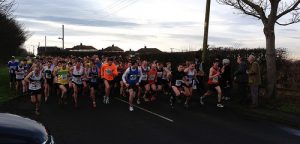 I'm up north with the family, so today headed over to the foggy bogs of Hart Village with Papa Scott for the annual Stuart Pailor Memorial trail race.  Organised by Hartlepool Burn Road Harriers and otherwise known as the Old Monks race, this popular fixture in the North-East calendar draws hardy souls from across the region… many of whom had taken part in the cross country championships yesterday (not us!).
A tough, hilly route; the first mile or so on 'undulating' country lanes, before heading out on to slippery, muddy hills.  I smugly trotted up the first steep climb, passing several who'd already opted to walk.  I soon realised why, as the crest of the hill turned on to another long drag… and my legs turned to jelly.  Ouch!  The first downhill stretch was pretty treacherous – I've no idea how I managed to stay on my feet, and send my apologies to my fellow runners who may have overhead my exhilaration/fear-induced expletives…
We ran through streams and bogs, clambered over bridges and stiles, and skidded along stony trails for 5.5 miles, finally reaching a welcome downhill and sight of the finish line.  A great atmosphere in the village hall at the end with friendly marshals dishing out snazzy tech t-shirts (but no medals Trev!), hot drinks, and a smorgasbord of cakes, sweets and other treats (probably kind donations from over-stuffed, guilt-ridden Teessiders).
One of those races that feels pretty awful at the time, but on reflection very enjoyable.  Even Papa Scott looked pretty happy at the end… so all in all a good day at the (muddy) office.
Sim
CLIVEDEN 10k TRAIL RUN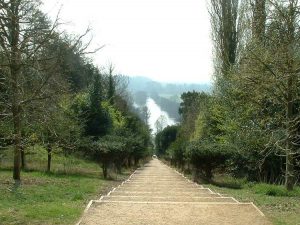 177 steps up from the Thames
Clive & Trevor Harvey (along with elder brother) and two of their sons took on the Cliveden 10k staged in the grounds of the National Trusts Cliveden House in Berkshire.  Held for over 30 years the race took advantage of what the organiser billed as the interesting landscapes and enormous potential of Cliveden – 3 steep hills, long paths along the Thames escarpment, back along the riverbank as well as both grassy avenues and gravel paths through rhododendrons and woodland. There were few gravel paths and the grass was churned into mud making conditions extremely slippery by the weekends thick mist and rain.
With the start outside Cliveden House (pictured in the top banner) the route took the runners up and down the 230 feet to the Thames several times. The lapped course took in Yew Tree Hill, or Cliveden Steps – all 177 of them – twice!  A tough climb where runners had to keep a consistent stride to negotiate the very wide step from the Thames back to the house.   A great test and chance to burn some festive calories off with Clive's son Stuart first Harvey home with Trev and Clive crossing close together. A very soggy, muddy but enjoyable race.
RESOLUTION RUN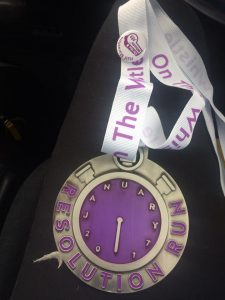 From Hartlepool down to Berkshire there was another race even closer to home at Selsey – the Resolution Run, held on the Hayley Billy Line. The concept was a lap of 4.4 miles and runners could run as few as they wanted, or as many within a 6 hour time limit.  Runners completing 3 laps accrued a half marathon, 6 for a marathon and 7 to achieve an ultra.  The wet, misty weather pervaded down to the South Coast as well but this didn't deter Linda Cooper from completing 4 laps covering 17.6 miles – a great result getting her in the top 50 for distance/time covered.
Don't forget to submit details of where you have raced