Meet The Coaches Evening 3rd March
Following the success last year of a 'Meet the Coaches' evening, it was considered that another one should be staged this year. Stew Smith has recently taken on the role of coaching co-ordinator. He is already a BTF qualified coach and is currently studying on the Ironman University course.  This course is equivalent to a BTF Level 3 qualification and majors on Long Course, 70.3 & upwards.
The coaching team felt rather than have questions from the floor it would be easier to have small groups where questions could almost be on a one to one basis with groups for each of Swimming, Cycling, Running and also strength & conditioning/physio.
The evening started off with an interview with our very own Craig Hunter; multiple Ironman finisher and twice Kona finisher. This session was a great success and was very insightful, educational and at times absolutely hilarious with some of his anecdotes.  Stew chaired the interview and helped to probe & tease out some of the topics. The audience's attention was held throughout and surely a career on the after dinner circuit could easily beckon for them both; a great segment.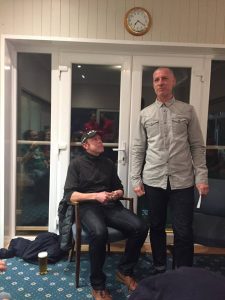 Craig & Stew
Prior to the round robin, 'speed dating' style in the coaches' corner, supper arrived in the form of chilli & rice. With a reasonably priced bar the evening exceeded all expectations and it was standing room only for the interview session
Our coaching team are continually updating their knowledge and it is excellent news to report that Debbie Gatland has just passed her BTF Level 1 qualification and Nikki Gatland having just completed her BTF Level 2 course is just awaiting her results.
Our full complement of Tuff Fitty coaches are listed below.  Oh behalf of the Committee and all our members Clive Harvey thanked them for all the hard work they put in towards helping us meet our goals.
Andy Ward
Becky Lintott-Clarke
Chris Levitt
Clive Patterson-Lett
Dave March
Debbie Gatland
Kev Pearson
Nikki Gatland
Paul Howie
Steve (Lardy) Jones
Stew Smith
Tony (Bear) Day
Wendy Frost
Becky Sutton (Guest physio)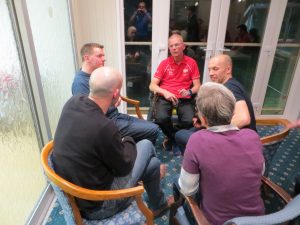 CPL in the cycling corner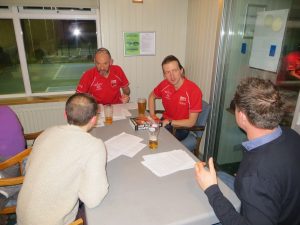 Wardy & Marchy hold court for running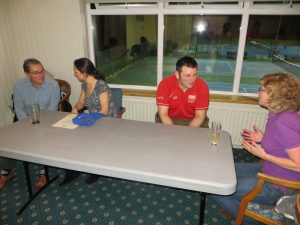 Becky & Bear discuss Physio & strength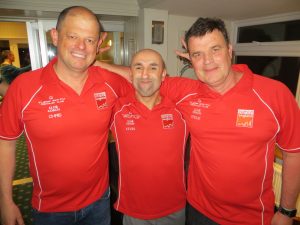 Chris Kev & Lardy with not a pool in sight!