Weekend Round Up 25th/26th February
THE MAVERICK INOV-8 ORIGINAL  SUSSEX TRAIL RUN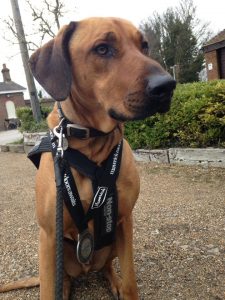 A proud Obi with his first race medal
Starting from Amberley Museum this Trail run offered a choice of three distances and there was a trio of Tuff's 'plus one' who gathered on the start line.  All selected the long course which covered 23km and from the museum it was straight up onto the Downs; a tough route.
First Tuff home was Barry McElearney in a time of 1:59:37, a great time over a hilly course.  Tom Gray hadn't got into Brighton Half in time and saw this event and thought he would have a go. However a few days before, he was offered a slot at Brighton, so left with two choices, drop one event or tackle two half distances  in two days he decided to complete both; Oh and throw in the Saturday swim coaching for good measure as well. Tom reports that this was a good event, one he would recommend for next year.  Crossing the line in 2:07, one race completed for his weekend double.
Debbie Boxall completed this race last year but this year was special as this was Obi's first ever race, as it was billed as a canicross race. Many of us know Obi and it would have been fair to ask who would  be guiding who, Obi or Debbie!, but they both accomplished the course in some style in 2:24. Clearly we have a new Tuff mascot. Obi has reported in saying "'Being the youngest Tuff member I was feeling the pressure of my first race. It's been a long time coming sitting on the sideline waiting for this day. My mother made sure I was well prepared with my new harness and I had a Blast! I even got a medal! Watch this space…… marathon here I come"
SUSSEX MULTI-STORY MARATHON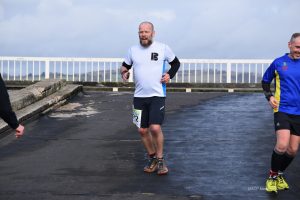 Photo credits from the MSM are due to Jon Lavis
The team at Sussex Trail events, our very own Chris Ette, Danny Cunnett and Jay McCardle have been at it again. Their latest out of this world event was to stage probably the worlds first Multi-storey marathon. With support from Worthing Council they took over Teville Gate Car Park. Who would fancy that? actually a heck of a lot of people and so entry was awarded on a ballot basis.   The course would see runners go up and down 71 laps and if you were wondering, that comprised  1,420 ramps to get the full marathon distance.  The general consensus seem to be 'nutters' but in a positive way with great camaraderie and it could be the start of something. Well done to Jay, practising what he preaches, because as well as organising the event, once the the starting hooter sounded he pounded away to finish yet another marathon; congratulations to all involved.
BRIGHTON HALF MARATHON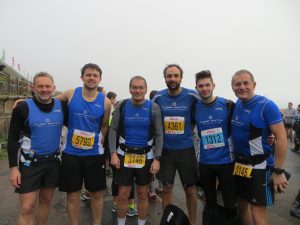 Just a small part of the Tuff Team; Glenn, James, Trev, Tom, Stu & Clive
Brighton half marathon day, typically for us Tuffs, started early, very early. The now customary early morning car sharing to the start plummeted to new depths this year with a 6:30 pickup and the awful realisation that there was not one, not two, but three Harvey's waiting for me outside my house!! (Clive's son Stu had joined his dad and uncle Trev for his first ever half).
James Oram was collected en route in Worthing and then we were set. We arrived at the start so damned early that we were enlisted to help the Madeira drive cafe owner set up his tables and chairs!  And no, no complimentary coffees were given as a reward!
Tom Gray joined us…. looking all smug safe in the knowledge that no matter how badly he ran he could always use his trump excuse of having run a 14 mile cross country race the day before…. agh, don't you just hate some people!
Anyway…. coffee finished, off to the bag drop to get changed.   It was then that Trev noticed that I had the Worthing Half number pinned to my vest instead of the Brighton one!  I'd only gone and thrown away the wrong number two weeks before when I'd decided not to run Worthing! Agh….. what a numpty!
Luckily a quick dash to the Info tent and a little white lie about not having received my number through the post later… a new number was issued. Thanks to Trev for noticing and saving my day!
We were joined in the start pen by Tony Morgan, who surprisingly declined to take my advice and keep his bin bag coat on for the first five miles as I had done at the Poppy in November! Strange chap, it worked for me.
We knew that Muz and Becky Hodge were running but couldn't find them in the start pen…. probably because we were all stood  in the 1:30-1:45 bit…. stupid fools.  Everyone else around us fat old blokes looked like athletes!
Across the start line we all lost sight of each other within the first mile so the pre race desperation to stick together at the start was soon lost!  I tucked in behind a nice girl wearing a 'skort' for a while (even though he wasn't there I could hear Jon Roper calling me a 'Perv') so reluctantly passed her!
I saw Ade Willard at one of the turn around points.  Hadn't realised he was there but he looked strong.
The first 5-6 miles flew past without any real issues. I noticed Stu up ahead of me and managed to catch him just before half way. We sort of ran together, for a while, but I could feel the testosterone rising in both of us as we both took it in turn to 'break each other' and edge away for the next 3 miles or so!
The ten mile marker at Hove lagoon arrived. Just three miles to go. Time to pick up the pace and break Harvey junior once and for all….. then just as I made my move…. cramp!  B@llox!! Agh. Harvey junior left me so far behind that I lost sight of him.
Then an awful thought crossed my mind as I stopped and started to stretch my calf…. 'Where were the other Harvey's?'
I can't be beaten by all three of them. I'd rather walk home than get a lift with them if that happens!
Fear made me start running again…. cramp again. Each step… bearable but ready to ping at any time so I had to back off, just jog it and hope for the best.
Half a mile to go…. wait a minute, isn't that Stu just up ahead?! Oh yes…. he's mine!
Passed him with 200m to go. Thought for a split second about crossing the line with him but, well, b@llox to that!!
Finished in 1:45.  Pleased with that after my recent back problems and zero training.
I looked around and saw Stu looking very grey and wobbly on his feet, (4 seconds behind) felt a little guilty about passing him, but not a lot!  Helped him on with his tin foil cape, we collected as much free goodies as we could stuff into the bags they'd given us, collected our medals and then it was back to the bag drop area to regroup with everyone.
James and Tom were already there and changed (Tom didn't even need his cross country excuse, cocky b@stard!)
Clive and Trev joined us, we finally met up with Muz and Becky.  Becky had just set a new PB and was looking chuffed, Muz hadn't, and wasn't!!
Back to the car… Clive took us on a detour back to the first feed station where the guy looking after the mountains of left over Lucozade told us to help ourselves.  So we did, a 24 bottle crate each!!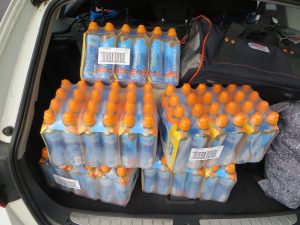 Well these Half's are thirsty work!
On the way home we called into the Meat Liquor for a well deserved free burger, chips, and a couple of beers.  A good day out was had by all.
Glenn
There were some more Terrific Tuff Times, with Andy Crawford crossing the line as the first Tuff home in 1:30:54. Pete Littleboy was running well in 1:34:24 and Tony who finished in 1:37:24. Next there was a very close group. Ollie McDonald maintaining his good Worthing Half pace, Ade Willard who continued strongly after Glenn saw him and Ian Bayley all crossed within a few seconds of each other in 1 hour 38. Ian is one of our newer members with a great record, including Marathon De Sables; who is looking towards our swim training for his goal of IM Bolton
After the impressive 27 racing at Worthing Half and 14 here at Brighton, plus other halfs completed, February has seen bumper mileage raced
PARK RUN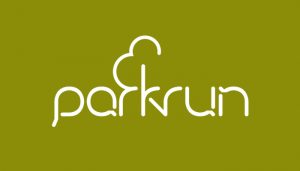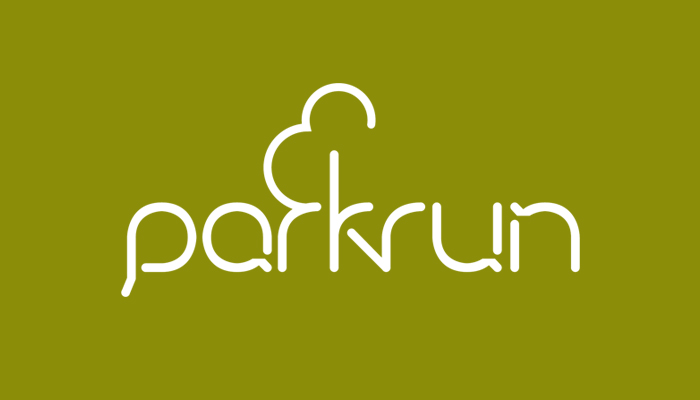 It appears you can't keep a good club captain down, because whilst she was away for a weekend in Ireland, Catharine Western entered a Park Run on the other side of the Irish sea. Closer to home James Oram ran at Worthing as a gentle warm up for Brighton the next day. There was a tremendous result from Clive Patterson-Lett (probably as a warm up for the forthcoming Frosty). He crossed the line in 6th position overall – not bad for his his Park Run debut here. Finish time of 19:20
A great weekend competing everyone, and it is only February; good work.
Don't forget to report in where you have raced