Weekend Round Up 25th/26th March
Spring is finally here, and  with British Summertime under way, there were several Tuff's racing as well as the usual Run, Swim and cycle training. Circuit training also drew to a close as the Sportdome is set to be pulled down next week.  First off on the Saturday, there was an international dimension:-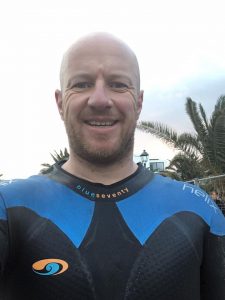 LANZAROTE TRI 122 INTERNATIONAL TRI
Grant Smalley reported in from Lanzarote after his 70.3 International Tri.
The swim was in the lagoon by Cucharas Beach. This was a two lap swim in the Atlantic Ocean, then a challenging bike ride. Those who have trained out there may recognise places like Arrieta, Orzola, climbing the Tabayesco , Villa Teguise, Tahiche,  and back to Costa Teguise.  The course had flat sections along the sea as well as mountainous areas and fast descents. Whilst challenging, there were also two time cut off points on the bike which competitors had to beat to prevent being stopped from continuing. Back onto the cost and the half marathon was along the beach promenade. Whilst billed as an international Tri, Grant was one of only 11 Brits in the 70.3, although one of the others was none other than Stephen Bayliss who won the race. Grant reports that it was a 'tough' 2km swim, and a 'hilly' 85km bike, although modestly stating there was the "Usual winds and hills to deal with but felt very confident after I was out the water".  With splits of 54 minutes, 3:14, and 1:56 – total 6:19, he is looking in good shape for IM Lanzarote again which is only 8 weeks away.  (Mark Buky is also lining up for that, so Two Tuffs at IM Lanza )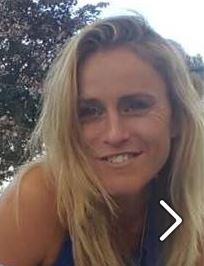 QUEEN ELIZABETH SPRING MARATHON
A couple of Debbie Boxall's friends persuaded her to travel down to Hampshire for the Queen Elizbeth off road trail event to enter the half marathon on the day. The slight catch was once she arrived and signed on the dotted line, Debbie was now in for the full marathon – crikey! The route was described as "some hilly challenges that will take you on a journey of over 500 metres " but the marathon would see competitors complete two laps of the course. A great result crossing the line in 5:14:49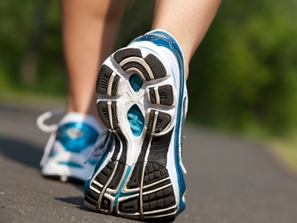 CRANLEIGH 15/21
Bec & Mark Day were in action again
When Catharine & Tom kindly offered us their numbers for the Cranleigh 15/20 miles we were very appreciative until we realised it fell on the day the clocks went forward so we effectively  had to get up at 6am! Those of you who go on the Saturday morning runs will have noticed that Mark & I don't participate, we are not really morning people. The beautiful weather and pretty country lanes helped ease the agony well, that and a "Nana Nap" when we got home!!!  Thanks to some help from Miki I completed the 15 miles but sadly Mark's calf played up and he had to drop out at 10 miles, a role reversal from Worthing Half. We are hoping the next race we do we'll both get a medal.
Bec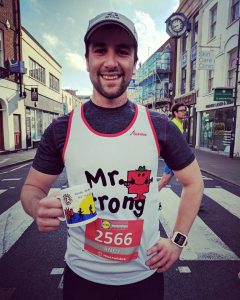 LIDL KINGSTON BREAKFAST RUN
A traditional favourite amongst many Tuffs starting in Kingston Town centre, the first three miles is along the Thames to Hampton Court before following the roads back to town. It did seem a good idea to enter a 'Breakfast run' with an 8am start, except with the clocks moving forward the alarm clocks went off very, very early. There was a choice of 8.1miles, 16.2 miles and 20 miles It was great to meet up with the Walton-on-Thames branch of Tuff Fitty, namely Andy Strong & Kirsty Keith, although Kirsty was the official cheerleader as she was carrying an injury. Strongy ran well in the 8.1m course completing in 1:03:03. Tiff Orton has been running well completing in a good time along with Jon Roper with both of them using the distance as a taper race.  With Lidl as the title sponsor all finishers received a hessian Lidl shopping bag crammed full of groceries, peanut butter, muesli, drink, bars, tea bags etc……  this accompanied the Breakfast Run mug for crossing the line.   Meanwhile to accumulate 16.2 miles, Glenn Parisi, Clive Harvey & Trevor Harvey were starting their second lap. The sun had risen nicely by now and it was a beautiful morning; in complete contrast to the venue around three years ago when snow had fallen.  The grocery bag was just as full for the 16.2 miles as it was for the 8 miler but the extra distance proved great training,  All seven Tuffs met up for lunch sitting in the sun to celebrate a good mornings work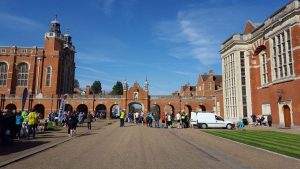 MEL'S MILERS 10K CHRIST'S HOSPITAL
James Oram has completed another race as follows:-
This week (continuing with my Tudor theme) I was at Christ's Hospital School founded by Edward vi (Henry viii's only "legitimate" son). It was a beautiful day and with around 300 entrants it had a friendly atmosphere and a fantastic setting, starting and finishing in the avenue next to the quadrangle of the school. We ran around the school grounds and out on to the South Downs Link towards Southwater Country Park and looped back to finish in the prestigious school grounds. I was on strict orders today to take it steady, given my sporadic calf problem but after I got warmed up I felt good and managed to get round in 45:46. It was nice to run, soak in the atmosphere and not worry too much about time or PBs. In summary, a thoroughly recommended race with reasonable entry fee and money going towards Ovarian Cancer Action. Happy running all!
James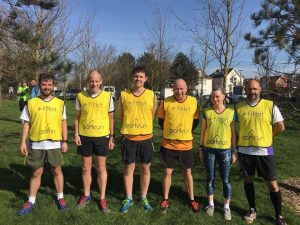 Pacers (left to right) 20, 22, 24 (James), 26, 28 & 30
PARK RUN 
At Worthing Park Run James Oram decided to join the ranks of pacers. His thinking was that it would force him to be sensible and run within his means to protect his troublesome calf with a 10k the next day.  James elected to pace the 24 minute group. How did he do?  Crossing in 23:47, that was pretty much spot on.  Tim Kenny & Cathy Connor completed the Park Run attendees this week.
Don't forget to report in with where you have raced