Weekend Round Up 4th/5th Mar – Inc Frosty Aquathlon
FROSTY AQUATHLON
Sunday 5th March saw the 22nd staging of Tuff Fitty's Frosty Aquathlon, but it was open to question whether the race could be staged due to the gale force wind that developed overnight.  This year we had a higher level of entrants than last year but the number of 'no shows' were no higher than usual so a 'bit of wind' hadn't put people off.  The trouble was, come 7am the rain and hail came in; particularly bad for those racing the Frostbite. Whilst the rain stopped in time for the Frosty, the wind didn't, but we will let Capt'n Joe Pascoe take up the story:-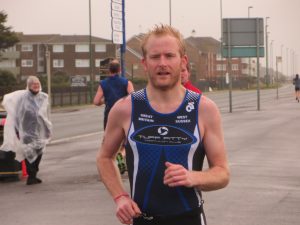 Joe starts his second seafront lap whilst the race ref is well wrapped up behind
"So Sunday came around all too quick and before I knew it I was in the pool starting the first race of the season.   Whilst warming up, I met Jon wrestling with a large fluorescent sign and then the showdown between horseman Andy Crawford and techman Tom Gray (Tom, I'd ask for a DNA test).  After running to the first turn point, I hid back indoors colder and wetter than when I started!  Against all past experience,  I learnt wetter is not better.   So feeling sorry for the soggy frosbiters I hid in the swimming pool checking out the competition.   It soon became obvious that fast people had arrived.  "Is that Sam Wade?" "He's won gold at the worlds! " I then got in, what I thought was, the slow lane and asked the teenager next to me what his 800m time was. "Oh you're going to do it in 11 minutes!"  Good for you I thought,  I hope you're s#it at running.  After a steady swim, there was work to be done on the run course and the legs felt strong.  Meeting fellow Tuffs up and down the sea front was a nice distraction, particularly Mr. McDonald's grimace into the head wind. I was forced into a final sprint in the head wind as I couldn't shake a Horsham Amphibian off my  a*se.  Great event. Superbly organised and now with an international standard of competition.  Bring on Frosty 2018."
Joe
It is great that as well as staging the event we could still permit members to race and we had a Terrific Twenty Tuff's racing.
In the Frostbite, or should it be Windburn, we had:-
A great performance from Clive Patterson-Lett with the fastest 5k run split of the day of just 17:56. He was chasing the first person out of the pool hard and just missed out on 1st position by 9 seconds. (24:35) Alice Gatland was the next Tuff to cross the line in 27:23.  Next the head to head where Tom prevailed on the swim leg but Andy was faster on the run. it was close, very close with Andy just 23 seconds ahead in 28:21 & 28:44 respectively.  Nikki Gatland followed and great work from Murray Hodge's daughter Lauren who won the female junior prize. Nicole Ewer & Bob Thomas ensured that we achieved 8 finishers.
In the Frosty, good results from:-
Joe Pascoe crossed the line 5th overall in 50:01.  There was another close contest between Gavin Sewell & Ollie McDonald finishing in 54:30 & 54:46 respectively whilst Chris Robinson would ensure there was a great Tuff presence in the top 15 finishers.  The results didn't finish there with Pete Littleboy going well, and great to see one of our newer members, Mark Buky completing his first Frosty ahead of his Ironman in Lanzarote. (Perhaps the wind will prove good training for the course out there). Andy Heath and then Simone Scott who caught a flight that evening to embark on a long period of travelling. James Brock, Debra Cauchy Duval, & Claire Moyle.  Leanne Levitt punched out her trademark rapid swim but decided not to complete the full run course.
Running parallel is a team competition for the quickest four including at least one female. Tuff Fitty were the holders of this prize but we just missed out this year coming second behind Horsham Amphibians by just 40 seconds; 3 hours 47 minutes 20 seconds for Joe, Gavin, Ollie & Simone's combined times.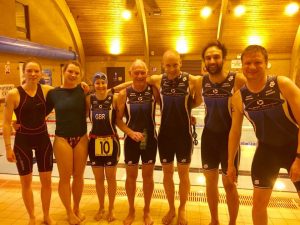 Tuffs – pre-race
We just about had enough marshal cover and a particular vote of thanks goes to Debbie Gatland who so tirelessly strives to get people along. To marshal the event does not take long and it would be nice if more club members could spare 3 hours to ensure the event is adequately staffed. We need to hold the event to meet part of our British Triathlon governance to encourage people into multisport and the funds raised enable us to stage a wide range of activities and support the running of our club throughout the year.  Catharine Western did a superb job co-ordinating the entries for the first time.  The results were published by early afternoon and a report was up on Tri247 that evening where the Frosty featured as "Top Headlines" for a couple of days pushing international Tri's down the page. If you haven't seen it :- https://www.tri247.com/search/frosty   An article was also sent to the Gazette & Herald, nothing this week, perhaps next.  Also a lot of information/photos sent to Triathlon Plus where they are to publish an article.  Finally the Race Referees report has been glowing and great feedback from competitors. A big thank you to everyone who helped on the day; much appreciated
Clive
The photo gallery includes some great shots from Adrian Oliver at the Sea lane turn, Sharon and others.  Thanks to everyone who played their part in making the morning another success.  First Sunday in March 2018 anyone? Sunday 4th March.
STEYNING STINGER 
Tom Goddard has reported in from this years Steyning Stinger; a choice of a half marathon or full marathon over the Downs. There was a trio of Tuffs entered for this event; all going for the full marathon.  Tom advised:-
"As it seems to be all the rage to run really far I thought I'd give it a go and entered the Steyning Stinger trail marathon. The main reason for this was as training for the Gower SwimRun in August.
Being hilly and muddy it was a course that suited me and the conditions were perfect. 4oC, 45mph wind and lashing rain.
I managed to get round in 3 hours 52 mins despite taking a half mile detour and slipping over in the mud 10 yards from the finish to come home in 15th place.
It was a great race, particularly the fried breakfast you get afterwards. But really if you want to go that far you should just cycle. And it isn't a patch on the Frosty!"
Tom
Excellent work in those conditions as well for Debbie Boxall, home in 5:00:18 & Linda Cooper 5:23:03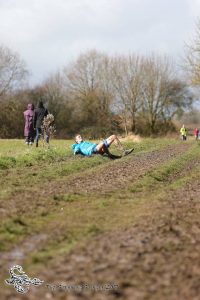 Oops!
PARK RUN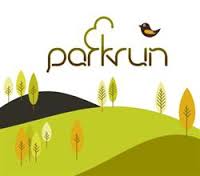 With the Meet the Coaches evening on the Friday it was an action packed Tuff weekend; but this still left space for Amanda de Ridder to undertake Worthing Park run in  23:04 as 9th female, and Cathy Connor .
Don't forget to let Clive Harvey know where you have raced to get the recognition in the weekend round up  clive.harvey@tinyworld.co.uk