Weekend Round Up 1st/2nd April
For the second consecutive week we start off with an International report as Neil Rabone reports in:-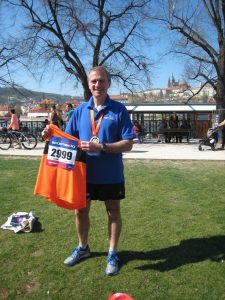 PRAGUE HALF MARATHON 
Neil headed out to the Czech Republic for the weekend to run the Prague half marathon.  The route centred around the Vltava River, Czech's longest river.  Neil reports, that "despite being a flat course I found it tougher than expected. I ran 1:46, which I was slightly disappointed with having run 1:40 at Worthing recently. I put it down to the fact that it was quite warm and sections of the course was over cobbles and tram lines. It was also crowded at the start -10,000 runners. It was still an enjoyable experience, my first major race abroad. There were runners from many countries."
Neil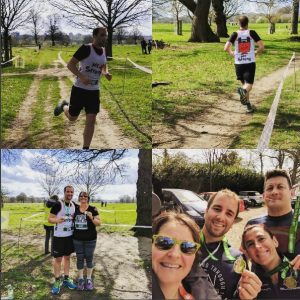 RICHMOND PARK SPRING 10Km
Andy Strong reports:-
After a weekend of racing with the Tuffs at the Kingston Breakfast run it was soon time to don the race gear and toe the start line once more. This time we were taking part in the Richmond Park Spring 10K. Joined once again by visiting Tuff's, this time Miki and Maynard Floyd.
The course was two 5K laps over an "undulating" combination of dirt paths, off road and footpaths. This was one of those races where the whole thing feels like you are running uphill and the downhill sections are very short lived. The unseasonably warm weather made for a challenging yet beautiful run and a very friendly race. The profile felt very similar to Chichester 10K only without the run downhill to the finish line.  Kirsty successfully completed the 5K after returning from injury, while Miki and Maynard ran together to complete the 10K.
This was a low key event with a friendly organiser, friendly runners and good medal and reception at the finish line. While it was not the course or day to be chasing times it was lovely to be running in Richmond Park again and especially with the Tuffs.
Myself and Kirsty are looking forward to Geneva Half Marathon and would also welcome any Tuff's who would like to join us for the Cabbage Patch 10 Miler in October.
Strongie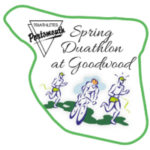 GOODWOOD SPRING DUATHLON
There was a strong Tuff contingent at Goodwood again this year and Andy Crawford takes up the story :-
For those unfortunate enough to read Graham Liddell's 'hilarious' posters at the Frosty, you will know that Graham thinks I have spliced my DNA with that of a horse. "How can he run so fast, and yet swim so slow?" was the quotation used I think. So bearing this in mind I decided to sign up for a run/bike/run (no swim) race and Goodwood Duathlon hosted by Portsmouth Triathletes seemed a good option. I was pleased to see some other Tuffs on the start line with Cliff and Bob Thomas, Grant Smalley and Tony (Bear) Day all lined up.
Disappointing for me to realise that when athletes don't do any swim training, they just spend their time running and cycling and so are incredibly fast. The run got off to a blistering pace, which I just about managed to hold on to and with a 4k time of 14.03 and a reasonable transition I started on the bike in 5th place. That's where it all fell down though! Apparently horses aren't very good at cycling either and as I limped around listening to disc wheel after disc wheel whirring past me, I saw the places slip away. The athletes from the short and long course were out at the same time and so I got some good encouragement and offered some in return to Bob as he cycled around looking very comfortable. Bob completed the long course in 2:31 (first in his age category as usual!) and Grant in 2:06. Cliff finished the short in 1:26 (51st place) and Tony just 8 seconds ahead in 48th with a very good bike time of 40.00 (17th overall).  Also present was Linda Cooper who completed in 1:28,  a terrific 2nd in her age group.  Eventually I passed the line in 1:12 and in 12th place for a very welcome mars bar, a banana and a medal.
A great day, and a good race. The track at Goodwood makes for a good venue and all told it is definitely one to recommend. Tuff Fitties is a TRIathlon club though, so I think I will have to get back to the Saturday night swimming, and hope Chris and Kevin can train an old horse for some new tricks!
Andy
Cliff Thomas submitted the top banner shot, the legend that is our very own Bob Thomas.  Cliff advised "Bob Thomas going Long.  Need we say more. What a great morning it was for a little run bike run. All I have to say it was a pleasure competing with the great Uncle Bob."
Cliff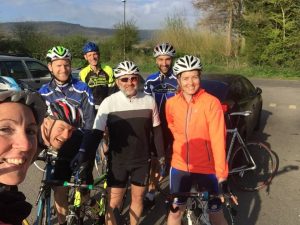 STEYNING TRIATHLON COURSE RECCE
Don't forget, the first race in our Tuff Fitty Club Championship is Raw Energy's Steyning Triathlon (either short or long course) on 30th April. We were grateful to our Club Captains Catharine Western & Joe Pascoe for encouraging people out as Catharine explained:-
"Seven of us met at Steyning Leisure Centre on Sunday to run through the bike and run portions of the upcoming Steyning Triathlon course. Joe, Simon and Tom Frith headed out on the longer course whilst Catharine, Becky, Tom Gray and Glenn (yes, you read that right, Glenn was seen on a bike AND for the second day running!) recce'd the sprint route. It is a great opportunity to get familiar with the routes so you know what to expect on race day, particularly good for those who are newer to the sport. Glenn was feeling a bit light headed after all that biking so we *had* to take him for cake afterwards…We will be holding practice runs of several of the local club championship courses, details to be announced soon.
Catharine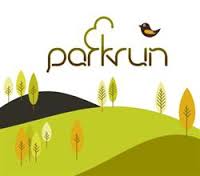 WORTHING PARK RUN 
Quieter on the Park Run front this week, but it was quality over quantity with Amanda de Ridder crossing as fourth female home in 23:10. Also a deserved shout to James Oram who volunteered as a marshal this week
Don't forget to report in from where you have raced.