Weekend Round Up 6th/7th May
We start off with the third consecutive weekend where Tuffs have been flying the flag abroad:-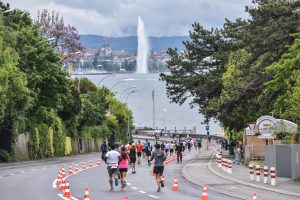 GENEVA RUNNING FESTIVAL
Trevor Harvey reports in that last weekend several Tuffs ventured to foreign parts to take part in the Geneva Running Festival.
The weekend hosts many events from kiddies races; 10K; wheelchair, and one condescendingly titled 'Run Like a Girl', (something lost in translation?).  The Tuff focus however was on the Marathon and Semi (half) Marathon.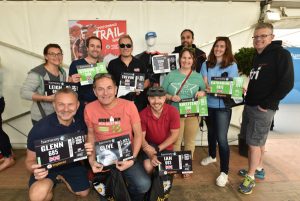 The shot that was published worldwide
Arriving on Friday we went to the Marathon Village to register and collect race numbers and the T shirt – the latter being a very tight compress shirt predominantly in white.  Whilst potentially see-through when wet, the sizing prompted me, (I won't say if anyone else), to swap to XL to ensure that it got round the belly!  The Expo photographers corralled the Tuff's for a photo which featured in Friday evening's formal e-mail to all 17,400 runners, (and the Instagram account). Fame at last!  Saturday, however, greeted the Tuffs with torrential rain which impeded the touristy bits and we resorted to a lakeside tourist land train, but still got wet.
Sunday also dawned wet as Catharine, Kirsty, Tony and Mr Andy, (Andy's name was printed the wrong way around so he was billed as Strong Andy), along with Jacky Brown (Strider!), headed by tram for the start line several kms away.  They were starting at 8.30 – an hour and a quarter before the marathon. Luckily the rain stopped before the start, and great running saw Andy home in 1.35.38; Tony in 1.55.57; Catharine in 1.58.05  (PB) and Kirsty in 2.31.07.
The course nestles between the shores of lake Geneva & snow-capped peaks of the Alps & Jura mountains
The rain held off as Tom; Ian; Leigh; Glenn; Dom; Clive and I started the marathon, (with a fetching bin bag photo also making the official runners e-mail post race – below).  The route initially followed that for the half, with an extra loop added.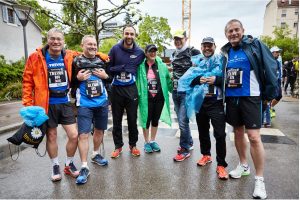 very fetching race gear!
The course was all on closed roads, although the majority were very much back roads through some picturesque scenery.  That meant that there weren't many supporters, (influenced by the weather?), but those that were there made up for it, with Alpine horns and bands stuck in fields seemingly miles from anywhere. Both routes merged for a run past a disco in a dual carriageway underpass and down to the Lake before a few miles along the shore; into and through Geneva shopping centre, to the northern lake shore and back to finish on the main bridge.
I got to mile 11 and 'did a Glenn'; a muscle popped in my left leg.  Vain hope that a stretch would get rid of possibly cramp (it wasn't/didn't), I then hobbled around the rest of the course.  Glenn got to 20 miles before his similar 'Bluebell injury' re-surfaced.
Tom and Ian came in to finish very close together, but a different starting pen meant that Ian was credited with fastest Tuff;  3.51.55; Tom 3.53.16, followed by Clive 4.22.08 (showing what a bad day he had had at Brighton), Leigh  4.25.28 and then wounded Glenn and me 4.35.08 and 4.38.15 respectively, and Dom 4.40.19.
Starting earlier, the semi crew had a chance to go back to the hotel, shower and have a burger and beers before returning to cheer the rest of us across the line.  Importantly that also gave them time to track down a micro-brewery where more than one 5  litre 'beer towers' were consumed in the evening, (see photographic evidence).
There was a need to re-hydrate after the run; honest!
A well organised event, 17,400 or so runners were competing across the weekend, but only some 1,800 were in the full and some 5,000 in the semi.  (The medals were better than the T shirts!)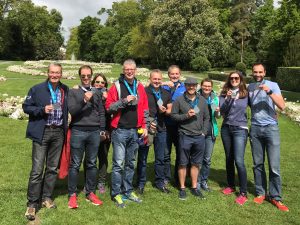 Bling to the fore
Geneva has a top 5 for tourists, one of which was being dug up! (the flower clock).  The famous feature is the fountain – Jet d'Eau;  (a bit of education for you – built in 1886, designed to regulate the city water pressure at a height of 140 m, with water exiting at 200km/h).   Luckily it was warmer and drier for a final morning acting like tourists, before flying back.
Free bus, tram and boat taxi helped, although everywhere was walkable……but whoa, Switzerland is very expensive, (I won't say how much the beer towers cost!).
A good race, and a great giggle over the weekend with some jolly good chums – what's not to like?
ROUND UP
Debbie Boxall entered a new fund raising event for Chestnut Tree House – their Hit The Downs MTB Sportive. Riders were invited to undertake  "a cool 20 mile route or challenge yourself to the epic 40 mile route". Starting from Washington, Debbie elected to ride the longer route with 3:58:47 in the saddle.   Meanwhile over at Portslade Neil Rabone pulled on his "other running clubs are available vest" to compete at the 5 mile Hedgehopper 5 in the West Sussex Fun Run League  finishing in the top 100 in 39:34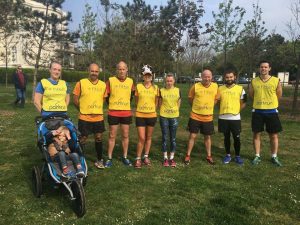 PARK RUN
The first Saturday in the month is 'Pace Race' at Park Run Worthing to help runners meet their goals. James Oram was a pacer and ran with the 22 minute bib. He had to go a bit faster on the out section as homeward was into the wind. However he crossed the line in 21:59 – how is that for accurate pacing. Clive Patterson-Lett was first Tuff home. His last three Worthing runs have been within 8 seconds of each other and this week he shaved another  3 seconds off to finish in 19:12 a new PB.  Nicole Patterson-Lett crossed as 3rd female overall in 22:31. Amanda de Ridder and Tim Kenny crossed the line together marking 5 good runs along the coast.
Good luck to Stew Smith now in Rwanda for the Muskathlon and it is just over a week to Ironman Lanzarote where Grant Smalley & Mark Buky will be in action – good luck to them both from us all
Keep those race reports coming in