Weekend Round Up 20th 21st May
A bumper weekend for Tuff's out and about again. Star billing goes to our duo at Ironman Lanzarote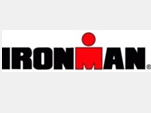 IRONMAN LANZAROTE
One of the toughest Ironman courses saw Mark Buky & Grant Smalley race IM Lanzarote this year.  The swim consists of two laps in the sea in the main tourist area with Mark out of the water in 1:13 and Grant in 1:36, who took 12 minutes off his swim time from last year. The course is well known for the windy conditions but this year it didn't arrive so competitors had to contend with scorching sun over 26 degrees.  The challenging bike course includes 2,551 metres of climbing and Mark achieved 6:10 and Grant 7:25.  A three lap run course would bring them over the finish line; Mark 4:41 and Grant 5:15.  Mark's total time was a superb 12:18:33. Grant succeeded in cutting his run time from last year for a total time of 14:41:46 which was a great 27 minute improvement over last year. Huge congratulations to them both. If any race reports are received these will be updated.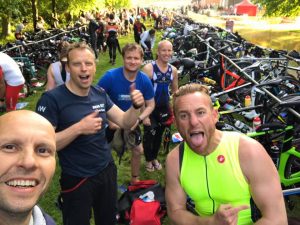 SWASHBUCKLER MIDDLE DISTANCE TRIATHLON
Gavin Sewell has reported in following a weekend in the New Forest.
It was a cracking sunny Saturday and Ade had kindly volunteered to drive all of us up (Matt, Pete, Gareth and me) to Bucklers Hard for the weekend.  We were all a little dubious about being in close proximity to Matt as most of the week he had been stuck on the toilet suffering from something he ate (Hobbsies BBQ was mentioned). As we were getting closer to Bucklers none of us seemed that enthused about racing the next day and certainly not about completing our Iron distance events in a couple of months' time. We made the race briefing with minutes to spare and to be honest we wouldn't have missed much.
We headed back to the house where we were staying, which was on the bike course and started preparing the bikes and kit for the following day. Then it was time for the pub. Luckily within 200m on the house was the Turf Cutter arms. A couple of other competitors were also frequenting the pub and were being very sensible drinking water. But a beer and burger for me a perfect pre-race meal. I think we could have easily stayed at the Turf Cutters and had a few more beers but thought better of it. Back at the house I was sharing with Pete (2 singles so no spooning to Pete's disappointment), Matt had his own room and Gareth and Ade slept on the floor and let their Shiv's have the bed for the night.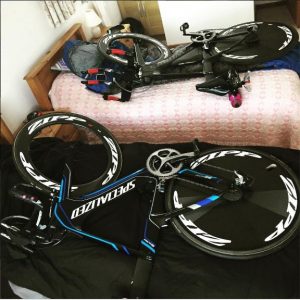 it must be love
Alarm went off at 4.30am and away we went. Conditions were good not a lot of wind and pretty warm. Once racked and we had all taken about 5 toilet breaks we headed down to the water. As I was the youngest I went off in the first wave and left the old timers to it. 3 laps of the swim course and much better than last year as I found sighting a lot easier. The only issue were the jelly fish. Loads of them. Got a couple caught in my fingers and there felt like hundreds rushing by my goggles. Other than that the swim was fine, just kept my mouth shut for the rest of the swim.
T1 was smooth and I was looking forward to the bike as I really enjoyed it last year. Lovely fast course. Ade and Gareth caught me at about 30 miles in and I thought about trying to stay with them for about half a mile. Then let them speed off as they were having their own personal battle. The wind picked up on the bike and made the later stages of the bike quite hard work. In to T2 and a fairly quick change and off on the 2 lap run course. By this point the sun was fully out and making it extremely hard going and I had flashbacks to Brighton marathon last month. I caught Ade just at the end of the first lap and think we were both struggling a bit, conversation was minimal.  The final lap was hard going and the pace dropped. It was a relief to run up the finishing hill. Gareth was already waiting at the finish line after a 1.45 run and overall time of 4.52. I came in at 5.03 with Ade 5.12, Matt 5.32 and Pete (who had a battle scar on his face from the swim) 5.50. All fairly chuffed with our day's work.
Matt was definitely the performance of the day as he was touch and go to even make the start line at the beginning of the week.
Great weekend and great prep for Outlaw. I'll probably be back next year to try and get that elusive sub 5.
Gav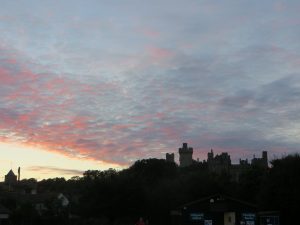 ARUNDEL LIDO TRIATHLON
First off was the Standard Distance comprising 800m swim, 40km bike, 10km run. Tom Frith was the first Tuff home in 11th position overall topped off by a super quick bike leg, the fourth fastest of the day.  Tuff Fitty secured the second relay team home where Wendy Frost undertook the swim, Jon Frost the bike leg and Alice Gatland the 10k run.  A trophy was awarded to Becky Lintott-Clarke coming home as second female vet. It was also pleasing to see Dana Robertson and Ian Bayley racing as Tuffs for the first time.
| | | | | | | |
| --- | --- | --- | --- | --- | --- | --- |
| | Total | Swim | T1 | Bike | T2 | Run |
| Tom Frith | 01:56:13 | 13:55 | 00:42 | 58:12:00 | 00:30 | 42:54:00 |
| Team Just Tuff Enuff | 02:08:47 | 17:31 | 00:42 | 01:08:06 | 00:31 | 41:57:00 |
| Barry Mcelearney | 02:12:00 | 15:45 | 01:29 | 01:08:49 | 00:58 | 44:59:00 |
| Huw Williams | 02:13:17 | 21:18 | 01:34 | 01:03:00 | 01:02 | 46:23:00 |
| Rebecca Lintott-Clarke | 02:19:25 | 16:21 | 00:54 | 01:17:16 | 00:47 | 44:07:00 |
| Tom Gray | 02:20:10 | 14:51 | 01:01 | 01:15:22 | 00:33 | 48:23:00 |
| Dana Robertson | 02:25:16 | 16:54 | 01:03 | 01:18:47 | 00:59 | 47:33:00 |
| Ian Bayley | 02:25:32 | 20:11 | 01:07 | 01:13:51 | 00:50 | 49:33:00 |
| Linda Cooper | 02:36:07 | 17:16 | 01:22 | 01:22:31 | 00:40 | 54:18:00 |
| Nicole Ewer | 03:02:27 | 18:13 | 01:15 | 01:36:49 | 00:57 | 01:05:13 |
| Chris Evans | 03:11:32 | 16:50 | 02:11 | 01:33:20 | 01:27 | 01:17:44 |
| Leanne Levitt | 03:38:21 | 14:40 | 03:06 | 01:41:29 | 02:35 | 01:36:31 |
As usual with Raw Energy Events there was a plethora of Tuffs helping from Trev Harvey swim starting; Jason Rae, Miki Floyd and Muz Hodge lane counting and Tony Pearce marshalling . Next up the Sprint over a course of 400m swim, 20km bike, 5km run where it was good to see Alister Marchant, also racing as a Tuff for the first time.  Excellent news in that there were trophies here as well. After winning the sprint distance at Steyning, Dom Chapman raced home 1st overall again at the Lido with a lead of 30 seconds.  Superb racing from Ollie McDonald who crossed the line third overall. Andy Crawford 14th and Tom Goddard 23rd comprised our first four home which must do Tuff Fitty's standing in the series team a power of good.  Congratulations to all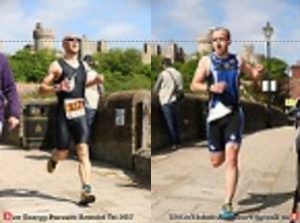 Dom 1st overall and Ollie 3rd overall
| | | | | | | |
| --- | --- | --- | --- | --- | --- | --- |
| | Total | Swim | T1 | Bike | T2 | Run |
| Dominic Chapman | 58:58:00 | 05:57 | 00:30 | 31:25:00 | 00:33 | 20:33 |
| Oliver Mcdonald | 01:02:08 | 06:31 | 00:27 | 32:59:00 | 00:35 | 21:36 |
| Andrew Crawford | 01:06:11 | 08:34 | 00:27 | 35:33:00 | 00:27 | 21:10 |
| Tom Goddard | 01:10:55 | 05:31 | 00:34 | 41:43:00 | 00:38 | 22:29 |
| Ben Abbott | 01:11:40 | 07:24 | 00:48 | 37:36:00 | 00:41 | 25:11:00 |
| Debbie Boxall | 01:20:16 | 07:51 | 00:37 | 42:51:00 | 00:38 | 28:19:00 |
| Alister Marchant | 01:23:58 | 08:44 | 01:56 | 44:11:00 | 01:59 | 27:08:00 |
| Claire Moyle | 01:44:21 | 10:30 | 02:34 | 50:22:00 | 01:19 | 39:36:00 |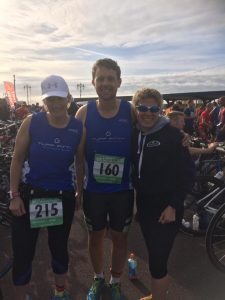 Sharon, James & Elle
PORTSMOUTH DUATHLON 
Held along Southsea Seafront, a trio of Tuffs undertook the Portsmouth Duathlon. This began with a 10k run from the Pyramid centre out past Clarence Pier and back then out to the Royal Marines Museum. All along the seafront with no wind there were cracking 10k times from James Oram 44:14,  Elle Williams 49:38 and Sharon Tidmarsh 52:19.  Then it was onto the bike for a 25km cycle back out to Clarence Pier and then to Langstone Harbour for a two lap course.
Despite this being James first ever multisport event he clocked 47:26 for the bike with Sharon 47:27 very close behind and Elle 51:16. Then back out onto the run course for a final 5km with James cumulative time 1:58:00 with Sharon and Elle both on 2:11:00 – just 24 seconds between these two – good work everyone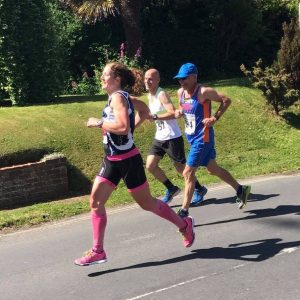 Nic going for the overtake
BOGNOR 1oK RUN
Some great results from the Tuff collective at Bognor Prom which is always a good venue for some 'Tuff spotting'. Whilst a flat course back along the promenade strong winds can cause problems. However this year it died down leaving conditions very hot on the course.  That didn't stop Clive Patterson-Lett – first Tuff home in just 40:31. There was equally good running from Tony Morgan in 43:01 and then Nicole Patterson-Lett, great to see her running strongly again in 47:28.  Very pleasing to report that Tim McGrath was running, and wearing blue, getting back to fitness after a long injury.  Jason Rae can't sit still again undertaking lane counting at Arundel Lido before dashing to Bognor to complete the course in 50:33. Amanda de Ridder (51:38) and Tim Kenny (61:37). A special mention to our regular Track night attendee, Malcolm Brown was delighted to achieve a PB in 43:11 – another runner demonstrating the benefit of our track nights – good work all.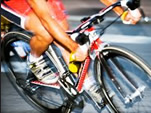 SAM'S RIDE SPORTIVE
Mark Day reports in
On Sunday morning Bec and I donned our tweeds and wellies and tried to fit in with the landed gentry of Wiltshire. I think they rumbled us so we went for a little ride instead.
Sams Ride is an annual sportive in aid of Salisbury and District Samaritans with 25, 60 and 100 mile options all starting from the grounds of the local manor and then heading out into some very pretty country lanes around Salisbury Plain and up towards the Wessex Hills.
It was definitely the friendliest event I've ever done given that it seems to be run entirely by volunteers for the charity – it even started with a free bacon sarnie served by Lady Bountiful and finished with more free food again served by the world's most achingly posh volunteers who seem to have enjoyed the whole thing as much as the riders.
Bec's on the Ironman trail at the minute (countdown is currently T minus 2 and a half weeks and counting) and so a long ride was in order. Off we went on the 100.
The sun had got its hat on as we went for a first 24 miles to feed station 1 with Bec riding steadily and me alternately riding steadily and then waiting for her to catch up. I'm never convinced this does much for my riding so after the feed stop I did the chivalrous thing and buggered off, leaving my wife to fend for herself.
Because I'm easily led I've signed up for a half iron-man at the same time as Bec's biggun so a swifter ride to the second feed station at 60 miles meant I got a decent training ride in and then had the chance to chill out in the sun while Bec soldiered on.
By the time we set off again I'd got my miles in and was happy to trundle another 40 to the end, making this the longest ride by some distance that either of us had ever done before.
By the end of it we were both tired, I was hungry, Bec was saddle sore and absolutely nobody was looking forward to a run! I think a few bike-run sessions might be in order…..
Mark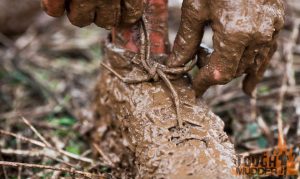 TRUNDLE HILL RUN 
Wednesday 17th May was the fourth of this years West Sussex Fun Run League, but it was on the evening of torrential rain which also blighted the evenings track session at Durrington. 401 runners finished with a strong performance from Andy Crawford crossing the line in 43:35 in 26th position. Three other club members were in attendance wearing their running club vests; Neil Rabone (52:23) Linda Cooper (59:37) and Tony Pearce (64:10); good going in the wet with the climb of Trundle Hill and the descent by the same route which had been churned up by the runners on their way up.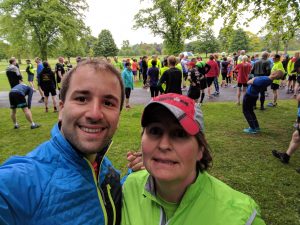 Andy & Kirsty
PARK RUN 
Did you know that there are a total of 452 Park Runs in the UK? well Andy Strong and Kirsty Keith have put the Tuff name at another on. Strongie reported in from the Perthshire Park Run:-
"It was very drizzly, very friendly and a beautiful out and back course along the River Tay". Up in Scotland with Kirsty for a wedding fayre with Kirsty's mum. The picture looks as though the run set set them up nicely for the Fayre ahead.
Back closer to home at Worthing, there was a very close finish between a trio of Tuffs.  Danny  Cunnett & James Oram both clocked 21:17 and this represented a new PB for James shaving 12 seconds off. Just three seconds back was Steve Feest in 21:20 a PB for him as well – great running guys.  Across at Horsham Park Run Ian Moore completed the course in 23:53 with Leigh Moore in 27:17