Tuff Fitty's Summer Lido Series – Race 1
A sure sign that summer is here when the time arrives for Tuff Fitty's traditional club races at Arundel Lido. Whilst the forecast had indicated thunderstorms, the rain held off until after the event was completed.
The event was a barbecue skillfully executed by Glenn Parisi & Jon Roper with a great side salad prepared by Catharine Western. Oh and the evening included an Aquathlon in the price. There was a some great racing in the main event with more jumping in for a swim and a plentiful supply of club members to lane count and help with the organisation – 60 people enjoying an evening in the sun.
Whilst the events are staged as a benefit of being a Tuff, this time the event was widened to others to highlight what our club is all about and great to see seven guests take part in the Aquathlon. 16 lengths of the pool were followed by a run over the town bridge down Mill Road, and past the Black Rabbit to a turn point before the Lion & Unicorn Park gates. Then the run was back the same way to complete 5k and gain the all important Tuff Medal.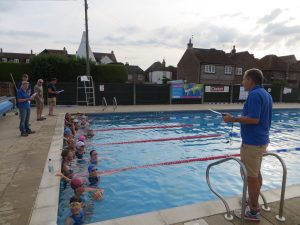 Ready at the start
There were some great split times with Nicole Patterson-Lett recording the fastest swim split of 5.41 with Joe Pascoe out of the water in 5:56.   Joe would cross the line as first overall with the best run split of 18.50. Emma Macready, with her trademark strong running crossed in second position overall. Tuff Fitty has steadily built to cover a range of ages, but the evening saw the Ladies to the fore with over half the entrants.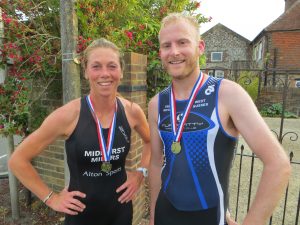 Our race winners:- Emma 1st lady & Joe, 1st overall
Chairman Clive Harvey thanks Anthony Towers, Nikki Gatland, Debbie Gatland, Steve Jones, Clive Patterson-Lett, Bec Day, Bob Thomas and Wendy Frost for lane counting and assistance.  Also a special thanks to Claire Moyle. Whilst the Lido was booked there was a slip up on lifeguard cover so Claire stepped up to handle the closing of the facility to enable the great camaraderie and banter to continue until darkness fell well into the evening.
Apologies for the slight delay in posting the results shown below as Clive didn't want to miss the Tuff Saturday morning run. Thanks to everyone who came along and congratulations to our guests who participated. If Tuff Fitty can help you towards your goals, we would be delighted to assist.
The provisional results table covers the Swim from the start to when you heaved yourself out of the pool. Therefore your run split will include the time you spent in transition pulling on the trainers.  Please feel able to take any of the photos below for your own use.
| | | | |
| --- | --- | --- | --- |
| | Swim | Run | Total |
| Joe Pascoe | 5.56 | 18.50 | 24.46 |
| Emma Macready | 6.55 | 18.59 | 25.54 |
| Dave March | 6.24 | 20.30 | 26.54 |
| Tom Gray | 6.32 | 21.29 | 28.01 |
| Pete Littleboy | 7.12 | 20.50 | 28.02 |
| Charlie Walker | 6.15 | 22.50 | 29.05 |
| Simon Thistlethwaite | 8.15 | 21.10 | 29.25 |
| Andy Heath | 6.35 | 22.55 | 29.30 |
| Phil Lintott-Clarke | 7.31 | 22.15 | 29.46 |
| Nicole Patterson-Lett | 5.41 | 24.11 | 29.52 |
| Becky Lintott-Clarke | 7.55 | 22.25 | 30.20 |
| Matthieu Cauchy Duval | 7.26 | 23.35 | 31.01 |
| Joanne Meaney | 6.54 | 24.50 | 31.44 |
| Mark Day | 8.35 | 24.09 | 32.44 |
| Wendy Frost       Relay | 8.18 | | } |
| Tiff Orton             Relay | | 24.36 | }       32.54 |
| Debra Cauchy Duval | 7.54 | 25.28 | 33.22 |
| Eleanor | 7.55 | 25.50 | 33.45 |
| Karen McGrath | 9.00 | 24.54 | 33.54 |
| Catharine Western | 8.48 | 26.41 | 35.29 |
| Helen | 9.15 | 26.54 | 36.09 |
| Becky Whittaker | 7.45 | 29.21 | 37.06 |
| Nicole Ewer | 8.40 | 28.39 | 37.19 |
| Susan Douglas | 7.32 | 30.08 | 37.40 |
| Rachel Brunning | 9.20 | 29.45 | 39.05 |
| Mark Pickett | 9.30 | 29.36 | 39.06 |
| Verity-Jane Lacey | 7.16 | 32.06 | 39.22 |
| Chris Evans | 7.40 | 32.26 | 40.06 |
| Lucy | 7.21 | 32.58 | 40.19 |
| Dave Priest | 10.59 | 30.42 | 41.41 |